SEA Electric to Unveil Next-Gen Power-System at ACT Expo
SEA Electric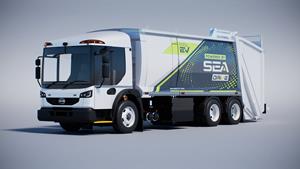 SEA Electric, the global innovator in electric drive systems for commercial vehicles, is set to use its upcoming showcase at the Advanced Clean Transportation (ACT) Expo to launch the new SEA-Drive® 250 power-system, with an optional hydrogen range extender (RE), which will be ideal for heavier duty-cycles
ANAHEIM, Calif., April 27, 2023 (GLOBE NEWSWIRE) — The SEA-Drive® 250 model (and the option RE model) is the perfect solution for vehicles with a GVWR/GCWR of up to 80,000lbs (36,250kg), in Class 8 rigid or day-cab configurations, which will be presented on the SEA Electric booth at the ACT Expo.
In a major change, SEA Electric intends to pair the power-system with a 45kW hydrogen fuel cell, extending potential range, with the architecture set to have far-reaching implications in the sector.
The new designation for the SEA-Drive® power-system joins other solutions developed by SEA Electric, namely the SEA-Drive® 70, 100, 120 and 180, which have been proven in the field with over 2 million miles of real-world use in a range of truck, bus and light commercial applications.
Featuring all of the market-leading attributes of the other systems available, the SEA-Drive® 250 will feature maximum power of 670hp (500kW) and peak torque of 4,579 lb-ft (6,200Nm), with power drawn from a 250kWh battery pack.
"The SEA-Drive® 250 RE represents a major breakthrough for SEA Electric in our efforts to electrify the world's commercial transport fleet," said Tony Fairweather, SEA Electric Founder and CEO.
"The power-system is perfectly suited to the rigors of lighter duty refuse collection, with the platform already proven in other deployments in the space via pure-battery powered configurations.
"For SEA Electric, this new product combination offers us the opportunity to branch out into some fantastic new areas and applications, which can now benefit from our leadership in the industry, such as day-cab and drayage tractor applications.
"In regards to the refuse industry, the SEA-Drive® 250 RE will allow us to provide a solution for 95 per cent of the market via any chassis combination.
"The combination of battery electric with the optional fuel cell extender will optimize weight and cost, whilst delivering the full fleet duty-cycle requirements, with performance that has never been seen before in this segment.
"One of the competitive advantages of the SEA-Drive® power-system is that all ancillary functions are completely electrified, with all hydraulics systems involved in the compacting and operation of the refuse body completely managed by the integrated systems.
"What this means is that noisy refuse trucks will be a thing of the past, which is sure to be welcomed by anyone living in an urban environment."
The ACT Expo runs from May 1-4 at the Anaheim Convention Centre, while further information on SEA Electric, and the SEA-Drive® power-system is available at www.sea-electric.com.
About SEA Electric
Global automotive technology company SEA Electric was founded in Australia in 2012, creating its proprietary electric power-system technology (known as SEA-Drive®) for the world's urban delivery and distribution fleets, as well as front-powered school bus applications.
Widely recognized as a market leader in the electrification of commercial vehicles on a global basis, SEA Electric commands a global presence, deploying products in seven countries including the USA, Australia, New Zealand, Thailand, Indonesia, India and South Africa with collectively more than two million miles of independently OEM-tested and in-service international operation.
The company's global sales, after-sales and engineering are represented in all subsidiaries, whilst North America is home to the company's headquarters.
For further media information, please contact:
Vicky De George
Director of Communications
[email protected]
Mobile: +61 (0)405 151 485
A photo accompanying this announcement is available at https://www.globenewswire.com/NewsRoom/AttachmentNg/ce24f8c6-210e-4d50-a7cf-966d8f31da10

Disclaimer: The above press release comes to you under an arrangement with GlobeNewswire. AfternoonHeadlines.com takes no editorial responsibility for the same.