School-based blood drives help ImpactLife educate and engage next generation of blood donors
Blood donors invited to support schools with "Good Giving" contribution to AdoptAClassroom.org (through Sept. 10)
ImpactLife "Good Giving" graphic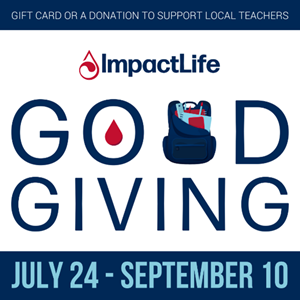 ImpactLife blood inventory levels (Aug. 29, 2023)

Davenport, Iowa, Aug. 29, 2023 (GLOBE NEWSWIRE) — The return of students to classrooms and campuses is providing new opportunities for ImpactLife to educate and engage the next generation of blood donors. With the start of the new school year, the not-for-profit community blood center is working with student-led blood drive committees on logistics and planning for blood drives, as well as donor recruitment and event management aspects for each collection event. Increased donor engagement in schools follows several weeks of low donations in late summer that has left ImpactLife with a critical need for type O-negative, type O-positive, type B-negative, and type B-positive red blood cells. (All are at just a 1-day supply as of Aug. 29, 2023.) Platelet donations from all blood types are also greatly needed.
To find an ImpactLife Donor Center location or mobile blood drive, call (800) 747-5401, schedule online at www.bloodcenter.org/locations or via the ImpactLife mobile app (www.bloodcenter.org/app).
ImpactLife works with schools and student organizations throughout the school year, with the education sector providing more than 25,000 registered donors at 825 collection events held during the 2022-23 school year. The loss of school blood drives during the summer months is a primary reason that the rate of blood donation decreases by as much as 20% in June, July, and August.
Holly Yates, Director, Donor Relations, says organizing and promoting a blood drive provides an important service-learning opportunity. "Our blood drive committees help develop good time management, planning, and communication skills," said Yates. "Students will use these skills throughout their further education and careers. And for many students, once they have worked on their school blood drive, it helps them become lifelong donors or advocates for our mission."
ImpactLife education sector programs: 
LifeSavings Grant Program (www.bloodcenter.org/lifesavings) 
Primary and secondary schools that host blood drives qualify for ImpactLife's LifeSavings grant program. Qualifying blood drives that collect at least 20 donations can apply to receive a grant of $250 (plus one dollar for each donation) that can be used to fund scholarships, make a charitable donation, provide for classroom or curriculum needs, or help defray expenses related to the blood drive.
Student Impact Award (www.bloodcenter.org/award) 
Students who give blood, recruit donors, and/or organize blood drives qualify to receive the Student Impact Award. Recipients must earn six credits towards the award before high school graduation by donating blood (one credit per donation), recruiting a new or lapsed donor (one credit per donor), volunteering for blood drive planning (one credit per blood drive) or by serving as a Blood Drive Coordinator (six credits per blood drive). At the end of the 2022 school year, ImpactLife recognized 271 High School Impact Award winners from 161 high schools from across the blood center's service region.
College / University ABO Initiative (www.bloodcenter.org/ABO) 
The ABO Initiative provides resources to connect and engage college students and university partners on the importance of blood donation. This includes support for Registered Student Organizations on college and university campuses, on-campus blood drives, and internship opportunities.
Good Giving: Donors support AdoptAClassroom.org
Now through September 10, all registered donors will receive a voucher to redeem for the donor's choice of an electronic gift card or an equivalent value contribution to AdoptAClassroom.org. 
ImpactLife Donor Rewards (through Sept. 10)
Whole blood donations at mobile blood drives: $10 gift card OR $10 AdoptAClassroom.org donation
Whole blood donations at ImpactLife donor center locations: $25 gift card OR $25 AdoptAClassroom.org donation
First-time donation with ImpactLife (donor center locations and mobile blood drives): $50 gift card OR $50 AdoptAClassroom.org donation 
Platelet, plasma, or double red cell donations: $25 gift card OR $25 AdoptAClassroom.org donation
First or second time platelet donation: $50 gift card OR $50 AdoptAClassroom.org donation
About AdoptAClassroom.org
AdoptAClassroom.org believes every child deserves the tools and materials they need to learn and thrive in school. To achieve this, teachers are spending an average of $860 of their own money each year on their classrooms. AdoptAClassroom.org is a national nonprofit that funds PreK-12 teachers and schools across the U.S. to help equip more classrooms and students for success, and offset the financial burden on teachers. Since 1998, AdoptAClassroom.org has raised $65 million and equipped more than 6.4 million students across the U.S. The 501(c)(3) not-for-profit organization holds the highest 4-star rating from Charity Navigator and the highest transparency rating offered by Candid/GuideStar. For more information, see www.bloodcenter.org/teach.
About ImpactLife
ImpactLife is a not-for-profit community organization providing blood services and emergency services providers to 124 hospitals in Illinois, Iowa, Missouri, and Wisconsin, as well as resource sharing partners across the country. Services extend from southcentral Wisconsin to St. Louis, Missouri and from Danville, Illinois to Chariton, Iowa. (See a map of the ImpactLife service region.) ImpactLife operates 22 Donor Centers and holds approximately 5000 mobile blood drives annually to provide blood components needed for patient transfusions at hospitals throughout our region.
For more information, see www.bloodcenter.org and find us @impactlifeblood on Facebook, Instagram, LinkedIn, TikTok, Twitter, Snapchat, and YouTube.
-end-
Attachments
ImpactLife "Good Giving" graphic
ImpactLife blood inventory levels (Aug. 29, 2023)
CONTACT: Kirby Winn ImpactLife (563) 349-1571 [email protected] 

Disclaimer: The above press release comes to you under an arrangement with GlobeNewswire. AfternoonHeadlines.com takes no editorial responsibility for the same.