Scaffold Technology Market Share Predictions suggest a rise of 11.3% CAGR to reach value of USD 3.5 Billion by 2032
Acumen Research and Consulting recently published report titled "Scaffold Technology Market Forecast, 2023 – 2032"
TOKYO, July 30, 2023 (GLOBE NEWSWIRE) — The Global Scaffold Technology Market Size accounted for USD 1.2 Billion in 2022 and is projected to achieve a market size of USD 3.5 Billion by 2032 growing at a CAGR of 11.3% from 2023 to 2032.
Highlights of Scaffold Technology Market Size and Key Statistics:
The total valuation of the Global Scaffold Technology Market is projected to reach USD 3.5 billion by 2032 from USD 1.2 Billion in 2022, expanding at a CAGR of 11.3% over the forecast time period 2023-2032.
North America accounted for the largest share exceeding 40% in 2022 owing to well-developed healthcare infrastructure and higher adoption of advanced technologies.
By type, hydrogels commanded the dominant share of 42% in the global market in 2022 owing to their advantages such as flexibility, degradability, and cost-effectiveness.
Surging applications of scaffold technology in wound healing, tissue regeneration, and orthopedic treatments are major factors propelling market growth currently.
Advancements in biomaterials, nanotechnology, and 3D printing will expand clinical adoption over the coming decade.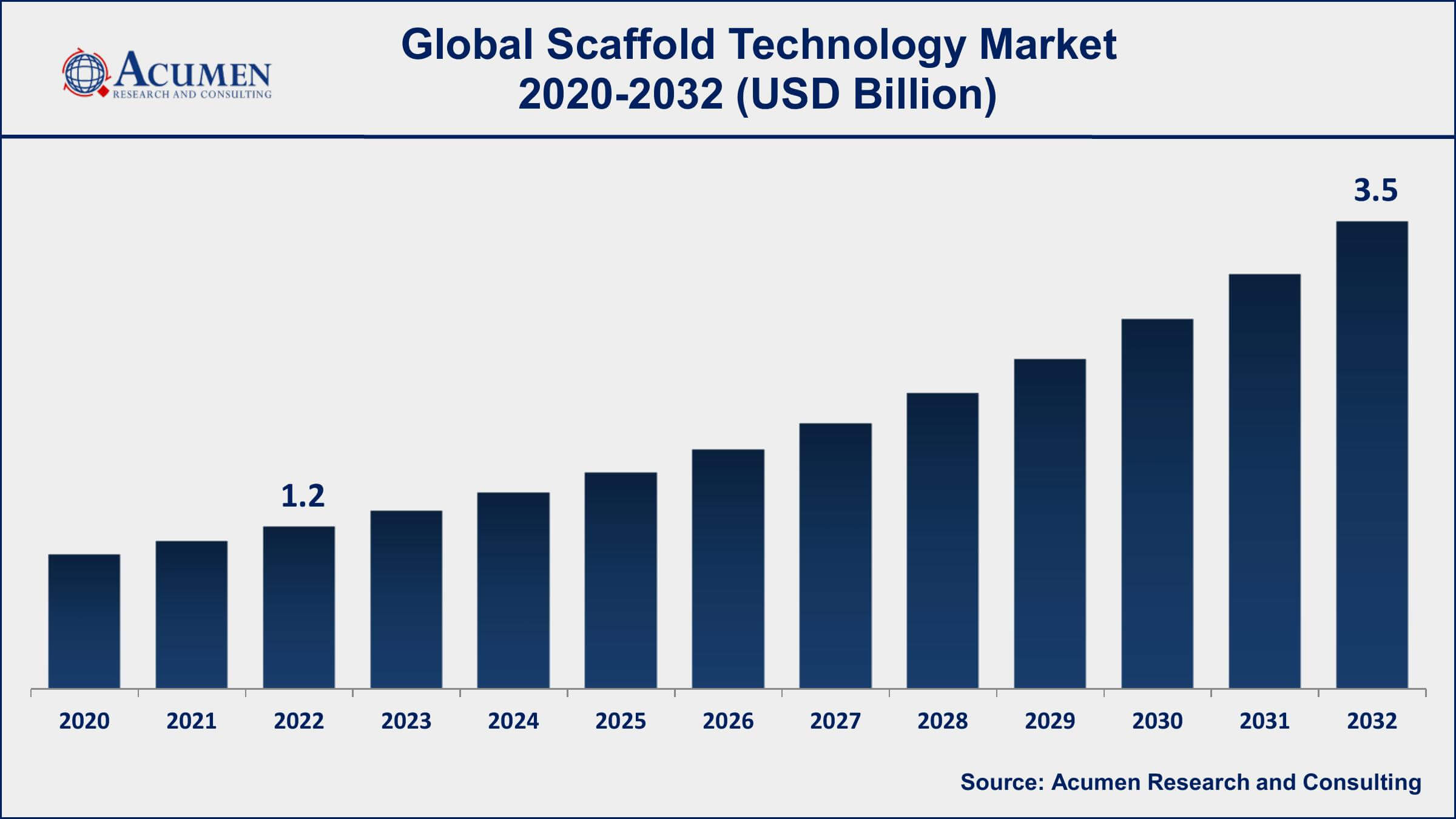 Request For Free Sample Report @ https://www.acumenresearchandconsulting.com/request-sample/3293
Scaffold Technology Market Report Coverage:
Market
Scaffold Technology Market
Scaffold Technology Market Size 2022
USD 1.2 Billion
Scaffold Technology Market Forecast 2032
USD 3.5 Billion
Scaffold Technology Market CAGR During 2023 – 2032
11.3%
 
Scaffold Technology Market Analysis Period
2020 – 2032
Scaffold Technology Market Base Year
2022
 
Scaffold Technology Market Forecast Data
2023 – 2032
Segments Covered
By Type, By Disease Type, By Application, By End-Use, And By Geography
Scaffold Technology Market Regional Scope
North America, Europe, Asia Pacific, Latin America, and Middle East & Africa
Key Companies Profiled
Avantor, Merck KGaA (EMD Millipore), Thermo Fisher Scientific, 3D Biotek, Lonza Group Ltd., Matexcel, Cellink, REPROCELL, Stemcell Technologies Inc., Becton, Dickinson and Company (BD Biosciences), MiltenyiBiotec, and R&D Systems (Bio-Techne Corporation)
Report Coverage
Market Trends, Drivers, Restraints, Competitive Analysis, Player Profiling, Regulation Analysis
In-depth Scaffold Technology Market Overview and Analysis:
The scaffold technology market outlook remains positively inclined driven by the rising incidence of chronic diseases such as diabetes leading to increased demand for effective wound healing solutions. Scaffolds act as a temporary extracellular matrix providing structural reinforcement for cell attachment, proliferation, differentiation, and growth of tissues. Moreover, the exponential increase in orthopedic surgeries involving scaffold-based bone graft substitutes owing to their osteoconductive properties is fueling market expansion. However, the prohibitively high costs associated with scaffold-based approaches remain a major challenge restricting widespread adoption.
Latest Scaffold Technology Market Trends and Innovations:
Increasing R&D focus on developing smart multifunctional scaffolds integrated with growth factors, drugs, genes, nanoparticles, and stem cells.
Growing demand for highly porous 3D printed scaffolds with interconnected networks to improve cell penetration, vascularization, tissue integration, and functionality.
Rapid advancements in scaffold engineering leveraging nanotechnology to create nano-scale scaffolds that closely mimic native tissues.
Emerging use of decellularized tissue-based scaffolds from xenogeneic or allogeneic sources for organ transplants and advanced regenerative therapies.
Rising preference for biodegradable synthetic polymer scaffolds made using PLA, PGA, and PLGA owing to their tunable degradability.
Scaffold Technology Market Major Growth Drivers:
Alarmingly rising incidence of musculoskeletal conditions such as arthritis, osteoporosis, and bone fractures globally.
Exponential increase in the number of orthopedic surgeries utilizing scaffold-based bone grafts and implants.
Expanding applications in tissue engineering and regenerative approaches for wound healing, skin, cartilage, vascular grafts, and others.
Favorable regulatory policies and support for translational research and commercialization of scaffold technology.
Rapidly growing pipeline of stem cell and gene therapies leveraging scaffold technology for delivery and enhancement of therapeutic efficacy.
Key Challenges Hindering Market Growth:
Prohibitively high production costs of customized and advanced scaffold designs limiting widespread adoption.
Engineering limitations in replicating the highly complex micro architectures of native human tissues.
Persisting issues with vascularization affecting integration and functionality of thicker scaffolds.
Mismatch in the biodegradation profiles of commonly used natural and synthetic scaffold materials.
Lack of adequate reimbursement coverage and funding constraints for clinical translation and commercialization.
Check the detailed table of contents of the report @
https://www.acumenresearchandconsulting.com/table-of-content/scaffold-technology-market
Segmentation Analysis of the Scaffold Technology Market:
Based on Types
Micropatterned Surface Microplate
Hydrogels
Nanofiber Based Scaffold
Polymeric Scaffolds
Based on Disease Type
Urology
Skin & Integumentary
Orthopedics, Musculoskeletal, and Spine
GI, Gynecology
Dental
Cancer
Cardiology and Vascular
Neurology
Other
Based on Application
Drug Discovery
Stem Cell Therapy, Tissue Engineering and Regenerative Medicine
Other
Based on End-Uses
Research Labs and Institutes
Biotechnology and Pharmaceutical Organizations
Diagnostic Centers and Hospitals
Other
Scaffold Technology Market Regional Analysis and Outlook:
North America is expected to dominate the Global Scaffold Technology Market during 2023-2032, driven by supportive regulatory policies, higher R&D investments, and well-established healthcare infrastructure. The Asia Pacific market will register exponential growth over the coming decade owing to rising healthcare expenditure and enormous unmet clinical needs.
Buy this premium research report –
https://www.acumenresearchandconsulting.com/buy-now/0/3293
Leading Companies in the Global Scaffold Technology Market:
Some of the major companies operating in the scaffold technology market include Merck KGaA, Thermo Fisher Scientific, 3D Biomatrix, Molecular Matrix Inc., Avacta Life Sciences Limited, Medtronic, Galen Ltd., Akron Biotech, Advansource Biomaterials Corporation, BD Biosciences, and others. These players are focused on partnerships, mergers & acquisitions, and product innovation strategies.
Browse More Research Topic on Electronics Industries Related Reports:
The Global Laser Technology Market Size accounted for USD 11,579 Million in 2021 and is estimated to achieve a market size of USD 24,171 Million by 2030 growing at a CAGR of 8.7% from 2022 to 2030.
The Manufacturing Execution System Market is anticipated to reach market size of around USD 17,340 Million by 2028 and is anticipated to grow at a CAGR of around 4.1% in terms of revenue during the forecast period 2021 to 2028
Global Thermal Imaging Market is anticipated to reach market size of around USD 6,000 Million by 2027 and is anticipated to grow at a CAGR of around 7% in terms of revenue during the forecast period 2020 to 2027
Browse our website Press Releases for More Information: https://www.acumenresearchandconsulting.com/press-releases/scaffold-technology-market
About Acumen Research and Consulting:
Acumen Research and Consulting is a global provider of market intelligence and consulting services to information technology, investment, telecommunication, manufacturing, and consumer technology markets. ARC helps investment communities, IT professionals, and business executives to make fact-based decisions on technology purchases and develop firm growth strategies to sustain market competition. With the team size of 100+ Analysts and collective industry experience of more than 200 years, Acumen Research and Consulting assures to deliver a combination of industry knowledge along with global and country level expertise.
For Latest Update Follow Us on Twitter , Instagram and LinkedIn
Contact Us:
Mr. Richard Johnson
Acumen Research and Consulting
USA: +13474743864
India: +918983225533
E-mail: [email protected]

Disclaimer: The above press release comes to you under an arrangement with GlobeNewswire. AfternoonHeadlines.com takes no editorial responsibility for the same.