SAPEON launches X330 AI semiconductor for data centers
Full-fledged market penetration with global top-tier NPU performance and 4x greater inference performance than its predecessor
SAPEON
SAPEON X330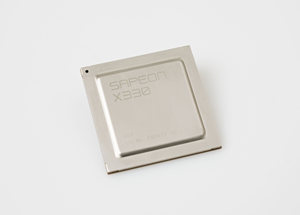 Santa Clara, California, Nov. 16, 2023 (GLOBE NEWSWIRE) — SAPEON (CEO Soojung Ryu, www.sapeon.com), a global AI semiconductor company, announced the launch of the X330, an AI semiconductor for data centers with four times higher performance than its predecessor, the X220.
The X330 is produced using TSMC's 7nm technology. SAPEON plans to conduct X330 prototype testing and customer reliability verification for major customers and to begin mass production in the first half of next year.
Since the X330 offers enhanced performance and power efficiency, it represents an ideal choice for large language model (LLM) support while improving overall total cost of ownership (TCO). The X330 forms the core of SAPEON's plan to proactively focus on AI service model development companies and data center markets. X330-equipped servers will support performance optimization of software stacks based on open neural network exchange (ONNX), while AI inference platform software and software development tools will also be offered.
Compared to its X220 predecessor, the X330 inference NPU's application range has been significantly expanded based on standard technology. It is an NPU that can be efficiently utilized in a broader range of fields and industries.
The X330 boasts more than four times the computational performance and more than twice the power efficiency of the existing X220 AI semiconductor. This represents roughly twice the computational performance and 1.3 times better power efficiency than competitors' 5nm products launched in 2023.
The X330 has a built-in video codec and video post-processing IP to improve the processing speed of video-related programs. Additionally, 4-channel 4K 60fps video input processing is possible through the built-in hardware IP.
The existing SAPEON X220 was the first in Korea to demonstrate excellent performance in BERT inference, a high-performance AI language model, and the new X330 achieved large language model implementation based on transformer architecture, which is the original technology underpinning ChatGPT.
Armed with innovative AI semiconductor technology that boasts outstanding performance, SAPEON is actively targeting new service markets by strengthening cooperation with SK Telecom. For example, in December 2022, SAPEON built a large-scale NPU Farm with a throughput of 7.6 Peta OPS using a server equipped with SAPEON's X220 AI semiconductor in SK broadband's Gasan IDC; a project to commercialize and operate the service in an actual data center environment was promoted in earnest. Although there have been prior examples of these processes and services on a small scale, this is the first case in Korea of ​​building a large-scale NPU Farm with the goal of commercializing actual services. Above all, SAPEON confirmed the possibility of expanding its business model by successfully conducting commercialization tests in various fields, such as image analysis, natural language processing, and image quality improvement through the NPU Farm project.
Along with the recently released X330, SAPEON plans to introduce AI NPUs for high-performance edge devices such as IP (semiconductor design assets) for self-driving cars and CCTV.
Soojung Ryu, CEO of SAPEON said, "Since SAPEON launched the X220 – Korea's first AI semiconductor for data centers – in 2020, we have completed verification in the market by providing a set of basic services and are continuously expanding our commercial service areas into fields such as automobiles, security, and media. Our strategy is to accelerate targeting AI service model development companies and data center markets with the X330, which maximizes the advantages of the X220. By increasing the utilization of AI semiconductors in all industries and making advanced AI technology affordable to everyone, we aim to help create a society where everyone can enjoy the benefits of cutting-edge technological development."
SAPEON plans to expand into related fields, applying the X330 to AI Infrastructure, which is the backbone of three key areas of SK Telecom ("SKT") 's AI Pyramid Strategy designed to accelerate the company's transformation into a global AI company – AI Infrastructure, AI Transformation (AIX) and AI Service. Additionally, SAPEON and SKT will utilize AI semiconductors to establish voice phishing and spam/smishing prevention systems based on AI and big data analysis to protect customers from external security threats.
About SAPEON Inc.
SAPEON is an independent corporation targeting the global market with SK Telecom's self-developed AI semiconductor SAPEON as the first result of cooperation among the three companies of SK Telecom's SK ICT Alliance with SK Square and SK Hynix. For global business, SAPEON's headquarters is US corporation SAPEON Inc. in Santa Clara, California, Silicon Valley. SAPEON Korea, a Korean company, oversees businesses in Korea and Asia. The SAPEON chip is the first Korean non-memory semiconductor for data centers that executes large-scale calculations necessary for realizing AI services at high speed and low power. For more information about SAPEON and its products, visit https://www.sapeon.com/, LinkedIn (sapeon), Facebook (@SAPEON.Korea), and YouTube (sapeon).
Attachments
CONTACT: SAPEON Smart Connections PR for SAPEON +1 (410) 658-8246 [email protected] 

Disclaimer: The above press release comes to you under an arrangement with GlobeNewswire. AfternoonHeadlines.com takes no editorial responsibility for the same.