Sales grow 15 percent YTD: Porsche reports Q3 2023 U.S. retail sales
Deliveries to customers in first nine months total 56,323 new cars across all model lines
Sales grow 15 percent YTD: Porsche reports Q3 2023 U.S. retail sales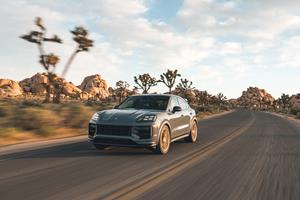 Atlanta, Oct. 13, 2023 (GLOBE NEWSWIRE) — Atlanta. Porsche Cars North America, Inc. (PCNA) today announced U.S. retail deliveries in the third quarter of 2023 totaled 19,988 cars – an increase of 21 percent from the same period one year ago as customer demand and supply continue to grow. This was the second-strongest quarterly result in PCNA history. The strong quarter contributed to a 15 percent increase YTD as 56,323 new vehicles were sold in the first nine months of this year.
"After a record breaking half year, Q3 continued our positive momentum and I'm grateful to every customer as well as our industry leading network of independently owned and operated Porsche Centers in what continues to be a highly competitive market," said Joe Lawrence, Executive Vice President and Chief Operating Officer of PCNA. "Porsche is continuing to thrive in America, with these results coming straight after the biggest Porsche fan gathering ever, the Rennsport Reunion 7, held in California, where more than 91,000 customers, racers and fans attended. Porsche continues to capture the imagination of US buyers."
The top seller in the third quarter was the Macan – up 31 percent year-to-date. The new Cayenne – deliveries of which commenced in Q3 – followed with 6,005 vehicles, up 2 percent year-to-date.  The 718 and 911 sports cars posted 45 percent and 17 percent increases respectively year-to-date. Taycan sales increased 55 percent over year in the third quarter to 2,050 units, while Panamera gained 8 percent over the same period.
Also significantly, Porsche-approved Certified Pre-Owned (CPO) U.S. sales in the first nine months of 2023 totaled 28,579, up 20.19 percent from a year earlier.
Model
July-Sept Sales
Year to Date
 
 2022
2023
2022
2023
ALL 911
 2,236
3,010
7,411
8,660
ALL 718
682
1,253
     2,426
3,529
ALL TAYCAN
1,325
2,050
5,774
5,212
ALL PANAMERA
1,050
1,135
2,963
3,165
ALL CAYENNE
6,017
6,005
14,583
14,916
ALL MACAN
5,271
6,535
15,953
20,841
TOTAL
16,581
19,988
49,110
56,323
PCNA follows the U.S. Auto Industry Sales Release Schedule issued by Motor Intelligence. Third quarter new car sales began on July 1, 2023, and ended on September 30, 2023.
About Porsche Cars North America, Inc. | One Porsche Drive, Atlanta, GA 30354 USA
Established in 1984, Porsche Cars North America, Inc. (PCNA) is the exclusive U.S. importer of the Porsche 911, 718 Boxster, 718 Cayman, Macan, Cayenne, Panamera and Taycan. Headquartered in Atlanta, Georgia, since 1998, PCNA is home to the first Porsche Experience Center in North America, which features two module-based 1.6 mile driver development tracks, a business center and Restaurant 356. The campus is also home to the U.S. headquarters of Porsche Classic. The company operates a second Porsche Experience Center near Los Angeles. That complex features a driver development track with eight educational modules totaling 4.1 miles, a business center, Restaurant 917 and the headquarters of Porsche Motorsport North America. PCNA supports 197 independently owned and operated Porsche centers, two Porsche studios and three satellite stores in the U.S., including supplying parts, service, marketing, and training. They, in turn, work to provide Porsche customers with a best-in-class experience that is in keeping with the Porsche brand's 75-year history of leadership in the advancement of vehicle performance, safety, and efficiency. PCNA is an indirect wholly-owned subsidiary of Porsche AG, which is headquartered in Stuttgart, Germany.
At the core of this success is Porsche's proud racing heritage that boasts some 30,000-plus motorsport wins to date.
Follow us: twitter.com/porsche | facebook.com/PorscheUSAOfficial | instagram.com/porscheusa facebook.com/PECAtlanta|instagram.com/pecatl|facebook.com/pecla | instagram.com/pecla
Photos and video footage are available to accredited journalists on the Porsche Press Database at http://press.porsche.com/.
Attachments
CONTACT: Jarred Hopkins Porsche Cars North America, Inc. 404-401-4448 [email protected] Jennifer Bixler Porsche Cars North America, Inc. 470.827.1201 [email protected] 

Disclaimer: The above press release comes to you under an arrangement with GlobeNewswire. AfternoonHeadlines.com takes no editorial responsibility for the same.