Ruffles® and KFC® return for an epic collab and 11 flavour-inspired tracks
The made-to-remix beats feature the sounds of the brands' limited-time flavour, available this summer.
Ruffles® KFC Original Recipe® Chicken flavoured chips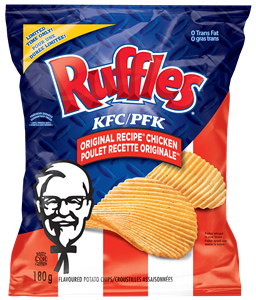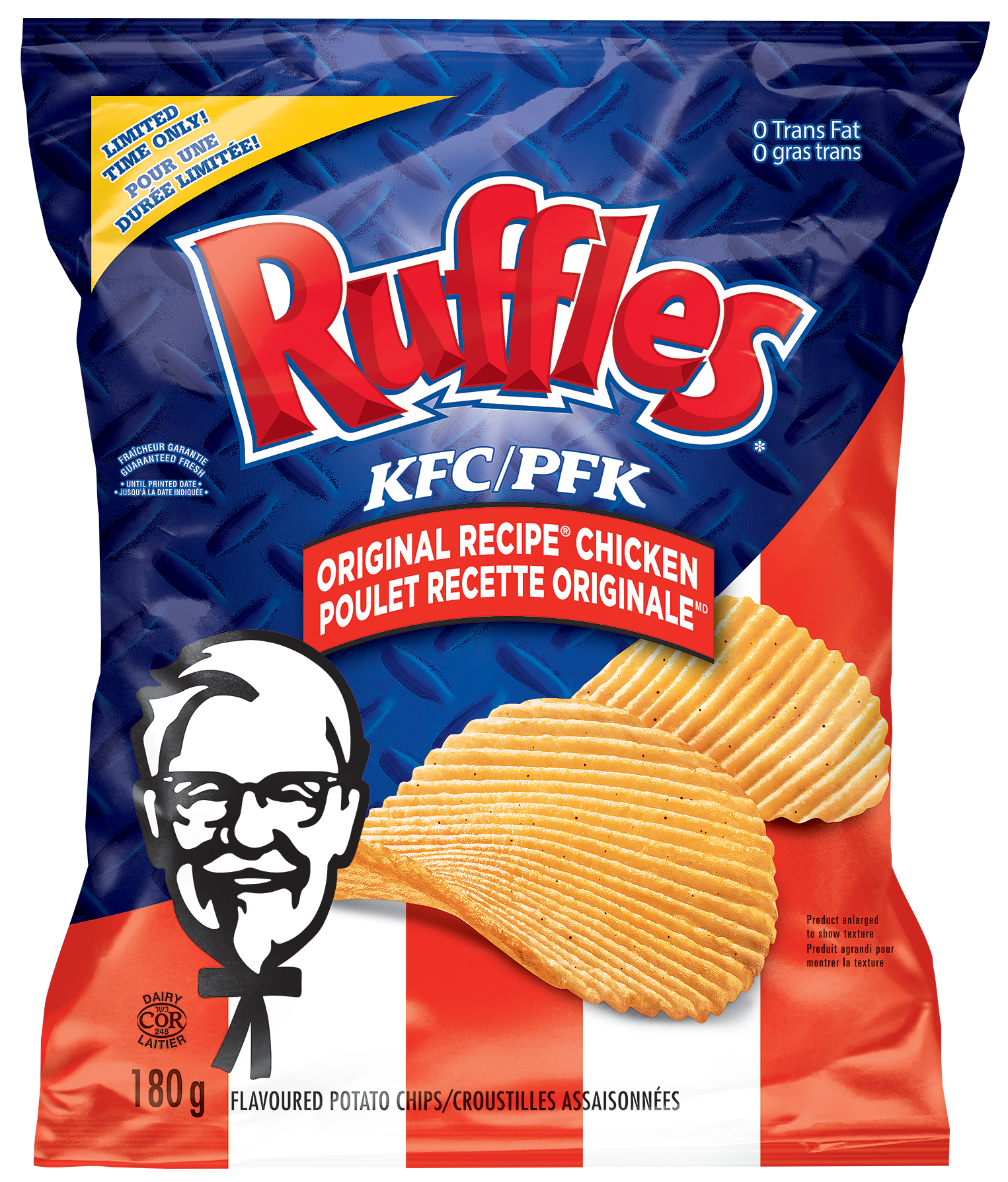 MISSISSAUGA, Ontario, July 19, 2023 (GLOBE NEWSWIRE) — Get ready to unleash your taste buds and turn up the volume, because the mouth-watering Ruffles® KFC Original Recipe® Chicken flavoured chips are back for the second year, bringing MAXIMUM CRUNCH and MAXIMUM FLAVOUR. To celebrate the return of this delicious limited-time launch, Ruffles and KFC are dropping 11 Beats and Crunches – a set of explosive tracks featuring the tantalizing sounds of chicken sizzling and chips crunching, all inspired by the 11 herbs and spices that make up KFC Original Recipe® Chicken seasoning.
Each flavourful track was created by combining unique, experimental sounds like the unmistakable crunch of a Ruffles ridged potato chip and the first bite into a warm and crispy piece of Kentucky Fried Chicken. The result? A set of tracks that offer MAXIMUM crunch and volume. With beats ranging from hip hop and trap to dance pop and techno, these tracks are ready for Canadians to lay down their own musical masterpiece by adding their own unique remix or verse to the beats.
"We're taking this collab to a whole new level by bringing the iconic sounds of Ruffles and KFC to the genres of music Canadians love," said Lisa Allie, Senior Marketing Director of PepsiCo Foods Canada. "We can't wait for our fans to have just as much fun remixing the tracks as we had making them."
Ruffles and KFC have teamed up with Canadian Canadian hip-hop artist, Connor Price, to layer his own remix onto the 11 Beats and Crunches and want to inspire Canadians to do the same. As a musician that puts maximum creativity and maximum energy into his music to release tracks that turn up the volume on traditional hip-hop music, Connor is the ultimate partner to put a unique spin on the brands' beats.
"KFC is truly a sensorial experience, from the smell of our 11 herbs and spices to the epic Finger Lickin' taste of our crispy, golden iconic chicken. We are thrilled to partner with Ruffles again on a product that flew off the shelves and take the sound experience to a whole new level with tracks by Connor Price," said Jordan Sequeira, Brand and Partnerships Manager, KFC Canada.
Follow @RufflesCanada on TikTok or check out the TikTok music library to stream the Beats and Crunches – the first few tracks are out today with more set to drop in the coming weeks. Fans are encouraged to flex their creativity and share unique, crunchy takes on the tracks with raps, remixes and even dances by using #RufflesxKFC11Beats. Some fans might even get duetted by another TikTok creator!
And don't miss out! Get a bag of Ruffles KFC Original Recipe Chicken flavoured potato chips today wherever Ruffles products are sold and at selected KFC restaurants across Canada.
About Ruffles
Ruffles® is Canada's favourite ridged potato chip brand, delivering a big, iconic crunch and mouth-watering taste. Under the Frito-Lay Canada portfolio, Ruffles offers something for every potato chip snack fan from coast- to-coast. To learn more about the brand, visit www.ruffles.ca.
About KFC
Founded by Colonel Harland Sanders in 1952, KFC is now the world's most popular chain of chicken restaurants. To this day the Colonel's own blend of 11 herbs and spices is still used to season our Original Recipe® chicken and it still remains a very closely guarded secret. KFC's specialty is our famous Original Recipe® chicken, but we also feature a variety of freshly prepared sandwiches and wraps, on the go snack items, home-style sides, desserts and beverages. Today KFC Corporation is a subsidiary of YUM! Brands Inc. and operates more than 23,000 restaurants in more than 140 countries and territories around the world including more than 600 locations right here in Canada. To learn more about KFC Canada, visit our website www.kfc.ca.
About Frito-Lay North America
Frito-Lay North America is the $19 billion convenient foods division of PepsiCo, Inc. (NASDAQ: PEP), which is headquartered in Purchase, NY. Frito-Lay snacks include Lay's® and Ruffles® potato chips, Doritos® tortilla chips, Cheetos® snacks, Tostitos® tortilla chips and branded dips, SunChips® multigrain snacks and Fritos® corn chips. The company operates 30+ manufacturing facilities across the U.S. and Canada, more than 200 distribution centers and services 315,000 retail customers per week through its direct-store-delivery model. Learn more about Frito-Lay at the corporate website, www.fritolay.ca, on Instagram (@fritolay_canada) and on Facebook (Frito-Lay Canada).
About PepsiCo Foods Canada
PepsiCo Foods Canada is comprised of the Frito Lay Canada and Quaker Canada businesses. The company employs over 6,000 Canadians with seven manufacturing plants and sales and distribution facilities from coast to coast. Frito Lay Canada is the country's largest snack food manufacturer and the company's brands include Lay's®, Doritos®, Tostitos®, Ruffles®, Smartfood® and Cheetos®. The Quaker brand portfolio includes a wide range of delicious cereals, oatmeal, rice and corn snacks and snack bars, and features other prominent brands such as Life®, Quaker Chewy®, Quaker® Harvest Crunch® and Crispy Minis®. For more information, please visit www.pepsico.ca.
Contact: Sara Hoffman, [email protected]
A photo accompanying this announcement is available at https://www.globenewswire.com/NewsRoom/AttachmentNg/13d47807-87b8-47d8-99cc-621a9191a3ac

Disclaimer: The above press release comes to you under an arrangement with GlobeNewswire. AfternoonHeadlines.com takes no editorial responsibility for the same.