Royals Introduce George Brett Hologram
On the 40th anniversary year of the Pine Tar Bat incident, Brett tells the story of the scandal to fans via hologram, as if he's right there with them
Baseball Hall of Famer George Brett appears via hologram at Royals games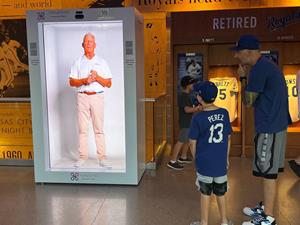 Kansas City, MO , Oct. 02, 2023 (GLOBE NEWSWIRE) — At Kauffman Stadium from September 29th to October 1st, the Kansas City Royals surprised fans with a George Brett hologram, a life-sized, 4K version of himself telling fans the story of the infamous Pine Tar Bat incident. The hologram was produced for the Royal's creative agency Pine Tar Collective by Transcend Holographic Media and Proto Inc., the original, patented creator of the hologram machine. 
The unveiling happened at the last Royals vs. Yankees series of the 2023 season, marking the 40th Anniversary of the incident.  The hologram is the first of a baseball legend telling about how he experienced a historic event.
"Innovation is essential to what we do, we're always exploring ways to showcase our team and our city to new fans in new and interesting ways," said Tony Snethen, the Kansas City Royals Vice President of Brand Innovation and agency lead of Pine Tar Collective. "Working with Transcend Holographic Media and Proto provides valuable new tools for engaging and providing a stadium experience that's second to none." 
"I remember watching the pine tar game as a child who was one of the biggest Royals fans in the world. It was a moment – like it was for many others – that is now blazed in baseball history," said Andrew Loos, Co-Founder of Transcend Holographic Media. "So, to be able to tell the story in such an innovative and dynamic way all these years later has been an incredible experience — an experience any Royals fan, or fan of baseball in general, will love."
Proto has worked with teams from all the major league sports and counts over 60 active and retired pro athletes among its investors, including Robert Griffin III, Marshawn Lynch, Albert Pujols and Brittany Griner. Proto clients include Verizon, Siemens, Accenture, Amazon, Nike, H&M, Spotify and SeatGeek. 
"Everyone knew it was a moment we'd be talking about forever the minute it happened – in fact the actual Pine Tar bat made it into Cooperstown," said David Nussbaum, Inventor and CEO of Proto Inc. "We're proud that the Royals and Transcend saw Proto as the best way to preserve George's telling of the story."
For more information contact:  [email protected]
About Pine Tar Collective:  The Pine Tar Collective department was created in 2021 with the mission of innovating the ways in which the Royals attract, engage and inspire fans, partners and the community. 
About Transcend Holographic Media: Transcend Holographic Media is a leading producer of holographic media and storytelling production, headquartered in Los Angeles and Minneapolis. They offer a comprehensive suite of services, including hologram design, production, and rental – all tailored to suit their clients' unique styles and visions. For more information, please visit www.hologram.team
About Proto Inc.: Proto is the global creator, and leading provider, of the award winning and patented Proto OS and holographic communications platform. With 100s of Proto units permanently deployed globally, and with a growing live events, production, and rental division, Proto is beaming people, brands and digital assets worldwide. Proto has become the fastest growing communications and marketing solution in retail, hospitality, entertainment, healthcare, education, financial services, tech and the arts. Proto is a 4X honoree at the CES Innovation awards and has been named to Fast Company's Most Innovative Companies list two years in a row. Proto is a VC and mega-celebrity backed technology company based in Los Angeles with satellite showrooms and distributors in New York, Las Vegas, Nashville, Toronto, London, Paris, Frankfurt, Milan, Taipei, Hong Kong, Mumbai, Brisbane, Jakarta, and Seoul. More info at protohologram.com. Contact: [email protected] 
Attachment
CONTACT: For more information contact:  [email protected]

Disclaimer: The above press release comes to you under an arrangement with GlobeNewswire. AfternoonHeadlines.com takes no editorial responsibility for the same.