Red Light Industry Pioneer, Clearlight®, Continues to Champion Health and Wellness with Launch of ClearlightRed.com
Dedicated Platform Is a Game-Changer, Bringing the Power, Benefits and Efficiency of Red Light Therapy to Consumers
ClearlightRed.com Home Page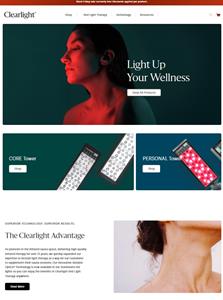 ClearlightRed.com Home Page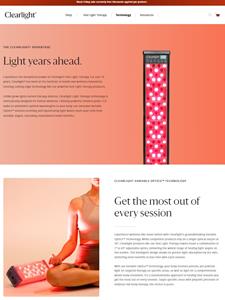 Berkeley, California, USA, Nov. 15, 2023 (GLOBE NEWSWIRE) — For more than two decades, Clearlight®—the industry leader in infrared saunas and a pioneer in innovative health and wellness solutions, has been at the forefront of developing cutting-edge technology. As part of the company's mission to continue delivering the best in health solutions to all, Clearlight today unveiled ClearlightRed.com—a comprehensive platform dedicated to the power of Red Light and a suite of FDA registered units to allow people of any age the ability to incorporate red light therapy into their daily lives.
Setting The Standard
With ClearlightRed.com, Clearlight is reinforcing the company's commitment to pioneering the power of red light through continued development of products, resources and tools to empower people to unlock their health and well-being potential. 
Through ClearlightRed.com, consumers can:
Learn about red light therapy,
Gain a deeper understanding of red light therapy's numerous benefits for health and well-being,
Access the latest research and resources on the importance of red light therapy,
Experience wellness with Clearlight's groundbreaking Variable Optics™ Technology,
Purchase Clearlight's cutting-edge and FDA registered products: Clearlight® Red Light Therapy The CORE Tower and The PERSONAL Tower, 
Share personal experiences and read stories of impact from others including athletes and celebrities, and,
Become part of the red light health and wellness revolution.
Light Years Ahead
"We've always been in the business of helping people. What started out more than two decades ago as a desire—to bring the revolutionary capability of infrared saunas to anyone in search of increased wellness—has grown into a mission to champion and expand the transformative power of red light therapy directly to all," said Clearlight CEO and founder, Dr. Raleigh Duncan, who is widely considered one of the early pioneers in infrared sauna technologies and is the holder of several patents related to technologies for healing the human body. "Through ClearlightRed.com, we can further illuminate the path for optimal health and well-being. Our goal is to make it as easy as possible for all those in search of increased wellness to access infrared and red light therapy and experience it when, where and how they want."
Power Up Cells for Optimal Performance
Red Light Therapy causes a phenomenon called photobiomodulation using near infrared and specific wavelengths of red light that actually trigger the production of energy in the form of ATP in the mitochondria of our living cells. More simply put, photobiomodulation is a way of increasing the life span of the cells in our body, which by its very definition causes longevity and anti-aging to occur. 
"Red Light Therapy taps into the power of red and near-infrared light to boost energy production in cells, providing numerous benefits for health and well-being. Red light therapy is the easiest and most advanced way to stop the body from growing old. This is a simple and direct pathway to cell regeneration and life extension," added Dr. Duncan.  
Red Light 101—Photobiomodulation Explained —Video 
The Clearlight Advantage—Variable Optics™
As part of ClearlightRed.com, consumers now have direct access to revolutionary products that incorporate groundbreaking technology. Unlike grow-lights-turned-therapy-devices, Clearlight Red Light Therapy technology is meticulously designed for human wellness. Using Variable Optics™, Clearlight's red light products are specifically designed for healing the human body. While competitor products rely on a single optical output at 30°, Clearlight products boast a combination of 7° to 60° adjustable optics, delivering the widest range of healing light angles on the market. The exclusive technology delivers precise, pin-pointed light for targeted therapy on specific areas, as well as light for a comprehensive whole-body treatment. This transformative approach to red light therapy gives maximum healing in record time. With intelligent and innovative design, Clearlight offers a range of easy-to-use wellness solutions to meet people's needs, preferences, and living spaces. 
Black Friday Promotion runs through Cyber Monday (11/27): This is Clearlight's biggest sale of the year with the deepest discounts For the month of November, Clearlight is offering $600-$800 off all sauna models and discounts available on all Clearlight Wellness products sitewide (discounts applied to purchase price on site). Shop the Clearlight website. 
About Clearlight®
Founded by a Chiropractic Physician, Dr. Raleigh Duncan, Clearlight is the industry leader in infrared sauna and pioneer in innovative health and wellness solutions for more than 20 years. Clearlight was the first company to develop Carbon/Ceramic infrared heaters capable of delivering a deeper, more penetrating infrared wavelength, while also offering the lowest EMF (electromagnetic fields) and ELF (extremely low frequency) available on the market. Dr. Duncan is widely considered one of the early pioneers in infrared sauna technologies and has patents/patents-pending for much of the technology Clearlight uses. The Berkeley, CA-based company offers best-in-class, wellness products for home and business use including: Infrared Saunas, Sanctuary Full Spectrum Saunas, Outdoor Saunas, Premier Infrared Saunas, FDA approved Clearlight Red Light Therapy—The PERSONAL Tower and The CORE Tower;  HaloOne Salt Therapy—utilizing patented vibrating mesh technology (patent granted August 2023), Aromatherapy Diffusers, The Curve™ Sauna Domes, Amethyst Infrared PEMF Mat, and Heater Kits (Build Your Own Sauna). To learn more and/or enhance your existing Clearlight sauna experience, visit infraredsauna.com and ClearlightRed.com; and follow on Facebook, Instagram, LinkedIn, TikTok and YouTube. #Clearlight #Health #Wellness #Redlight 
# # #
Attachments
CONTACT: Dana Young Clearlight® — Infrared Saunas and Wellness Solutions 415-378-7998 [email protected] 

Disclaimer: The above press release comes to you under an arrangement with GlobeNewswire. AfternoonHeadlines.com takes no editorial responsibility for the same.