Red Cat and Athena AI announce breakthrough artificial intelligence and computer-vision capabilities for Teal 2 military-grade drone
Athena's AI technology has successfully performed target recognition and battle tracking for a nighttime flight of Red Cat's Teal 2
Athena AI computer vision technology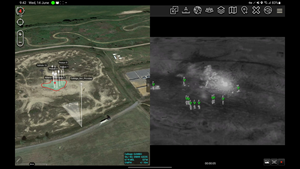 SAN JUAN, Puerto Rico, June 20, 2023 (GLOBE NEWSWIRE) — Red Cat Holdings, Inc. (Nasdaq: RCAT) ("Red Cat" or the "Company"), a military technology company integrating robotic hardware and software to protect and support the warfighter, today announces it has completed the second phase of its artificial intelligence and computer-vision partnership with Athena AI. 
Athena was first announced as a partner for Red Cat's Teal 2 military-grade drone in March. Now, by processing video that the Teal 2's thermal-imaging sensor recorded during a nighttime test flight, Athena's technology has successfully performed target recognition and battle tracking. This capability allows commanders fast decision-making on the battlefield with artificial intelligence assistance.
"Nighttime computer-vision capability is a Teal 2 add-on we support for users who need high-value data at night," said George Matus, founder and CEO of Red Cat subsidiary Teal Drones. "The images and insights that Athena's technology deliver are outstanding. Athena's battle-tracking capabilities and artificial intelligence, combined with Teal's best-in-class drone, give warfighters the unfair advantage." 
Australia-based Athena, an AI-enabled military decision-support company, has licensed to Red Cat its proprietary computer-vision architecture, which allows high-speed tracking of objects and, at slower speeds, in-depth data exploitation. Athena's solution can identify weapons, humans and other targets at night, as well as Identification Friend or Foe (IFF) markers, such as Cyalume HALOs and IR beacons. 
"Unlike a lot of other drones in the sUAS quad space that aren't MISB-compliant, the Teal 2's KLV metadata unlocks the full decision-suite support of Athena AI," said Athena CEO Stephen Bornstein. "This combination of a nighttime sUAS with live-vehicle metadata allows for real-time situational awareness to support battle tracking, common operational picture (COP) at higher echelons of command, and accurate targeting." 
Officially launched in April, the Teal 2 is designed to Dominate the Night™ and arrives as the world's leading sUAS for night operations. The Teal 2 is the first sUAS to be equipped with Teledyne FLIR's new Hadron 640R sensor, providing end users with the highest resolution thermal imaging in a small form factor. The Teal 2 also offers the latest intelligence, surveillance and reconnaissance (ISR) technology, delivering time-critical information and enabling operators to make faster, smarter decisions. The Teal 2 airframe has been designed as an open platform that can add software features such as Athena AI, and those combined products improve Red Cat's gross margins.
Red Cat will exhibit the Teal 2 at the Modern Day Marine expo in Washington, D.C., from June 27-29. 
To view a spec sheet for the Teal 2, click here.
To watch a short video about the Teal 2, click here.
About Red Cat Holdings, Inc.
Red Cat (Nasdaq: RCAT) is a military technology company that integrates robotic hardware and software to provide critical situational awareness and actionable intelligence to on-the-ground warfighters and battlefield commanders. Its mission is to enhance the effectiveness and safety of military operations domestically and globally – and to "Dominate the Night™." Red Cat's suite of solutions includes Teal Drones, developer of the Teal 2, a small unmanned system with the highest resolution imaging for nighttime operations, and Skypersonic, a leading provider of unmanned aircraft for interior spaces and other dangerous environments. Learn more at https://www.redcatholdings.com.
Forward-Looking Statements 
This press release contains "forward-looking statements" that are subject to substantial risks and uncertainties. All statements, other than statements of historical fact, contained in this press release are forward-looking statements. Forward-looking statements contained in this press release may be identified by the use of words such as "anticipate," "believe," "contemplate," "could," "estimate," "expect," "intend," "seek," "may," "might," "plan," "potential," "predict," "project," "target," "aim," "should," "will," "would," or the negative of these words or other similar expressions, although not all forward-looking statements contain these words. Forward-looking statements are based on Red Cat Holdings, Inc.'s current expectations and are subject to inherent uncertainties, risks and assumptions that are difficult to predict. Further, certain forward-looking statements are based on assumptions as to future events that may not prove to be accurate. These and other risks and uncertainties are described more fully in the section titled "Risk Factors" in the final prospectus related to the public offering filed with the Securities and Exchange Commission. Forward-looking statements contained in this announcement are made as of this date, and Red Cat Holdings, Inc. undertakes no duty to update such information except as required under applicable law.
Contacts 
NEWS MEDIA: 
Anthony Priwer 
Dalton Agency
Phone: (615) 515-4891 
Email: [email protected] 
INVESTORS: 
CORE IR 
Phone: (516) 222-2560
Email: [email protected]
Website: https://www.redcatholdings.com
 A photo accompanying this announcement is available at https://www.globenewswire.com/NewsRoom/AttachmentNg/ef35bdb2-26ed-4e38-9fb3-51c6cace7411

Disclaimer: The above press release comes to you under an arrangement with GlobeNewswire. AfternoonHeadlines.com takes no editorial responsibility for the same.