Recreational Vehicle Market revenue to reach USD 80 Billion by 2035, says Research Nester
Key recreational vehicle (RV) market players include are Airstream, Inc., Skyline Corporation, Pleasure-Way Industries Ltd., Erwin Hymer Group, Thor Industries Inc., Forest River Inc., Nexus RV, REV Recreation Group, Winnebago Industries, and Grand Design RV.
New York, Aug. 01, 2023 (GLOBE NEWSWIRE) — The global recreational vehicle market size is projected to expand at ~4% CAGR between 2023 and 2035. The market is expected to garner a revenue of USD 80 billion by the end of 2035, up from a revenue of ~USD 60 billion in the year 2022.The growth of the market is attributed to the increase in RV sales across the world. Because of the versatility of mobile homes, their sales are skyrocketing. Total recreational vehicle sales in Japan were estimated at USD 470 million in 2021. In addition, around 600,000 mobile homes were shipped worldwide in 2021. That was a remarkable increase of around 362% over 2009.
Request Free Sample Copy of this Report @ https://www.researchnester.com/sample-request-4723
Factors believed to be driving the growth of the RV market also include the increasing use of RVs for camping and off-road touring. RVs are convenient to set up in the dark of the day as less packing is required for the trip. In addition, it is much more comfortable to sleep in a mobile home than in a mobile home or a full-fledged mobile home. The Great Smoky Mountains National Park is considered the most popular national park destination for RV users. Additionally, a total of more than 1 million RVs stayed at National Park Service campgrounds in 2020.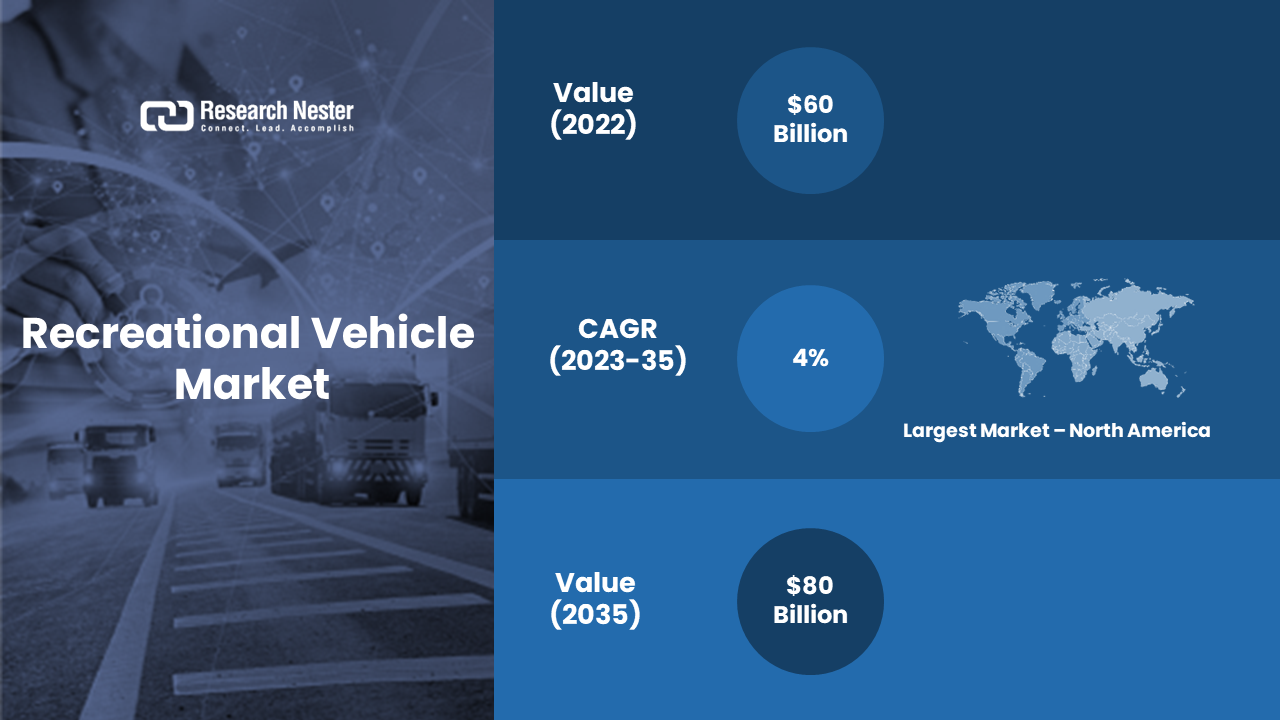 Recreational Vehicle Market: Key Takeaways
Market in North America to propel highest growth
The diesel segment to garner the highest growth
Market in Asia Pacific to grow at a highest rate
Increasing Sales of Recreational Vehicles across the Globe to Boost Market Growth
The increasing demand for RVs is expected to fuel the growth of the market. In 2021, total RV deliveries amounted to around 576,000 units. This amount represents an increase of nearly 34% from the 430,000 total units at the end of 2020. With the convenience of a rental option, people can always rent an RV for their trips. About 74% of people in North America bought an RV. However, about 62% prefer to rent an RV. In 2020, nearly 8% of people will be renting from a private owner, which is about 6% more than in 2019. Increasing technological advances will likely allow users to have more facilities in their RV, and he reckons that Electric motorhomes will be cheaper with petrol or diesel. Take Ford's public transit-based Winnebago RV, for example, which offers a 125-mile range and an 86kWh battery, and is said to satisfy nearly 54% of RV buyers.
On the other hand, the Thor Industries was able to achieve a range of up to 300 miles by combining a battery pack, a hydrogen fuel cell and a solar roof. Recreational vehicles are an economical means of travel because they are comfortable, spacious, and easy to set up. About 4 million families went camping for the first time in 2018. These campers had a non-white population that was nearly 51%. Additionally, 1 million families enjoy camping in Canada.
Recreational Vehicle Market: Regional Overview
The market is segmented into five major regions including North America, Europe, Asia Pacific, Latin America, and the Middle East and Africa region.
Expanding popularity of food trucks to Drive the Market Growth in North America Region
The recreational vehicle market in North America region is estimated to garner the largest revenue by the end of 2035. The growth of the regional market is mainly attributed to the growing popularity of food trucks among the younger age group. Adults aged 25-44 account for approximately 43% of food truck spending. Also in 2018, the US food truck business grew by 9.9% average annual interest. In addition, market growth is expected in the region due to the increasing interest of people in camping and the increasing use of recreational vehicles. There are 77 million camper families in the United States. Also, about 28 million Americans went camping in 2018.
Additionally, in the same year, the number of Americans who went camping increased nearly 64%. In addition, around 40 million people have used recreational vehicles in the past two years. The growth of the RV rental market and the emergence of peer-to-peer sharing platforms have made RV travel more accessible to a broader audience. Renting an RV allows consumers to experience the RV lifestyle without the commitment of ownership, while sharing platforms enable RV owners to earn income by renting out their vehicles when not in use. The availability of rental options and sharing platforms has expanded the customer base and contributed to the overall growth of the RV market in the region.
Request Free Sample Copy of this Report @ https://www.researchnester.com/sample-request-4723
Growing Interest in Outdoor Recreation to Propel the Growth in the Asia Pacific Region
The Asia Pacific recreational vehicle market is estimated to garner the highest CAGR by the end of 2035. As economies in the Asia Pacific region continue to grow, there is a rise in affluence and the expansion of the middle-class population. According to a report by the Asian Development Bank, the middle-class population in Asia is expected to reach 3.5 billion by 2030. Increased disposable income and higher living standards create opportunities for leisure activities, including RV travel. The Asia Pacific region offers diverse landscapes, natural beauty, and cultural attractions, driving interest in outdoor recreation and tourism.
Local and international travelers are increasingly exploring RV travel as a means to experience unique destinations and engage in outdoor activities. Evolving lifestyles and travel preferences contribute to the growth of the RV market in the Asia Pacific region. Younger generations are seeking experiential and adventure-driven travel experiences, and RV travel aligns with their desire for exploration and flexibility. Additionally, retirees and empty nesters are embracing the RV lifestyle as a way to enjoy their newfound freedom and explore the region.
Recreational Vehicle, Segmentation by Fuel
Amongst these two segments, the diesel segment in is anticipated to hold the largest share over the forecast period. Diesel engines are known for their higher fuel efficiency compared to gasoline engines, making them attractive to consumers seeking better mileage and lower fuel costs. According to a study, diesel vehicles tend to have 20-40% better fuel efficiency compared to their gasoline counterparts. The power and torque offered by diesel engines also make them preferable for applications such as towing, heavy hauling, and commercial use. Diesel engines are commonly used in heavy-duty vehicles, including trucks, buses, and construction equipment, due to their ability to handle high loads and demanding work environments. The growth in industries such as logistics, construction, and mining has contributed to the demand for diesel-powered commercial vehicles.
Diesel engines are renowned for their longevity and durability, making them popular in applications where vehicles are expected to have a longer service life. The robust construction of diesel engines allows them to withstand higher temperatures, pressures, and heavy usage, leading to lower maintenance costs and longer vehicle lifespans. Diesel technology has undergone significant advancements to meet stringent emissions regulations while maintaining performance. The introduction of technologies such as diesel particulate filters (DPF), selective catalytic reduction (SCR), and exhaust gas recirculation (EGR) systems has helped reduce diesel engine emissions.
Recreational Vehicle, Segmentation by Vehicles
Amongst these segments, the motorhomes segment in recreational vehicle market is anticipated to hold a significant share over the forecast period. The overall growth in interest and popularity of RV travel has positively impacted the motorhomes segment. According to the Recreational Vehicle Industry Association (RVIA), RV shipments in the United States reached 507,200 units in 2020, indicating the strong demand for RVs, including motorhomes. The desire for freedom, flexibility, and the ability to explore multiple destinations has attracted consumers to the motorhome lifestyle.
Modern travelers, especially younger generations, are increasingly seeking experiential travel rather than traditional forms of tourism. Motorhomes provide the opportunity for unique travel experiences, allowing individuals and families to create their own itineraries, explore off-the-beaten-path locations, and connect with nature. The growing interest in outdoor recreation and camping has contributed to the growth of the motorhomes segment. Motorhomes provide a comfortable and convenient way to enjoy outdoor activities while having access to essential amenities and a mobile living space.
Purchase Copy of this Report @ https://www.researchnester.com/purchage/purchase_product.php?token=4723
Recreational Vehicle, Segmentation by Price
Recreational Vehicle, Segmentation by End Use
B2C/Individual
B2B/Fleet Owner
A few of the well-known market leaders in the recreational vehicle market that are profiled by Research Nester are Airstream, Inc., Skyline Corporation, Pleasure-Way Industries Ltd., Erwin Hymer Group, Thor Industries Inc., Forest River Inc., Nexus RV, REV Recreation Group, Winnebago Industries, Grand Design RV., and other key market players.
Recent Development in the Recreational Vehicle Market
Thor Industries, Inc. announced a partnership with Harbinger Motor, Inc., the leading manufacturer of commercial electric vehicles. Through this collaboration, Thor aims to innovate the RV by integrating Harbinger Motor's EV technology.
Winnebago Industries unveiled a fully functional prototype of its zero-emission, all-electric RV at the Florida RV SuperShow in Tampa, Florida.
About Research Nester
Research Nester is a one-stop service provider with a client base in more than 50 countries, leading in strategic market research and consulting with an unbiased and unparalleled approach towards helping global industrial players, conglomerates and executives for their future investment while avoiding forthcoming uncertainties. With an out-of-the-box mindset to produce statistical and analytical market research reports, we provide strategic consulting so that our clients can make wise business decisions with clarity while strategizing and planning for their forthcoming needs and succeed in achieving their future endeavors. We believe every business can expand to its new horizon, provided a right guidance at a right time is available through strategic minds.
CONTACT: AJ Daniel Corporate Sales, USA Research Nester Email: [email protected] USA Phone: +1 646 586 9123 Europe Phone: +44 203 608 5919

Disclaimer: The above press release comes to you under an arrangement with GlobeNewswire. AfternoonHeadlines.com takes no editorial responsibility for the same.