RE/MAX Canada's "4 Billion Dollar Team" in Calgary Disrupts Status Quo with Strategic Move to eXp Realty
"The Canadian Real Estate Sector is Headed for a Pivotal Shift to Tech-Driven Revenue-Share Brokerages," says Justin Havre
Justin Havre standing at front desk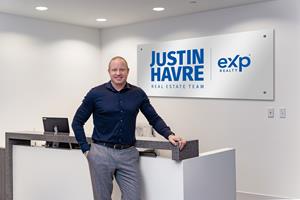 CALGARY, Alberta, Nov. 01, 2023 (GLOBE NEWSWIRE) — In a strategic move that marks a defining moment in the Canadian real estate narrative, Calgary's most prominent realtor Justin Havre and his high-performing team of 60 advisors and 18 staff have departed RE/MAX Canada to join forces with eXp Realty, the world's largest independent real estate company with an extensive network of 89,000 agents.
The team departs with a staggering record of $4 billion in sales volume in Calgary and Surrounding Areas since 2016. Havre says this transition is a calculated step to help shape the future of Canadian real estate and is "aligned with our vision to cater to the evolving needs of both clients and agents in the digital world."
His team has sold nearly 9,000 homes in Calgary since 2016, and was RE/MAX's #1 Large Team in Canada in Closed Transactions for the last five consecutive years.
The newly re-branded Justin Havre Real Estate Team (www.justinhavre.com) has taken up residence in an expansive new 10,000 sq. ft. commercial office space in Calgary's Quarry Park to accommodate the growth of a bricks and mortar/cloud hybrid that helps families in- and out-of-province buy and sell properties in Calgary through a 5-star online experience and showcase of real estate technology.
The collaboration fortifies the Canadian presence of eXp Realty and positions the Justin Havre Real Estate Team as a key driver of the brokerage's domestic operations. This partnership is set to deliver substantial performance and production value for the brokerage.
Highlights:
Digital transformation: The move towards a tech-centric online real estate platform underscores a notable shift, emphasizing the growing consumer demand for a streamlined property transaction process.
Recruitment reinvented: As the financial strain on agents within large-brand franchises intensifies, eXp Realty specifically nurtures the entrepreneurial desires that are critical to attracting and retaining top-tier talent.
Unique value proposition for real estate agents: A brokerage that has eliminated the franchise-owner and regional-owner, incentivizing performance and production through revenue-share, a stock purchase plan and stock rewards, with benefits that are extendable to an agent's beneficiaries. "This can really accumulate after five, 10, 15 or more years, setting up our partners and families for their future and retirement."
Meeting client demands for an elevated real estate experience: For the first time, Calgary home buyers and sellers will benefit from a best-in-market online presence and advanced tech innovations that provide a seamless and efficient real estate journey.
"Our decision to join eXp Realty is rooted in our commitment to excel in real estate. Our primary goal is to empower agents, relieve them of their financial burdens and set them on an entrepreneurial path to success," says Havre, noting that "it's tough to say goodbye to such extraordinary colleagues and friends at RE/MAX. We had a lot of help along the way to becoming best-in-class in Canada for RE/MAX and want to thank broker-owners Rick Campos and Cliff Stevenson, and so many others, for their guidance, mentorship and support as we begin the next chapter in our team's evolution."
"We are absolutely elated to extend a warm welcome to Justin and his exceptional team," says Glenn Sanford, Founder and CEO of eXp Realty. "This collaboration unites their well-deserved reputation for excellence with eXp's unwavering commitment to innovation and fostering a unique, agent-centric environment. This marks a significant milestone for eXp Realty as we forge ahead with our growth in Canada and we look forward to welcoming Justin and his team to eXp Realty and watch them thrive in an ecosystem tailor-made for their entrepreneurial ambitions."
About Justin Havre Real Estate Team
Justin Havre Real Estate Team with eXp Realty is a leading and award-winning Canadian real estate company that offers a full suite of services for buyers, sellers, and investors in Calgary and Surrounding Areas. The Large Team of high-performing advisors is led by founder and real estate marketing pioneer Justin Havre. His owned and operated CalgaryHomes.ca and Calgary.com are among the largest and most visited online Calgary real estate marketplaces. He is also the creator of the Havre Home Selling System, an advanced proprietary marketing program that enables the team to guarantee the sale of a home. With a commitment to exceptional service, leading edge technology integration and continual growth, Justin Havre Real Estate Team joined eXp Realty from RE/MAX Canada in November of 2023 as a leading driver of the independent brokerage's Canadian operations, taking with them a record of $4 billion in sales volume in Calgary and more than 2,200 five-star google reviews. Justin Havre Real Estate Team is a committed annual fundraiser for various Calgary charities and foundations, raising more than $1 million for Calgary's sick kids, first responders and at-risk youth since 2014. Visit justinhavre.com, Facebook and Instagram to learn more about the company and its services.
About eXp World Holdings, Inc.
eXp World Holdings, Inc. (Nasdaq: EXPI) is the holding company for eXp Realty®, Virbela® and SUCCESS® Enterprises.
eXp Realty is the largest independent real estate company in the world with more than 89,000 agents in the United States, Canada, the United Kingdom, Australia, South Africa, India, Mexico, Portugal, France, Puerto Rico, Brazil, Italy, Hong Kong, Colombia, Spain, Israel, Panama, Germany, Dominican Republic, Greece, New Zealand, Chile, Poland and Dubai and continues to scale internationally. As a publicly traded company, eXp World Holdings provides real estate professionals the unique opportunity to earn equity awards for production goals and contributions to overall company growth. eXp World Holdings and its businesses offer a full suite of brokerage and real estate tech solutions, including its innovative residential and commercial brokerage model, professional services, collaborative tools and personal development. The cloud-based brokerage is powered by Virbela, an immersive 3D platform that is deeply social and collaborative, enabling agents to be more connected and productive. SUCCESS® Enterprises, anchored by SUCCESS® magazine and its related media properties, was established in 1897 and is a leading personal and professional development brand and publication.
For more information, visit https://expworldholdings.com.
Safe Harbor Statement
The statements contained herein may include statements of future expectations and other forward-looking statements that are based on management's current views and assumptions and involve known and unknown risks and uncertainties that could cause actual results, performance or events to differ materially from those expressed or implied in such statements. Such forward-looking statements speak only as of the date hereof, and the company undertakes no obligation to revise or update them. Such statements are not guarantees of future performance. Important factors that may cause actual results to differ materially and adversely from those expressed in forward-looking statements include changes in business or other market conditions; the difficulty of keeping expense growth at modest levels while increasing revenues; and other risks detailed from time to time in the company's Securities and Exchange Commission filings, including but not limited to the most recently filed Quarterly Report on Form 10-Q and Annual Report on Form 10-K.
MEDIA: For more information or to book an interview or broadcast segment with Justin Havre, please contact:
Margo Rapport
Justin Havre Real Estate Team
Email: [email protected]  
Phone: 416-895-5672
A photo accompanying this announcement is available at https://www.globenewswire.com/NewsRoom/AttachmentNg/03ba8ff0-31cc-4c9b-8f06-8f8d76e60edb

Disclaimer: The above press release comes to you under an arrangement with GlobeNewswire. AfternoonHeadlines.com takes no editorial responsibility for the same.