Raven Launches Pre-Order for Harvesting Automation Solution, Unveils Ag Technology Advancements at Farm Progress Show
Raven Cart Automation™ is among the company's latest innovations on its "Path to Autonomy," helping farmers be more efficient and mitigate labor constraints
Raven Industries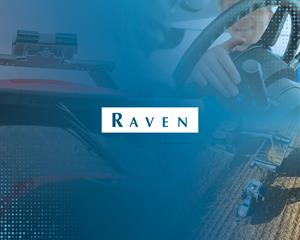 DECATUR, ILL., Aug. 28, 2023 (GLOBE NEWSWIRE) — Raven Industries, a leader in innovation and ag tech solutions, continues to prove its commitment to empowering farmers with efficient solutions for everyday operations. Raven leverages its proven track record of leading innovation to accelerate integration with CNH Industrial platforms, creating a cohesive user experience. Tomorrow, the company will take the floor at Farm Progress Show to showcase its latest ag tech advancements:
Raven Cart Automation™, now open for pre-orders.
DirecSteer™ electric steering.
Deepened integration of Raven Sense & Act™ sprayer technology with Augmenta® technology.
These advancements prove Raven's commitment to customer-focused innovation at multiple stages on its Path to Autonomy.
"At Raven, our top priority is to address our customers' current needs with cutting-edge automated technology, while also preparing them for a future with driverless autonomy in their operations," said Eric Shuman, Raven General Manager. "Raven Cart Automation, DirecSteer and Raven Sense & Act showcase our deep dedication to offering a range of solutions that positively impact all aspects of the cash crop cycle."
Raven Cart Automation™: Increased Productivity with Reliable Synchronization
Modern harvesting operations require grain cart and combine operators to be in perfect sync to maximize profitability and efficiency. Without automation technology, this requires complex communication, high operator skill and precise movements. Raven Cart Automation is designed to address these challenges, reducing operator stress by 22% for tractor operators and 33% for combine operators. This allows harvest operations to be more efficient.
Raven Cart Automation seamlessly synchronizes the cart's heading and speed with the combine during the unload on-the-go operation and simplifies the process for operators of all skill levels. With effective synchronization using local radio frequency, Raven Cart Automation ensures a smooth and reliable automated operation. Using the full aftermarket solution, farmers significantly reduce grain spillage and maximize overall profitability.
DirecSteer™: Simple, Silent and Powerful Electric Steering
DirecSteer is Raven's latest electric-drive automatic guidance technology. The off-the-shelf aftermarket solution relieves stress by making autosteer simple and silent — allowing drivers to focus on other important aspects of their operation. It provides noise-free guidance at a competitive-based price, delivering highly accurate steering in all conditions.
DirecSteer's development is proof of Raven's commitment to develop technologies that make the Path to Autonomy more practical for customers.
Raven Sense & Act™: A New Level of Spray Precision
The Raven Sense & Act solution suite combines cutting-edge innovations with existing industry-leading technologies to deliver the most precise and effective application technology stack. This integrated automation will enable farmers and ag retailers to automatically achieve the best application quality with the most efficient use of inputs by developing and executing application prescriptions in real-time. As a result, complex operations and decisions are completed at faster speeds, providing unmatched efficiency and precision.
Raven Sense & Act is an extension of Raven's recent integration with Augmenta, adding artificial intelligence and camera vision to its application technology stack to automatically control input rates and optimize various spraying and spreading applications.
Attending Farm Progress Show 2023
"At Raven, we encourage customers that the Path to Autonomy is a journey. It takes intentional steps to use automation technology to benefit today, as well as to prepare for a future with autonomy," said Ben Voss, Raven Director of Sales. "Our goal for Farm Progress Show is to help customers take those intentional next steps. By featuring our latest advancements, we also show customers that Raven is walking alongside them on the Path to Autonomy as we develop more user-friendly solutions at all levels."
Farm Progress Show attendees can visit Raven at booth #1167 and Autonomy Zone demo areas 2 and 3 to place pre-orders for Raven Cart Automation, explore Raven's comprehensive product portfolio and explore their own individual Path to Autonomy from August 29 – 31, 2023.
About Raven Industries, Inc.
Dedicated to advancing farming through technology and innovation, Raven Industries provides innovative, high-value products and systems that help farmers serve the world. For decades, Raven has been committed to maximizing operational efficiencies for growers. Today, its groundbreaking work in autonomous systems is unlocking new possibilities in farming — driving tractors down the field, wirelessly connecting the office and the cab, and protecting the environment with controlled outputs. Raven is a subsidiary of CNH Industrial (NYSE: CNHI / MI: CNHI), a world-class equipment and services company specializing in Agriculture and Construction. To learn more, visit https://ravenind.com.
Attachment
CONTACT: Erin Rinehart Director of Strategic Marketing +1 (605) 336-2750 [email protected] 

Disclaimer: The above press release comes to you under an arrangement with GlobeNewswire. AfternoonHeadlines.com takes no editorial responsibility for the same.