RAJANT WORLD MUSIC BENEFIT FOR CHILDREN'S HOSPITAL OF PHILADELPHIA
Mavericks Headlining Oct 26 Event at World Café Live – Sponsors and Artists Unite – Buy Tickets Now
Year #4 – Rajant World Music Benefit – October 26th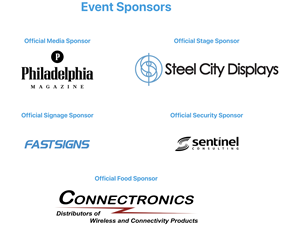 Malvern, Pennsylvania (USA), Sept. 27, 2023 (GLOBE NEWSWIRE) — Rajant Corporation, the pioneer of Kinetic Mesh® wireless networks, will host the fourth annual "Rajant World Music Benefit" on behalf of Children's Hospital of Philadelphia (CHOP). The star-studded event features The Mavericks, The No Name Pops, Tequila Rock Revolution, and James Valenti. Tickets are now available for the fundraiser at Philadelphia's World Café Live on October 26th from 6 PM to 10 PM ET.
"From groundbreaking cures for chronic diseases to community services for the most vulnerable populations, philanthropy fuels discovery and transforms the lives of our patients today and for generations to come. Funding from this event will aid our patients with life-threatening heart and lung problems, supporting our ECMO Center at CHOP, aligning to our mission in providing innovative treatment and care", shares Felicia Tarantino, Director of Community Fundraising for CHOP.
This year's proceeds and donations support CHOP's commitment to pediatric care benefiting children worldwide. The goal is to raise $100K for patients with life-threatening heart and lung problems, with donations going to the ECMO Center at CHOP. Extracorporeal membrane oxygenation, or ECMO, is an advanced life support technique providing patients with long-term breathing and heart support when all the standard treatments have been tried.
Making this possible are Rajant's fellow "Rajant World Music Benefit" sponsors. They are Philadelphia Magazine, Steel City Displays, FastSigns, Sentinel Consulting, Connectronics, Crossover Distribution, BlankRome, IGM Creative Group, Bear Icebox Communications, Lanikai Ukuleles, H. Jimenez Instruments, Hercules Stands, and Hohner Harmonics & Accordions. Adds Paul Meyer, Connectronics Managing Director, "The Rajant World Music Benefit is an exemplary cause, and Connectronics is grateful for the opportunity to support the initiative. We feel strongly about improving the quality of life for the communities we serve, both through increased wireless connectivity and strong corporate citizenship. We applaud the Children's Hospital of Philadelphia and Rajant for directly impacting the lives of these families in such a positive manner. 
The ticket purchase price includes access to exclusive silent auction items, world-class live musical performances, and the ability to make a difference for the children in CHOP's care. The 2023 event will shine light and celebrate CHOP's work as a world-class hospital that relies on philanthropic gifts to fund vital breakthroughs needed for children worldwide. Through the assistance of Rajant, musicians, sponsors, and silent auction contributors, CHOP can transform the patient-family experience, forge discoveries, bolster training and education programs, and advocate for children everywhere.
Buy your tickets today to build on the contributions of the sponsors and talent.
####
About Rajant Corporation
Rajant Corporation is the broadband communications technology company that invented Kinetic Mesh® networking, BreadCrumb® wireless nodes, and InstaMesh® networking software. With Rajant, customers can rapidly deploy a highly adaptable and scalable network that leverages the power of real-time data to deliver on-demand, mission-critical business intelligence. A low-latency, high-throughput, and secure solution for a variety of data, voice, video, and autonomous applications, Rajant's Kinetic Mesh networks provide industrial customers with full mobility, allowing them to take their private network applications and data anywhere. With successful deployments in more than 80 countries for customers in military, mining, ports, rail, oil & gas, petrochemical plants, municipalities, and agriculture. Rajant is headquartered in Malvern, Pennsylvania, with additional facilities and offices in Arizona and Kentucky. For more information, visit Rajant.com or follow Rajant on LinkedIn and Twitter.
Attachment
CONTACT: Alice DiSanto Rajant Corporation 914-582-8464 [email protected] 

Disclaimer: The above press release comes to you under an arrangement with GlobeNewswire. AfternoonHeadlines.com takes no editorial responsibility for the same.