RAJANT RECEIVES FIFTH CONSECUTIVE YEAR ISO 9001:2015 RECERTIFICATION
International Standard for Quality Management System Continues at Kentucky Facility
Rajant Corporation Morehead Staff Participants for ISO Recertification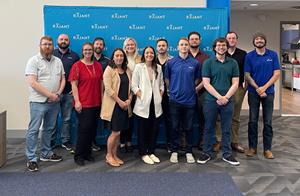 Morehead, Kentucky, March 14, 2023 (GLOBE NEWSWIRE) — Rajant Corporation, the pioneer of Kinetic Mesh® wireless networks, has been recertified for the fifth consecutive year as ISO (International Organization for Standardization) 9001: 2015-compliant. The original ISO 9001:2015 Quality Management System (QMS) certification was achieved on March 7, 2019, when Rajant demonstrated compliance with the development, technical support, and manufacturing of secure network radios at its Morehead, Kentucky facility. 
Scott Broughton, Executive Director, Kentucky Manufacturing Extension Partnership (KY-MEP) has worked with Rajant's Morehead team since the original certification. Mr. Boughton shares, "Congratulations to Rajant on its recent recertification of its Quality Management System to the ISO 9001 standard. They are committed to producing exceptional products under an established and robust Quality program, delivered by a qualified team that stands up to the rigors of a third-party auditor."
Rajant Senior Hardware Director, Brad Feick, offers, "Maintaining our ISO Certification is critical to the continued growth of Rajant Corporation's manufacturing efforts in Morehead. We are all proud of our team and extend thanks for their work, which made it possible."
Adding to Mr. Feick's statement is Kaitlyn Muncy, Quality Assurance Director in Morehead. Ms. Muncy states, "Being the Quality Assurance Manager for five years now, I have had the pleasure of seeing our Quality Management System grow significantly. When I first started, we had one product that was manufactured to ISO 9001:2015 standards. Now, over the five years, we have added on average one new product per year. We recently passed our ISO surveillance audit with zero non-conformances found. As a company that takes pride in providing the highest-level product possible to our customers, this is a significant accomplishment. Focused on continuous, quick growth, Rajant's goal is and always will be to provide quality tech products to our customers worldwide."
Morehead, Kentucky staff who worked together towards this goal include Megan Becraft- Office Manager, Marc Brashear- Manufacturing Associate, Kolby Charles- SRC, Austin Clark- Manufacturing Engineer, Duke Estridge – Manufacturing Associate, Caleb Floyd- SRC assistant, Sydney Floyd – Quality Assurance Manager, Jon Jenkins- Manufacturing Test Intern, Jon Lacy- Manufacturing Associate, Ryan Lacy- Manufacturing Associate, Maria Lemaster- Procurement Manager, Kaitlyn Muncy- Quality Assurance Director, Laura Nickell- Manufacturing Associate, Logan Pennington- Test Engineer, Travis Pettit- Manufacturing Associate, and Zach Wagner- Manufacturing Supervisor.
####
About Rajant Corporation
Rajant Corporation is the broadband communications technology company that invented Kinetic Mesh® networking, BreadCrumb® wireless nodes, and InstaMesh® networking software. With Rajant, customers can rapidly deploy a highly adaptable and scalable network that leverages the power of real-time data to deliver on-demand, mission-critical business intelligence. A low-latency, high-throughput, and secure solution for a variety of data, voice, video, and autonomous applications, Rajant's Kinetic Mesh networks provide industrial customers with full mobility, allowing them to take their private network applications and data anywhere. With successful deployments in more than 80 countries for customers in military, mining, ports, rail, oil & gas, petrochemical plants, municipalities, and agriculture. Rajant is headquartered in Malvern, Pennsylvania, with additional facilities and offices in Arizona and Kentucky. For more information, visit Rajant.com or follow Rajant on LinkedIn and Twitter.
Attachment
Rajant Corporation Morehead Staff Participants for ISO Recertification
CONTACT: Alice DiSanto Rajant Corporation 914-582-8464 [email protected] 

Disclaimer: The above press release comes to you under an arrangement with GlobeNewswire. AfternoonHeadlines.com takes no editorial responsibility for the same.