Quantum Computing Market revenue to reach USD 50.22 Billion by 2035, says Research Nester
Leading quantum computing market players include Rigetti Computing, Inc., T-Systems International GmbH, Huawei Technologies Co. Ltd., IBM Corporation, D-Wave Systems Inc., Telstra Corporation Limited, Zapata Computing Inc., Microsoft Corporation, IonQ Inc., and Silicon Quantum Computing.
New York, Aug. 16, 2023 (GLOBE NEWSWIRE) — The global quantum computing market size is expected to expand at ~33.20% CAGR from 2023 to 2035. The market is anticipated to garner a revenue of USD 50.22 billion by the end of 2035, up from a revenue of ~USD 1.61 billion in the year 2022.The growth of the market is attributed to the increasing demand for advanced computing capabilities coupled with the increasing need for better analytical and programming skills. Quantum computing technology is also on the rise due to its ability to solve complex problems quickly and accurately. In addition, the growing need for secure computing and the potential of quantum computing to offer a secure quantum network will boost market demand.
Request Free Sample Copy of this Report @ https://www.researchnester.com/sample-request-4910
Additionally, the potential for increased computing power, enhanced security, and advanced data analytics capabilities will drive market expansion. Quantum computing has the potential to revolutionize certain tasks that conventional computers cannot easily handle, such as complex optimization problems and machine learning. In addition, the increasing number of quantum computers worldwide is expected to boost the growth of the market. For example, the National Science Foundation awarded a USD 1.2 million grant to study the use of artificial quantum intelligence to speed the development of effective drugs and reduce costs.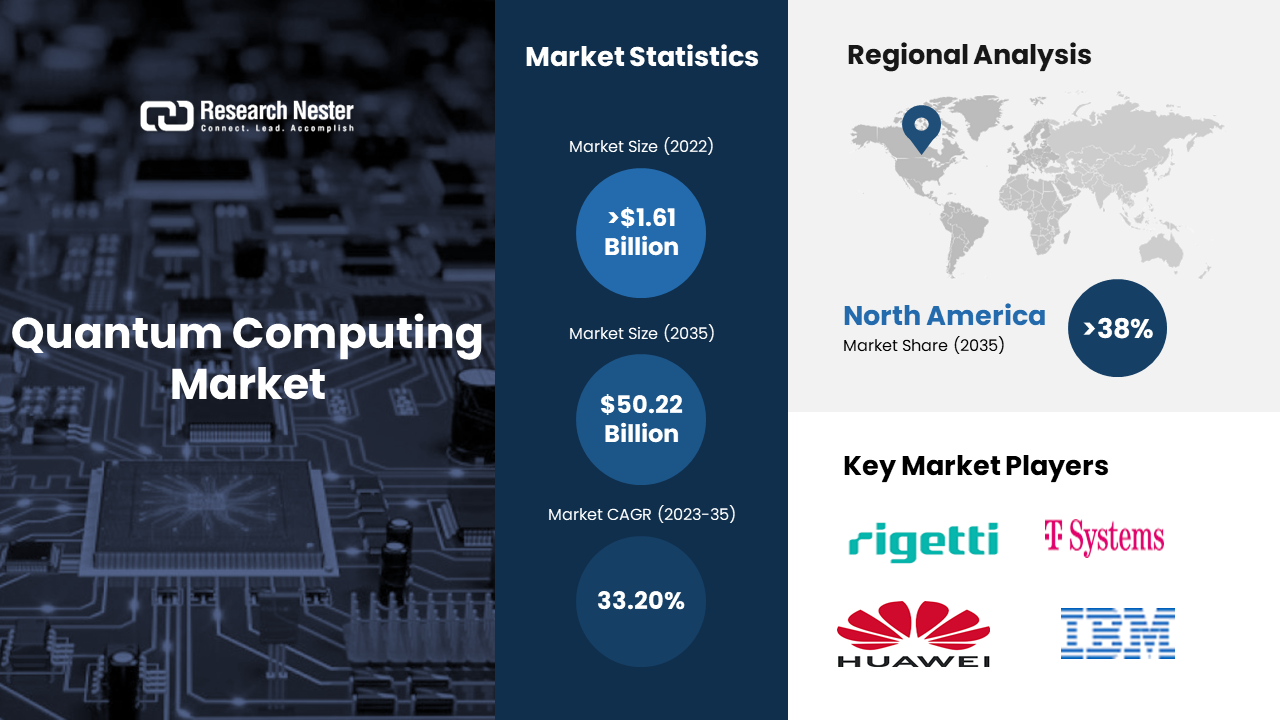 Quantum Computing Market: Key Takeaways
Market in North America to propel highest growth
The cloud segment to garner the highest growth
Market in Asia Pacific to grow at a highest rate
Increasing Investment in Quantum Computing Technology across the Globe to Boost Market Growth
Quantum computing technology is becoming increasingly important for industries such as finance and healthcare as it offers increased speed, accuracy and reliability for computing tasks. As a result, more and more companies are investing in this technology, which is fueling the expansion of the market. It is also estimated that further development of quantum computers and processors will drive the growth of the market. For example, in 2019 IBM developed a 53-qubit quantum computer for widespread commercial use, and Rigetti Computing announced a 128-qubit quantum computer.
In addition, Bristlecone, a 72-qubit processor, was launched by the Quantum Artificial Intelligence Laboratory, which is supported by NASA, Google and the Universities Space Research Association. Quantum computers and processors are critical to quantum computing as it is believed to offer much higher levels of speed and precision than current technology. The growing number of machine learning applications such as speech recognition and natural language processing, as well as the need for higher precision and faster processing, are driving the demand for quantum computing.
Quantum Computing Market: Regional Overview
The market is segmented into five major regions including North America, Europe, Asia Pacific, Latin America, and the Middle East and Africa region.
Expanding Government Investments to Drive the Market Growth in North America Region
The quantum computing market in North America region is estimated to garner the largest revenue by the end of 2035. Governments in North America, particularly the United States and Canada, have been actively investing in quantum computing research and development. These investments aim to enhance national competitiveness, advance scientific discovery, and drive technological innovation. For example, in the United States, the National Quantum Initiative Act was signed into law, authorizing USD 1.2 billion over five years for quantum information science research and development.
Numerous technology companies in North America have been actively exploring quantum computing and investing in their own research and development. Companies such as IBM, Microsoft, Google, and Amazon have made substantial commitments to advancing quantum computing technologies. These corporate initiatives are driving the growth of the market by fostering innovation, developing quantum hardware and software solutions, and creating a vibrant ecosystem of quantum startups. Collaboration between academic institutions and industry players is a significant driver for the growth of the quantum computing market. Universities and research institutions in North America are actively engaged in quantum research, focusing on areas such as quantum algorithms, quantum information theory, and quantum materials. Collaborative efforts between academia and industry facilitate knowledge exchange, talent development, and the translation of fundamental research into practical applications.
Make an Inquiry Before Buying this Report @
https://www.researchnester.com/inquiries-before-buying-4910
Growing Academic and Research Institutions to Propel the Growth in the Asia Pacific Region
The Asia Pacific quantum computing market is estimated to garner the highest CAGR by the end of 2035. Asia Pacific is home to renowned academic and research institutions that are making significant contributions to the field of quantum computing. Institutions in countries like China, Japan, Australia, and South Korea are actively engaged in quantum research, fostering collaboration between academia and industry. The presence of strong research ecosystems accelerates innovation and drives quantum computing market growth.
Governments across the Asia Pacific region have recognized the potential of quantum computing and have been actively investing in research, development, and infrastructure. For example, China launched the National Laboratory for Quantum Information Sciences, with a plan to invest USD 10 billion in quantum research. Similarly, Australia announced a 10-year, AUD 70 million investment in quantum computing research and development in 2021. Organizations in the Asia Pacific region are increasingly recognizing the potential of quantum computing to solve complex problems and gain a competitive edge. Industries such as finance, healthcare, logistics, and cybersecurity are exploring quantum computing applications. As awareness grows, organizations are investing in research and development, partnerships, and talent development, contributing to the overall growth of the quantum computing market.
Quantum Computing, Segmentation by Deployment Model
Amongst these two segments, the cloud segment is anticipated to hold the largest share over the forecast period. Organizations worldwide are undergoing digital transformation initiatives to modernize their IT infrastructure and processes. Cloud computing plays a critical role in enabling digital transformation by providing scalable, flexible, and cost-effective solutions. According to IDC, worldwide spending on digital transformation technologies and services is forecasted to reach USD 2.3 trillion in 2023, indicating the growing importance of cloud computing in driving digital transformation.
Cloud computing offers cost savings and operational efficiency benefits compared to traditional on-premises infrastructure. Organizations can avoid upfront infrastructure costs, pay for only the resources they consume, and benefit from economies of scale. Cloud computing provides the ability to scale resources up or down based on demand. This scalability and elasticity allow organizations to handle varying workloads, optimize resource utilization, and respond quickly to changing business needs.
Quantum Computing, Segmentation by Application
Machine Learning
Optimization
Biomedical Simulations
Financial Services
Electronic Material Discovery
Others
Amongst these segments, the optimization segment in quantum computing market is anticipated to hold a significant share over the forecast period. Optimization techniques help organizations reduce costs, optimize resource utilization, and improve operational efficiency. By optimizing processes, organizations can minimize waste, streamline workflows, and make informed decisions that result in cost savings. For example, optimization in supply chain management can lead to reduced inventory holding costs and improved delivery schedules. According to a survey, more than 60% of respondents reported cost reductions of 10% or more after implementing optimization techniques.
Optimization techniques are being adopted across a wide range of industries, including manufacturing, transportation, logistics, energy, healthcare, finance, and telecommunications. Each industry has its unique optimization challenges and requirements. For instance, in the healthcare sector, optimization can help in patient scheduling, resource allocation, and treatment planning. In the transportation industry, optimization can improve route planning and fleet management. The widespread adoption of optimization techniques across industries is driving market growth.
Request for Customization of this Report @ https://www.researchnester.com/customized-reports-4910
Quantum Computing, Segmentation by Technology
Trapped Ions
Quantum Dots
Quantum Annealing
Quantum Computing, Segmentation by Offering
Service
Software
Hardware
Quantum Computing, Segmentation by End Use
Healthcare & Pharmaceuticals
Chemicals
Defense
BFSI
Energy & Power
Others
Few of the well-known industry leaders in the quantum computing market that are profiled by Research Nester are Rigetti Computing, Inc., T-Systems International GmbH, Huawei Technologies Co. Ltd., IBM Corporation, D-Wave Systems Inc., Telstra Corporation Limited, Zapata Computing Inc., Microsoft Corporation, IonQ Inc., Silicon Quantum Computing, and other key market players.
Recent Development in the Quantum Computing Market
A company of Rigetti UK Limited, a wholly owned subsidiary of Rigetti Computing, Inc., announced the UK launch of a 32-qubit quantum computer as part of the Aspen series.
T-Systems intends to offer quantum computing expertise and access to IBM's quantum computing resources. This announcement represents an important step in the company's quantum strategy as it will be the first company to offer knowledge of and access to IBM's quantum computing resources.
About Research Nester
Research Nester is a one-stop service provider with a client base in more than 50 countries, leading in strategic market research and consulting with an unbiased and unparalleled approach towards helping global industrial players, conglomerates and executives for their future investment while avoiding forthcoming uncertainties. With an out-of-the-box mindset to produce statistical and analytical market research reports, we provide strategic consulting so that our clients can make wise business decisions with clarity while strategizing and planning for their forthcoming needs and succeed in achieving their future endeavors. We believe every business can expand to its new horizon, provided a right guidance at a right time is available through strategic minds.
CONTACT: AJ Daniel Corporate Sales, USA Research Nester Email: [email protected] USA Phone: +1 646 586 9123 Europe Phone: +44 203 608 5919

Disclaimer: The above press release comes to you under an arrangement with GlobeNewswire. AfternoonHeadlines.com takes no editorial responsibility for the same.