Qlarant Foundation Awards $440,500 to Charitable Organizations
The 2023 Program Provides 23 Separate Grants of up to $35,000 each
Amanda Neal and Dr. Ron Forysthe, Jr. Qlarant CEO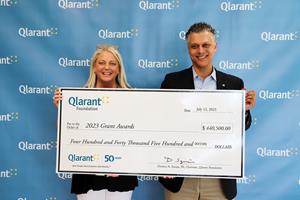 Easton, Md., July 14, 2023 (GLOBE NEWSWIRE) — Qlarant Foundation held their annual award event and provided grants to 23 non-profit organizations during the 2023 Grant Awards Celebration. Representatives from each organization convened at the company's corporate offices in Easton, Maryland. The grant recipients were selected from over 100 applications from across Maryland and the District of Columbia. In total, $440,500 in grants and gifts ranging from $3,500 to $35,000 were awarded. Since 2008, the Foundation has awarded over $6.6 Million to 122 organizations.
As the honored guest speaker, Ms. Elizabeth M. Hewlett, Esq. delivered a motivational and uplifting message of hope, friendship, and the power of working together to lift the spirits of others. Ms. Hewlett has practiced law and been a public servant for more than 40 years. She recently completed her second tenure as the Chair of the Prince George's County Planning Board and The Maryland-National Capital Park and Planning Commission (M-NCPPC), the first African American and the first woman to serve in this position. In attendance were representatives from each of the grantees, Qlarant Board members, leadership and staff. Ms. Hewlett received a standing ovation.
Also in attendance was special guest Mr. Michael Arntz, Constituent Liaison for 1st District of Maryland Congressman Andy Harris.
The in-person event provides an opportunity for each of the awardees to meet each other and connect. This enables dialogues to foster ideas for fundraising, program management, and avenues for growth. In some cases, the awardees actually end up working together. "One significant benefit of the Qlarant Foundation Grant Program is that it connects nonprofits with similar missions," noted Bill Shrieves, President of Bay Hundred Community Volunteers. "For most of us, this connection becomes a force multiplier beyond the actual grant money, increasing the impact on the communities we serve. I met Genevieve Croker at the Qlarant Foundation grant ceremony last year and we talked about our modular aluminum ramp program," he continued. "She was interested in starting a program in Kent County." As a result, last September, two of the Rebuilding Together board members traveled to St. Michaels and worked with the Bay Hundred team on a ramp build to become familiar with the process. They have been collaborating ever since.
Each grantee, and their respective program, is profiled on www.qlarant.com/foundation with photos videos, and descriptions of the work the Foundation supports.
"This year, we have a fantastic grantee pool which will be providing a diverse array of services including health and mental health care, housing and addiction services, childhood development programs, and supports for people with developmental disabilities," said Amanda M. Neal, Foundation Vice-Chair Qlarant Foundation Board Chair. "Our communities will benefit greatly from the diverse and creative solutions these organizations are able to provide to those in need."
"I'm so proud to represent Qlarant employees and management in this ongoing effort to invest in the local community.  Qlarant Foundation is pleased to be able to continue to provide funding for these outstanding programs." Ms. Neal continued "The supports and services outlined in this year's group of grantees will have a direct impact on the health and quality of life of the communities we all serve."
Foundation Board Vice Chair Amanda Neal and Qlarant CEO Dr. Ron Forsythe, Jr. present a check for $440,500 in this year's Qlarant Foundation Grantee program.
About Qlarant: Qlarant is a not-for-profit, nationally respected leader in fighting fraud, waste, and abuse, improving program quality, and optimizing performance. The company uses subject matter experts and innovative data science and technology to help organizations see risks, solve problems, and seize opportunities. Qlarant provides customized solutions for state, federal and commercial industries across the nation. The Qlarant Foundation— the mission arm of the organization—has provided over $6 million in grants to charities throughout Maryland and the District of Columbia. Headquartered in Easton, Md. Qlarant employs nearly 500 people nationwide and has a 50-year record of accomplishment improving the performance of some of the Nation's most important programs. Qlarant is a three-time winner of the Best Places to Work award. For more information, visit www.qlarant.com or contact [email protected]
Attachment
Amanda Neal and Dr. Ron Forysthe, Jr. Qlarant CEO
CONTACT: Pat Boos Qlarant 410-819-3553 [email protected] 

Disclaimer: The above press release comes to you under an arrangement with GlobeNewswire. AfternoonHeadlines.com takes no editorial responsibility for the same.