Prospera Energy Inc. Announces Horizontal Infill Drilling Program Update and Interest Payable Reduction Settlement
Horizontal Infill Drilling Program Update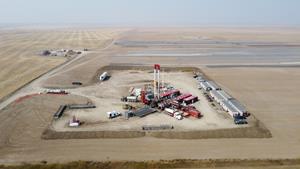 CALGARY, Alberta, Sept. 12, 2023 (GLOBE NEWSWIRE) — Prospera Energy Inc. ("Prospera" or the "Company") (TSX.V: PEI, OTC: GXRFF, FRA: OF6B, OF6B.SG, OF6B.F, OF6B.BE).
Prospera has completed the drilling of four horizontal wells of the ten well multi-pad infill drill program. These wells encountered structure and pay as expected with excellent oil show throughout the pay. The drilling technique tweaked from the pilot wells were executed efficiently and ahead of schedule. High praises to Lasso Drilling Corporation for the effective synergy with Prospera to attain efficiency. These drilled horizontals are being completed and tied-in to existing infrastructure. Turnaround time to bring the production online is approximately two to three weeks; two horizontal wells are already completed. The production will be brought on gently initially to optimize recovery due to the heavier fluid properties. The full deliverability can be attained, approximately, over a three-month period. The next set of four horizontals are to commence within one week, barring any weather-related delays.
This multi-pad infill drill program stems from a comprehensive geological, seismic, and reservoir management delineation. The infill program is designed to optimize recovery with optimum wells in a cost-effective manner, while also aligning with planned enhanced and improved recovery techniques. As previously announced, this ten well program can approximately add an additional 750 bpd at a low decline to Prospera's current 900+boepd. This infill development is intended to accelerate production and recovery to capture the significant remaining heavy oil reserves (400 million bbls).
The medium-light oil spud will follow the heavy oil horizontal well transformation from vertical wells in the latter part of this month. These slanted drills are awaiting the preparation of the new leases, surface facilities, and connecting pipelines. The medium-light oil development entails six to eight directional wells that can add an additional 600bpd (gross) at 50%, WI diversifying Prospera's product mix and improving margin.
Overall, this Phase 2 development plan will allow Prospera Energy to become a low-cost producer with a significant increase in production. Restructured Prospera primary focus subsequent to increased production and corresponding revenue is to address all legacy arrears (especially, land owners & local community vendors), stay current with payables, and maintain services with comparable terms. Meanwhile, PEI will continue to execute its liability management plan to reduce the asset reduction obligations.
Interest Payable Reduction Settlement
PEI announces that the Corporation has accrued indebtedness to the Corporation's convertible debenture holders (the "Creditors") in the amount of $376,050.76 (the "Debt") for interest expenses. The Corporation has the option to pay Creditors interest in either cash or in shares at market price, at the Corporation's discretion, and has agreed to settle the Debt by the issuance of fully paid common shares in the capital of the Corporation ("Common Shares").
This interest payable will reduce the current liabilities, in turn further improving its current ratio and liabilities related to the settlement of historical arrears. The Corporation intends to settle the Debt at a price per Common Share of $0.105, for an aggregate amount of 3,581,434 Common Shares. The common shares will be subject to a four-month hold period. The transaction is subject to the approval of the TSX Venture Exchange.
About Prospera Energy Inc.
Prospera Energy Inc. (TSX.V: PEI, OTC: GXRFF, FRA: OF6B) is a publicly traded energy company based in Western Canada, specializing in the exploration, development, and production of crude oil and natural gas. Prospera Energy Inc. has announced a mid-August spud of PEI's phase 2 restructured development program intended to increase production. The phase 2 development entails the drilling of 10 horizontal wells in heavy oil and 8 slanted wells in medium-light oil to accelerate growth and capture the significant remaining reserves (400 million bbls). These horizontal laterals and slanted wells will allow PEI to increase production by approximately 1,000bpd with recovery of approximately 100Mstb per well. PEI will reduce its environmental and surface footprint by eliminating the numerous vertical well leases along the lateral path. Phase III of Prospera's corporate redevelopment strategy will focus on continuing the company's horizontal modular development to appreciate production and optimize recovery of remaining reserves.
Prospera intends to implement full-scale EOR applications based on the results of its Phase II pilot program, which is forecasted to optimize recovery by greater than 10%. Prospera also intends to continue its acquisition strategy to diversify its product mix. Its goal is to attain 50% light oil, 40% heavy oil and 10% gas.
PEI continues to apply efforts to minimize its environmental footprint. Also, efforts to reduce and eventually eliminate emissions, alongside pursuing innovative ESG methods to enhance API quality, thereby achieving higher margins and eliminating the need for diluents.
For further information, please contact:
Shawn Mehler, PR
[email protected]
www.prosperaenergy.com
FORWARD-LOOKING STATEMENTS
This news release contains forward-looking statements relating to the future operations of the Corporation and other statements that are not historical facts. Forward-looking statements are often identified by terms such as "will," "may," "should," "anticipate," "expects" and similar expressions. All statements other than statements of historical fact included in this release, including, without limitation, statements regarding future plans and objectives of the Corporation, are forward-looking statements that involve risks and uncertainties. There can be no assurance that such statements will prove to be accurate and actual results and future events could differ materially from those anticipated in such statements.
Although Prospera believes that the expectations and assumptions on which the forward-looking statements are based are reasonable, undue reliance should not be placed on the forward-looking statements because Prospera can give no assurance that they will prove to be correct. Since forward-looking statements address future events and conditions, by their very nature they involve inherent risks and uncertainties. Actual results could differ materially from those currently anticipated due to a number of factors and risks. These include, but are not limited to, risks associated with the oil and gas industry in general (e.g., operational risks in development, exploration and production; delays or changes in plans with respect to exploration or development projects or capital expenditures; the uncertainty of reserve estimates; the uncertainty of estimates and projections relating to production, costs and expenses, and health, safety and environmental risks), commodity price and exchange rate fluctuations and uncertainties resulting from potential delays or changes in plans with respect to exploration or development projects or capital expenditures.
The reader is cautioned that assumptions used in the preparation of any forward-looking information may prove to be incorrect. Events or circumstances may cause actual results to differ materially from those predicted, as a result of numerous known and unknown risks, uncertainties, and other factors, many of which are beyond the control of Prospera. As a result, Prospera cannot guarantee that any forward-looking statement will materialize, and the reader is cautioned not to place undue reliance on any forward- looking information. Such information, although considered reasonable by management at the time of preparation, may prove to be incorrect and actual results may differ materially from those anticipated. Forward-looking statements contained in this news release are expressly qualified by this cautionary statement. Th forward-looking statements contained in this news release are made as of the date of this news release, and Prospera does not undertake any obligation to update publicly or to revise any of the included forward-looking statements, whether as a result of new information, future events or otherwise, except as expressly required by Canadian securities law.
Neither the TSXV nor its Regulation Services Provider (as that term is defined in the policies of the TSXV) accepts responsibility for the adequacy or accuracy of this release.
A photo accompanying this announcement is available at https://www.globenewswire.com/NewsRoom/AttachmentNg/cb97d755-cbd4-4073-b783-26a2979c3486 

Disclaimer: The above press release comes to you under an arrangement with GlobeNewswire. AfternoonHeadlines.com takes no editorial responsibility for the same.