Product Information Management Market revenue to hit USD 23 Billion by 2035, says Research Nester
Leading product information management market players include Akeneo, Informatica LLC, Riversand Technologies, Inc., SAP SE, Salsify Inc., and Pimcore.
New York, Aug. 14, 2023 (GLOBE NEWSWIRE) — The global product information management market size is expected to expand at ~11% CAGR from 2023 to 2035. The market is anticipated to garner a revenue of USD 23 billion by the end of 2035, up from a revenue of ~USD 10 billion in the year 2022.Omnichannel marketing strategies aim to provide consistent messaging and customer experiences across various channels, including online, offline, mobile, and social media. PIM solutions play a vital role in supporting omnichannel marketing by centralizing product data and ensuring its accuracy and relevance across different touchpoints. By enabling businesses to deliver cohesive and personalized product experiences, PIM systems contribute to improved customer engagement and increased sales.
Request Free Sample Copy of this Report @ https://www.researchnester.com/sample-request-4992
Businesses operating in regulated industries, such as healthcare, pharmaceuticals, and consumer goods, face stringent compliance and regulatory requirements for product information. product information management market offer features like data governance, version control, and audit trails, which help organizations meet these requirements and maintain data integrity. The need to comply with industry-specific regulations and standards has led to the adoption of PIM solutions across various sectors. To ensure customers have accurate and up-to-date product information, companies need PIM solutions to manage large amounts of product data. By 2022, more than 2.2 billion people are expected to be buying goods and services online, as e-commerce sales account for 20% of global retail sales.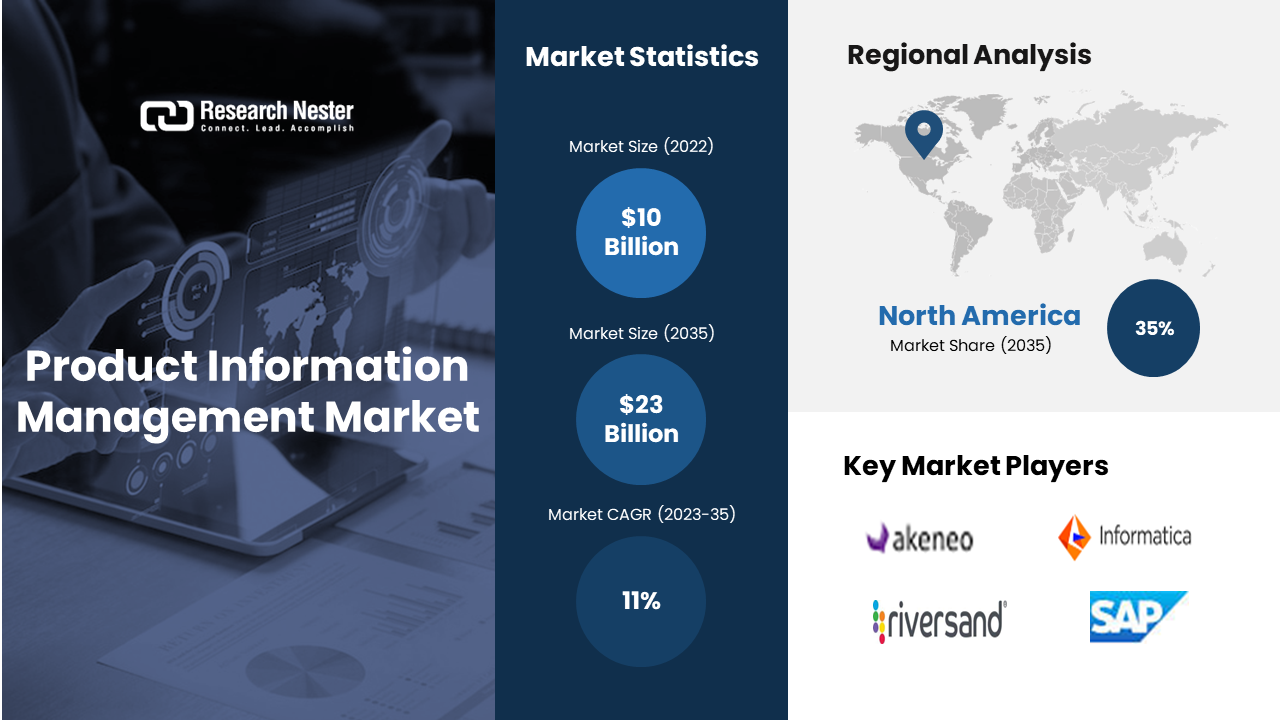 Product Information Management Market: Key Takeaways
Market in North America to propel the highest growth
The on-premise segment to garner the highest growth
Market in Asia Pacific to grow at the highest rate
Increasing Data Generation at An Exponential Rate across the Globe to Boost Market Growth
PIM systems provide a central repository for all product-related data, allowing companies to easily manage and access the data they need to provide a better customer experience. In 2020, around 115 zettabytes of data were created. By 2025, more than 180 zettabytes of data will be generated. This includes product descriptions, images and pricing information, and other related data. By having all product data in one place, companies can quickly and efficiently provide their customers with accurate and up-to-date information. A total of USD 28 trillion is expected to be spent on retail globally in 2023. By providing a single platform for retailers and brands to manage their product inventory, PIM frameworks increase efficiencies and reduce the costs associated with managing product information.
Additionally, PIM frameworks can optimize product listings for each sales channel, further increasing efficiency and revenue. Organizations are increasingly using product data to understand customer needs, develop marketing campaigns, build complex attribute models, improve operational efficiencies, and develop multiple product hierarchies. This requires the management and analysis of product data, which increases the need for PIM solutions that automate this process.
Product Information Management Market: Regional Overview
The market is segmented into five major regions including North America, Europe, Asia Pacific, Latin America, and the Middle East and Africa region.
Expanding e-commerce sales to Drive Market Growth in North American Region
The product information management market in the North American region is estimated to garner the largest revenue by the end of 2035. The e-commerce industry in North America has experienced substantial growth. According to a report, e-commerce sales in the United States alone reached USD 791.7 billion in the year 2020, representing a 32.4% increase compared to the previous year. This surge in online retail has fueled the demand for PIM solutions to manage and deliver accurate product information across multiple e-commerce channels. Businesses in North America are increasingly adopting omnichannel marketing strategies to deliver consistent and personalized experiences to customers across various touchpoints.
PIM systems play a crucial role in supporting omnichannel marketing by ensuring consistent and up-to-date product information across all channels. North America has stringent regulatory compliance requirements, particularly in industries such as healthcare, pharmaceuticals, and consumer goods. PIM solutions help organizations in these sectors adhere to compliance standards by centralizing and managing product data in a controlled and auditable manner.
Make an Inquiry Before Buying this Report @
https://www.researchnester.com/inquiries-before-buying-4992
Growing digital transformation to Propel Growth in the Asia Pacific Region
The Asia Pacific product information management market region is estimated to garner the highest CAGR by the end of 2035.  Many businesses in Asia Pacific are undergoing digital transformation to stay competitive and meet evolving consumer expectations. This transformation includes enhancing digital capabilities, optimizing online sales channels, and improving customer experiences. PIM solutions play a vital role in digital transformation efforts by enabling businesses to centralize and manage product information, ensuring consistency and accuracy across digital touchpoints.
The retail and manufacturing sectors in Asia Pacific are experiencing significant expansion, driven by factors such as urbanization, a growing middle-class population, and rising disposable incomes. As these sectors grow, the complexity of product data management increases, necessitating the adoption of PIM solutions. By streamlining product data processes, PIM systems enable retailers and manufacturers to efficiently manage product catalogs, improve time-to-market, and enhance customer experiences. Businesses in Asia Pacific are placing greater emphasis on delivering exceptional customer experiences to drive loyalty and revenue growth. PIM solutions contribute to this objective by providing accurate and consistent product information across all customer touchpoints, including online and offline channels. According to a study, 77% of consumers in Asia Pacific are willing to pay more for a better customer experience.
Product Information Management, Segmentation by Deployment
Amongst these segments, the cloud segment in product information management market is anticipated to hold the largest share over the forecast period. The exponential growth of data has led to increased demand for storage and data analytics capabilities. Cloud storage provides scalable and cost-effective solutions for storing and managing large volumes of data.
Additionally, cloud-based analytics platforms offer powerful data processing and analysis capabilities. According to IDC, worldwide spending on cloud-based big data and analytics solutions is projected to reach USD 23.1 billion in 2022, indicating the growing adoption of cloud for data storage and analytics needs. The proliferation of Internet of Things (IoT) devices and the need for edge computing capabilities have driven the growth of cloud services. Cloud computing provides the necessary infrastructure and platforms to handle and process the massive amounts of data generated by IoT devices. Cloud solutions enable organizations to leverage IoT and edge computing to gain valuable insights and drive innovation. The COVID-19 pandemic has accelerated the adoption of remote work and highlighted the importance of cloud technologies for collaboration and productivity. Cloud-based collaboration tools, virtual desktops, and communication platforms have become essential for remote teams. The shift towards remote work has driven the demand for cloud solutions that facilitate seamless collaboration and enable remote access to resources.
Product Information Management, Segmentation by Enterprise Size
Large Enterprises
Small & Medium-Sized Enterprises
Amongst these segments, the large enterprises segment in product information management market is anticipated to hold a significant share over the forecast period. Large enterprises benefit from economies of scale, enabling them to optimize costs and enhance operational efficiency. They can leverage their size to negotiate favorable contracts, bulk purchasing, and centralized operations. According to a report, large enterprises have a cost advantage of up to 35% compared to their smaller competitors. The pursuit of operational efficiency and cost optimization contributes to their growth and competitiveness.
Large enterprises can form strategic partnerships, or joint ventures, or acquire other companies to expand their offerings and market reach. These partnerships and acquisitions contribute to their growth and market dominance. According to a report, M&A activity among large enterprises reached a record high in recent years. The ability to execute strategic collaborations and acquisitions enables large enterprises to enter new markets, access new technologies, and drive growth. Large enterprises often serve a broad customer base, leveraging their established reputation and market position. They have the resources to invest in customer acquisition, retention, and loyalty programs.
Request for Customization of this Report @
https://www.researchnester.com/customized-reports-4992
Product Information Management, Segmentation by Enterprise Size
Product Information Management, Segmentation by End User
BFSI
Retail
Manufacturing
IT & Telecommunication
Transportation & Logistics
Media & Entertainment
A few of the well-known industry leaders in the product information management market that are profiled by Research Nester are Akeneo, Informatica LLC, Riversand Technologies, Inc., SAP SE, Salsify Inc., Pimcore, and other key market players.
Recent Development in the Product Information Management Market
A new data importer, Pimcore X, was introduced by Pimcore. Several innovative technologies are implemented in Pimcore to enable clients' digital applications to access and update data to be managed in Pimcore with the assistance of many innovative technologies, such as REST or GraphQL.
SAP SE has announced the new cloud-based product information management (PIM) solution SAP Product Content Hub. With SAP Product Content Hub, companies can integrate their product content across their different departments and channels, streamlining the process of creating, managing, and distributing product information.
About Research Nester
Research Nester is a one-stop service provider with a client base in more than 50 countries, leading in strategic market research and consulting with an unbiased and unparalleled approach to helping global industrial players, conglomerates, and executives for their future investments while avoiding forthcoming uncertainties. With an out-of-the-box mindset to produce statistical and analytical market research reports, we provide strategic consulting so that our clients can make wise business decisions with clarity while strategizing and planning for their forthcoming needs and succeed in achieving their future endeavors. We believe every business can expand to its new horizon, provided the right guidance at the right time is available through strategic minds.
CONTACT: AJ Daniel Corporate Sales, USA Research Nester Email: [email protected] USA Phone: +1 646 586 9123 Europe Phone: +44 203 608 5919

Disclaimer: The above press release comes to you under an arrangement with GlobeNewswire. AfternoonHeadlines.com takes no editorial responsibility for the same.