PRESIDENT & CEO SHELTON J. HAYNES ANNOUNCES CAPITAL PROJECT UPDATE ABOUT ROOSEVELT ISLAND ROADWAYS AND PAVED SURFACES REDESIGN
Traffic Data Collection Survey was Completed in February 2023 with 434 Responses
Photo: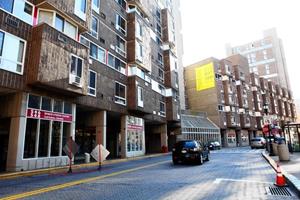 ROOSEVELT ISLAND, NY, April 17, 2023 (GLOBE NEWSWIRE) — Roosevelt Island Operating Corporation (RIOC) President & CEO Shelton J. Haynes today offered an update on the ongoing Roadways and Paved Surfaces Rehabilitation Design Project.
First announced in 2021, the project is designed to study conditions and traffic patterns across all paved pedestrian and automotive roadways on the island, and develop a master plan that will address current issues related to speeding, parking, and accessibility for island travelers. The goal of the project is to make navigating the island easier and safer for residents and visitors across all forms of transportation, with a strong focus on construction work to improve Main Street in the coming years.
The scope of the first phase of the project involves four stages:
Survey roads, pathways, and all underground utilities under the roadways on the island—this includes surveying of all pedestrian, bicycle and other non-human modality and vehicular traffic patterns, volumes, parking, accessibility, pavement quality, sightlines, and safety issues on Roosevelt Island.
Conduct an island wide traffic study and analyze all modes of transportation.
Prepare a Master Plan layout for the island roadways addressing current multi-modal issues relating to speeding, parking, accessibility, and paved surfaces. Masterplan shall be used as a guideline for future projects.
Prepare a fully constructable plan for areas between the Blackwell House Traffic circle and the crossing at Food Town. The goal is to address the core Main Street areas first. The intention is to use the master plan layout to break out island wide roadways work and schedule it according to island wide construction logistics.
Currently, the project is in the pre-Master Plan survey phase (stage 2). A traffic data collection survey was conducted between February 13th and February 26th of this year, resulting in 434 survey responses from bus and tram riders. The information from the survey—which focused on how, why, and when travelers utilized the bus and tram services—will help inform the Master Plan design and is currently being evaluated by project engineers. Other surveys have already been completed on traffic data counts at various locations on the island. Aerial and utility surveys remain ongoing. RIOC is currently targeting late summer 2023 for completion of the Roadways and Paved Surfaces Master Plan.
The second phase of the project will involve the main construction work on Main Street, tentatively scheduled to begin in 2025.
"We have put a great deal of emphasis on maintaining and enhancing multi-modal transportation on the island," said RIOC President and CEO Shelton Haynes. "This project renews our commitment to the island's growing population to better accommodate foot, bicycle, and vehicular traffic on the island. No matter how proactive we are, infrastructure wears down, and travel patterns change. With this Roadways and Paved Surfaces Project, we will ensure island travel is the safest and most efficient it can be for residents and visitors alike for years to come. This is a long-term, island-wide infrastructure project that will take time to complete. Still, we're prioritizing the heavy-duty work along our island's main artery on Main Street to maximize the effectiveness of the new master plan."  
"This project will go a long way toward ensuring island travel is as safe and accessible as possible," said Prince Shah, RIOC Director of Capital Projects. "Once we have completed the survey and study phase, we will be able to craft a master plan that will help guide our roadways and paved surfaces work for many years to come. Let me also note this project will help us better utilize signage on the island, which, as it stands, can often be contradictory or difficult to understand. We want our work here to be as comprehensive as possible."
RIOC targets late summer 2023 for the project master plan.
About Roosevelt Island Operating Corporation (RIOC):
The Roosevelt Island Operating Corporation (RIOC) was created in 1984 by the State of New York as a public benefit corporation with a mission to plan, design, develop, operate, and maintain Roosevelt Island. With a focus on innovative and environmentally friendly solutions, RIOC is committed to providing services that enhance the island's residential community. RIOC manages the two-mile-long island's roads, parks, buildings, a sports facility, and public transportation, including the iconic aerial tramway. Additionally, RIOC operates a Public Safety Department that helps maintain a safe and secure environment for residents, employees, business owners, and visitors.  
Attachment
CONTACT: Akeem H. Jamal Roosevelt Island Operating Corporation (RIOC) (212) 832-4540 [email protected] 

Disclaimer: The above press release comes to you under an arrangement with GlobeNewswire. AfternoonHeadlines.com takes no editorial responsibility for the same.