PRESIDENT & CEO SHELTON J. HAYNES ANNOUNCES APPOINTMENT OF DHRUVIKA PATEL AMIN TO CHIEF FINANCIAL OFFICER AT ROOSEVELT ISLAND OPERATING CORPORATION
Photo: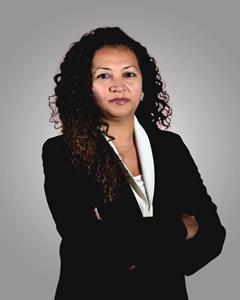 Roosevelt Island, NY, Nov. 15, 2023 (GLOBE NEWSWIRE) — Roosevelt Island Operating Corporation President & CEO Shelton J. Haynes today announced the appointment of Dhruvika Patel Amin, CPA to the position of Chief Financial Officer and Vice President for the Roosevelt Island Operating Corporation following her approval by the RIOC Board of Directors at last night's board meeting.
Patel Amin has an expansive background in finance and brings more than 20 years of professional experience to Roosevelt Island. Before joining RIOC, she served as Chief Financial Officer for Teragram LLC, a company with real estate and other financial and non-financial assets based out of New York City, where she oversaw the company's strategic and business planning process; reviewed and approved significant transactions; oversaw all aspects of the corporation's accounting, tax planning, and charitable giving; handled compliance concerns; maintained relationships with key board members, banks attorneys, and consultants; and oversaw HR matters, all while managing a staff of 30 people. Patel Amin provided key leadership and guidance to the Teragram staff during the challenging COVID-19 pandemic, and helped the company maintain its high standards of service with no disruptions for its principals. Prior to serving as CFO for Teragram, Patel Amin spent more than 16 years at Black River Management Company where she held several high-level roles, including Vice President of Accounting, Finance and Administration, Chief of Staff, and Grants Officer.
"It was important for us to take our time to find the right person for this crucial role, and I am extremely pleased to say we found an outstanding CFO and Vice President in Dhruvika," said Roosevelt Island Operating Corporation President & CEO Shelton J. Haynes. "Dhru brings a wealth of experience to our corporation, having served in some of the most senior roles in finance for more than two decades. I'm excited for her to join our outstanding Executive Team and work together to further strengthen this community."
"I am very excited to join the RIOC team as CFO," said Dhruvika Patel Amin, newly appointed Chief Financial Officer at RIOC. "I came to RIOC because I wanted to give back to the public through my work, and I have been happy to find a welcoming and committed team. The executive and finance professionals here have been a pleasure to work with, and we share the same passion for value creation and growth.
"Having played a leadership role in similar and distinct industries such as real estate, private equity, hedge fund, non-profit, and private family offices, I look forward to contributing my experience and knowledge to RIOC in terms of fiscal responsibility aligned with the corporation's goals, establishing and monitoring key performance indicators, and providing efficiency and quality in our processes and services related to our important public mission. I am confident that our team will deliver consistent growth and benefit the public, and I very much look forward to contributing to RIOC and the Roosevelt Island community."
About Roosevelt Island Operating Corporation (RIOC):
The Roosevelt Island Operating Corporation (RIOC) was created in 1984 by the State of New York as a public benefit corporation with a mission to plan, design, develop, operate, and maintain Roosevelt Island. With a focus on innovative and environmentally friendly solutions, RIOC is committed to providing services that enhance the island's residential community. RIOC manages the two-mile-long island's roads, parks, buildings, a sports facility, and public transportation, including the iconic aerial tramway. Additionally, RIOC operates a Public Safety Department that helps maintain a safe and secure environment for residents, employees, business owners, and visitors.
Attachment
CONTACT: Akeem H. Jamal, Assistant Vice President, Communications & Government Affairs Roosevelt Island Operating Corporation 212-832-4540 [email protected] 

Disclaimer: The above press release comes to you under an arrangement with GlobeNewswire. AfternoonHeadlines.com takes no editorial responsibility for the same.