Penguin Random House Grupo Editorial Brings Second Novel From Bestseller Javier Castillo To The English-speaking Market
The Spanish-Language Novel The Soul Game Publishes July 11 and is the Inspiration for the Second Season of the Popular Netflix Series The Snow Girl
Penguin Random House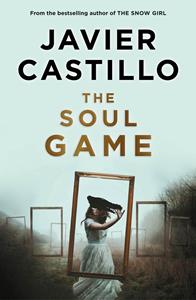 Country Miami, FL, July 11, 2023 (GLOBE NEWSWIRE) — Penguin Random House Grupo Editorial will publish the English-language edition of THE SOUL GAME (July 11), written by internationally bestselling author Javier Castillo, whose books have sold over two million copies worldwide. The novel is the follow-up to THE SNOW GIRL, which inspired the popular Netflix miniseries released in early 2023.
Castillo recently announced the show's renewal for the second season on Twitter. The Economic Times reports that "after its release on Netflix, the show managed to stay on the global Non-English TV list for three weeks and garnered 101.68 million hours of views across the world. The show was also present in the top 10s of the United States and the United Kingdom for approximately two weeks."
THE SOUL GAME is the basis for the second season of the streaming series that is currently in development. In the series follow-up, Manhattan Press investigative journalist Miren Triggs receives a strange envelope containing a Polaroid of a gagged and bound girl with a single note: "GINA PEBBLES, 2002." Triggs teams up with former journalism teacher Jim Schmoer to follow the trail of the girl in the photograph as they also investigate a crucifixion of a fifteen-year-old girl in the suburbs of New York in 2011.
"Javier's stories are universal due to their plots, characters, settings, and highly cinematic style," says Gozalo Albert, Castillo's editor. "His skillful dosing of suspense and tension has changed the rules of the thriller genre, capturing the attention of readers from all corners of the planet. That's why we're so pleased to bring his work to English-speaking readers around the world."
Javier Castillo grew up in Malaga and studied business followed a Master's in Management at ESCP Europe. His first novel, EL DIA QUE SE PERDIO LA CORDURA (2017), became a true publishing phenomenon, translated into 15 languages and published in more than 60 countries. Rights have been acquired to produce the television series. His second novel, EL DIA QUE SE PERDIO EL AMOR (2018), received both public and critical acclaim, as did TODO LO QUE SUCEDIO CON MIRANDA HUFF (2019). THE SNOW GIRL was the most read novel during the 2020 lockdown in Spain, and in 2023 it was released as a miniseries on Netflix, achieving great success. THE SOUL GAME (2021) marked his global consolidation as one of the masters of suspense. To date, his novels have reached more than two million readers. His sixth novel, THE CRYSTAL CUCKOO, was published in January 2023.
Relevant links:
THE SNOW GIRL information
THE SOUL GAME information
Author website
Penguin Random House Grupo Editorial
The Economic Times confirms 'The Snow Girl' Season 2
Media Contact:
Company Name: Penguin Random House Grupo Editorial USA LLC
Contact Person: Maylin Lehmann
Email: [email protected]
Website URL: https://www.penguinrandomhouse.com/books/741606/the-soul-game-by-javier-castillo/
Disclaimer: There is no offer to sell, no solicitation of an offer to buy, and no recommendation of any security or any other product or service in this article. Moreover, nothing contained in this PR should be construed as a recommendation to buy, sell, or hold any investment or security, or to engage in any investment strategy or transaction. It is your responsibility to determine whether any investment, investment strategy, security, or related transaction is appropriate for you based on your investment objectives, financial circumstances, and risk tolerance. Consult your business advisor, attorney, or tax advisor regarding your specific business, legal, or tax situation. For more info, please contact [email protected].
Attachment

Disclaimer: The above press release comes to you under an arrangement with GlobeNewswire. AfternoonHeadlines.com takes no editorial responsibility for the same.