Peapod Digital Launches New Native Mobile App Experience Customized for Brands of Ahold Delhaize USA
Native Mobile App screenshot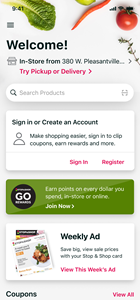 Native Mobile App screenshot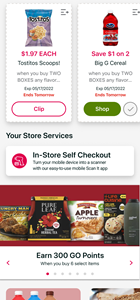 Native Mobile App screenshot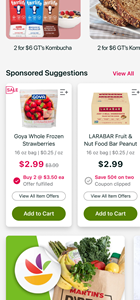 Native Mobile App screenshot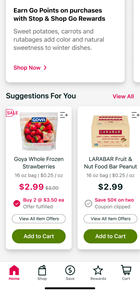 CHICAGO, Oct. 04, 2023 (GLOBE NEWSWIRE) — Peapod Digital Labs (PDL), the ecommerce engine for the companies of Ahold Delhaize USA, launched a native mobile application for Ahold Delhaize USA brands on PDL's proprietary PRISM platform earlier this quarter. Stop & Shop and Food Lion were the most recent brands to launch the new mobile shopping experience, and the experience was previously launched earlier this year for Giant Food and The GIANT Company.
Previously, the mobile app for each brand was a web experience customized for mobile use. The new app is built in the native code languages of mobile operating systems, which increases speed and overall performance.
The journey to building this improved shopping experience began with an examination of the old app experience by means of data analysis, customer interviews and extensive user research to inform the new app's modern design. Features were reorganized to streamline the shopping experience and surface the most useful content determined by traffic patterns, such as bringing store coupons to app homepages.
"Efficiency wasn't the only priority," said Paul Yang, Director of Mobile Engineering at Peapod Digital Labs. "It's also our aim to create a more modern interface with aesthetic representative of each of the brands, complete with animations to bring moments of delight into what is typically a transactional experience."
The new PRISM native mobile app simplifies the process for customers to place, track and modify their delivery and in-store pickup orders. It also offers the convenience of reordering items from their past purchases and provides personalized recommendations based on their shopping behavior and history. Additionally, digital coupons can be easily clipped and added to their loyalty card, now accessible through Apple or Google wallets. Shoppers can activate an in-store mode for easy scanning, payment and placing deli orders, among other features.
"This is a significant achievement in improving the omnichannel shopping experiences of customers for the brands of Ahold Delhaize USA," said Mahesh Sahni, Director of Mobile Product for Peapod Digital Labs. "This new mobile app is built on a modern platform enabling the PRISM brands to better connect customers with the products they need, and ushers us into the next evolution of mobile shopping."
About Peapod Digital Labs 
Peapod Digital Labs is the digital, e-commerce and commercial engine of leading grocery retail group Ahold Delhaize USA. As the innovation lab for the U.S. brands, Food Lion, Giant Food, The GIANT Company, Hannaford and Stop & Shop, Peapod Digital Labs promotes digital and e-commerce innovation, technology and experience to meet the changing needs of customers of each Ahold Delhaize USA local brand, regardless of when, where and how consumers choose to shop. Learn more at www.peapoddigitallabs.com.
MEDIA CONTACT: 
Theresa Funk  
Photos accompanying this announcement are available at
https://www.globenewswire.com/NewsRoom/AttachmentNg/79f7c3c1-bff8-4198-8bf2-cf9b662e9862
https://www.globenewswire.com/NewsRoom/AttachmentNg/867e0579-77b0-40b7-9093-e458104d3493
https://www.globenewswire.com/NewsRoom/AttachmentNg/a2509ab8-ff7a-40f9-8f4e-e462b7cfd53e
https://www.globenewswire.com/NewsRoom/AttachmentNg/7ac89aa6-418d-47ea-9a52-a0c95072882c

Disclaimer: The above press release comes to you under an arrangement with GlobeNewswire. AfternoonHeadlines.com takes no editorial responsibility for the same.