Pay for Performance Is Broken: The 100 Most Overpaid CEOs Report Shows
Top 10 Most Overpaid CEOs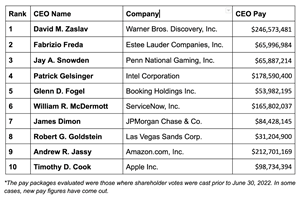 Berkeley, CA, Feb. 16, 2023 (GLOBE NEWSWIRE) — As You Sow today released its 9th annual report — "The 100 Most Overpaid CEOs: Are Fund Managers Asleep at the Wheel?" — which focuses on how pension and financial fund managers hold companies accountable for excessive compensation.
Key Takeaways:
• Total pay for S&P 500 chief executives continues to increase. 
The average pay of the "100 Most Overpaid CEOs" for this report was $38,192,249, up 30.6% from last year's average of $29,233,020. The median pay — less influenced by the massive stock awards that inflate pay at the very top — was $23,455,188, representing an increase of 8% over the prior year. 
• The gap between CEO and median worker pay has also increased. 
According to the AFL-CIO, the chief executives of S&P 500 companies received 324 times that of their median-paid workers on average, up from 299 times in 2020 and 264 times in 2019. At Amazon, the CEO-to-worker pay ratio reached 6,474 to 1, with CEO Andrew Jassy making $212.7 million in total compensation while the median worker received $32,855.
• Shareholder opposition to pay packages continues to grow.
In the S&P 500, shareholder votes against CEO pay continued its five-year upward trajectory to a high of 12.6% opposition, gaining 4.2 percentage points in votes against since 2017. As detailed in this report, more funds are voting against more pay packages. If it weren't for the continued weak response from a handful of the big players, the message that shareholders are fed up would be clearer.
• Companies with overpaid CEOs continue to underperform. 
Companies with the 10 most overpaid CEOs (as named in our previous reports) once again saw shareholder returns much worse than the S&P 500 index. 
Quotes from our experts:
Rosanna Landis Weaver, executive compensation program manager at As You Sow and report author:
"Every year we see more shareholders get serious about voting against compensation. This year, unfortunately, shareholder concern with excess pay is not truly reflected in the higher votes against pay, because the largest mutual funds continue to support the vast majority of overpaid CEOs. In this year's report, we show that the votes do cause companies to respond when shareholders vote against excess, which only underlines our point."  
Robert Reich, professor, author, and former U.S. Secretary of Labor, and co-founder of Inequality Media:
"A company's executive compensation directly reflects its directors' priorities and outlook: You can tell if a company is committed to building a sustainable future by how it pays its CEO. The continuous, exorbitant increases in executive compensation over the past four decades typify a rigged system that benefits the wealthy at the expense of workers, and the rest of us. Shareholders must supervise boards more effectively than directors have been supervising CEOs. The solution is voting on proxy statements and taking each vote seriously."
R. Paul Herman, CEO and founder of HIP (Human Impact + Profit) Investor Inc.:
"Higher pay should reward market-beating results, right? Wrong! Since our 2015 report, boards have approved exorbitant CEO pay packages for companies that lagged the S&P 500 by an annual average of -2%. Even worse, the 10 most overpaid CEOs — this year comprising all white men with an average age of 60, averaging $120 million in pay, seven times more than the average CEO — have dramatically underperformed the benchmark by -6% per year since we began this report. Boards are not holding CEOs accountable and failing shareholders in their fiduciary duty. The pay-for-performance system is clearly broken."
To learn more about As You Sow's work on CEO pay, click here.
# # #
As You Sow is the nation's leading shareholder advocacy nonprofit, with a 30-year track record promoting environmental and social corporate responsibility and advancing values-aligned investing. Its issue areas include climate change, ocean plastics, pesticides, racial justice, workplace diversity, and executive compensation. Click here for As You Sow's shareholder resolution tracker.
Attachment
Top 10 Most Overpaid CEOs
CONTACT: Stefanie Spear As You Sow 216-387-1609 [email protected] 

Disclaimer: The above press release comes to you under an arrangement with GlobeNewswire. AfternoonHeadlines.com takes no editorial responsibility for the same.