Parker University Celebrates World Spine Day and National Chiropractic Health Month
Parker University Celebrates World Spine Day and National Chiropractic Health Month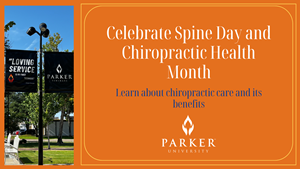 Dallas, Texas, Oct. 11, 2023 (GLOBE NEWSWIRE) — Parker University annually recognizes initiatives like World Spine Day and National Chiropractic Health Month that positively impact the mission of the chiropractic industry. These campaigns help introduce students to the value of public awareness and the positive change they will bring when serving their communities as DCs.
Recognizing the Importance of World Spine Day 
World Spine Day highlights spinal pain and disability worldwide. It brings attention to a global commitment to tackling spinal pain and disability by governments, communities, and public health groups.
October 16, 2023, marks this year's annual World Spine Day, with "Move Your Spine!" as its theme. Organized by the World Federation of Chiropractic, World Spine Day has more than 800 official organizational supporters worldwide. "Move Your Spine" encourages people to support spinal health through movement and will highlight the necessity of staying mobile, avoiding physical inactivity, and adopting healthy habits like weight loss and smoking cessation.
An estimated one billion people worldwide suffer from spinal pain. It is the most significant single cause of disability. Low and middle-income countries often have limited access to healthcare resources or spinal health professionals. Effective management and prevention are vital, and this year's World Spine Day will encourage people to be kind to their spines. 
Ready to get involved, move your spine, and learn more about this health initiative? Visit worldspineday.org for all this year's World Spine Day information!
Parker University Celebrates National Chiropractic Health Month 
The American Chiropractic Association (ACA) and DCs nationwide will celebrate National Chiropractic Health Month (NCHM) 2023 throughout October! This year's theme is "Chiropractic: Relieve, Restore, Resume," and the campaign is designed to bring attention to the impact of chronic pain and the importance of non-drug approaches like chiropractic services for effective pain management. 
This event helps to raise public awareness of the benefits of chiropractic care and its natural, evidence-based, patient-centered, and drug-free approach to health and wellness, which is critically important in today's world of opioid addiction. Raising public awareness of this growing problem improves access to non-drug pain relief options like chiropractic and helps fight against prescription drug abuse and overuse.
During NCHM 2023, chiropractors raise extra awareness of chronic pain and chiropractic's evidence-based, patient-centered, non-drug approach, encouraging chiropractic care to relieve pain, restore function, and resume memorable activities that matter most.
To get involved in NCHM, consider the various resources and participation ideas available at acatoday.org/NCHM.
Parker University's promotion and participation in these annual causes help bring awareness and continued support to the ever-changing, innovative chiropractic industry. Parker University is proud to be part of a community that encourages initiatives to help raise public awareness and educate others about the value of chiropractic.
About Parker University 
Parker University, the fourth-fastest growing college in Texas and the fastest-growing college in Dallas, was founded in 1982 by Dr. James William Parker (formerly Parker College of Chiropractic). Today, Parker University has more than 2,100 students and more than 35 academic programs, including its famed chiropractic program, as well as master's degrees in clinical neuroscience, strength and human performance, and functional nutrition. Currently, Parker University's chiropractic cohort is the second largest of any campus in the world. Parker University has been recognized as an Honor Roll Institution by Great Colleges to Work For®, one of the 25 Fastest-Growing Colleges in the U.S., as a recipient of the FutureEdge 50 Awards, and as a Best Texas Online College of 2023 by Forbes.
Attachment
CONTACT: Christine Miller Parker University [email protected] 

Disclaimer: The above press release comes to you under an arrangement with GlobeNewswire. AfternoonHeadlines.com takes no editorial responsibility for the same.