Osmow's™ Opens at Walden Galleria
Osmow's™ First New York Location Now Open at Walden Galleria in Buffalo
Osmow's Logo
Osmow's Shawarma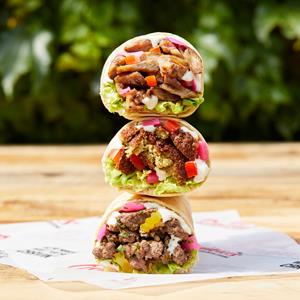 Buffalo, NY, Aug. 17, 2023 (GLOBE NEWSWIRE) — Osmow's™ is making moves to dominate the fast-casual scene in North America with a thrilling new opening in the heart of Buffalo, New York. Walden Galleria, the city's ultimate shopping, entertainment, and dining destination, just got a whole lot tastier with the addition of the savory and exotic fare. A calling card for fun in the Buffalo-Niagara region, Walden Galleria boasts more than 200 retail stores, an international food court, an adventure center, and the popular Regal Cinemas Stadium 16 with RPX & 4DX theaters, making it the go-to spot for all things fun and flavorful.
Osmow's™ has found its sweet spot at unit F-204 on the first floor, and the excitement is palpable.
"Serving the best shawarmas in North America, it's time for Buffalo to experience Osmow's healthy, delicious and super-popular shawarma and flavorful offerings," says Ben Osmow, C.E.O. and Head of Franchise Operations for the fast-growing company. "Enjoy proteins bursting with flavors of Mediterranean herbs and spices, with family, friends, or solo – in-restaurant or on the go!"
Renowned for its modern twist on traditional Mediterranean dishes, Osmow's™ has captivated hearts and taste buds across the continent, becoming one of North America's fastest-growing quick-service restaurant chains. Its loyal fan base just can't get enough of their Signature Shawarma creations, catering to both carnivores and devoted vegetarians/vegans alike. 
At Osmow's™, the possibilities are endless, and customization is the name of the game. Delectable pita wraps filled with a tantalizing choice of Chicken, Beef, Lamb, Beyond Steak™ or Falafel, complemented by an array of add-ons such as fresh herbs, grilled veggies, feta, or house-made sauces. The result? Shawarma masterpieces bursting with flavors that leave you craving more.
Picture this: tender, fragrant, boldly spiced, marinated meat rotating on a vertical skewer, creating those crispy caramelized edges. Then, skilled cooks deftly carve the meat and finish it to perfection on the grill. It's served classically wrapped in a warm, grilled pita bread, or if you're feeling adventurous, you can go for the ROCKS (rice) or the STIX (fries). Vegan and vegetarian friends, fret not! Osmow's™ has got you covered with their mouth watering Falafel or Beyond Steak™ protein shawarma, poutine that are as nourishing as they are scrumptious.
Professional athletes like Norman Powell, Cyle Larin and Ryan O'Reilly have engaged with the Osmow's™ brand. But it's not just the celebs who can indulge in Osmow's™ greatness. Sam Osmow, the visionary behind this culinary sensation, along with his son Ben and daughter Bernadette, turned a family business into a fast-growing empire with more than 155 outlets across the continent.
The added secret behind Osmow's™ success? Ambitious franchisees who have become the driving force behind their rapid expansion. With some owning multiple locations, the passion for Osmow's™ runs deep. The company's head office supports its franchisees every step of the way, fostering a people-centric approach that stays true to the brand's family origins.
Hungry for more? Osmow's™ Walden Galleria is open seven days a week during the mall's open hours ready to serve up happiness in every bite. For those eager to explore their tantalizing menu and discover the wonders of Middle Eastern cuisine, check out osmows.com/menu/. For the latest buzz and updates, follow @osmowsus on all major social media channels.
As Osmow's™ continues its epic journey, blending Egyptian roots with a North American palate, founder Sam Osmow's vision remains as strong as ever. Since its inception in 2001 with the first store in Streetsville, Ontario, Canada, Osmow's™ has become an irresistible force, filling the void in the fast-casual culinary landscape and winning hearts with their flavorful dishes and signature sauces (hello, garlic sauce!).
Osmow's Walden Galleria is open 7 days a week from 11am to 11pm. The restaurant can be reached by phone at 716-681-2310. 
View the extensive and flexible Osmow's menu at osmows.com/menu/ 
For more information about Osmow's, visit us.osmows.com and follow @osmowsus on all popular social media channels. 
About Osmow's
Founded in 2001 by Sam Osmow, the first Osmow's™ restaurant was located in Streetsville, Ontario, Canada and remains a successful operation to this day. Sam saw an opportunity to bring his Egyptian roots to the North American landscape blending traditional Egyptian cuisine with a North American palate. Filling a void in the current fast-casual culinary marketplace, Osmow's flavorful dishes with signature sauces such as the fan-favorite garlic sauce keeps bringing customers back to satisfy their cravings. Osmow's™ has grown to 155 locations and is expanding across North America. 
Attachments
Osmow's Logo
Osmow's Shawarma
CONTACT: Heather Kirk Immedia PR 416 500 1752 [email protected] Marina Baric VP of Marketing Osmow's Inc. [email protected] 

Disclaimer: The above press release comes to you under an arrangement with GlobeNewswire. AfternoonHeadlines.com takes no editorial responsibility for the same.