Origin acquires Finny to Fill a Critical Gap in Workplace Financial Education
Acquisition will help Origin users improve global financial literacy and debt management with more complete toolkit for smarter financial planning
Origin acquires Finny to Fill a Critical Gap in Workplace Financial Education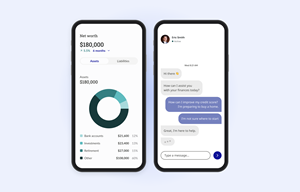 BOSTON, June 05, 2023 (GLOBE NEWSWIRE) — Origin, the startup reimagining financial wellness in the workplace, announced today it has acquired Finny, a financial health startup. Origin will integrate Finny's financial education, content, curriculum, and debt management tools into its financial wellness platform addressing the urgent need for improved financial literacy. Terms were not disclosed.
Money is the #1 source of stress – more than jobs, health, and relationships combined. That stress is exacerbated in the current economic environment, which is presenting people with once-in-a-generation financial challenges. Origin is tackling this problem head on by expanding access to wealth management for those who have historically been boxed out due to high barriers to entry. The Origin platform simplifies finances for individuals making it easy to track spend, get expert advice, manage investments, and take action to hit financial goals.
By acquiring Finny, Origin will now be able to offer its customers the valuable resources and financial education content necessary to empower employees to make more informed decisions about their financial future. For instance, people can now learn about credit reporting, understand the nuances involved in calculating a credit score, and then access their own credit score and get actionable advice on how to improve it.
Origin Co-Founder and CEO Matthew Watson started the company in 2019. Despite starting his career working in finance on Wall Street, Watson couldn't find resources widely available to easily manage his personal finances, and saw the same pattern for others. "Most people are simply priced out of financial planning tools, and financial advisors traditionally only work with high income individuals. This leaves tens of millions of Americans in the dark, left with unnecessary fees as well as missed investment and tax opportunities that can cost them thousands of dollars a year," Watson shared.
With tremendous demand for an all-in-one, more accessible financial planning platform, Origin has grown quickly, more than doubling its revenues year over year. To date Origin has raised $70M from top VC funds including 01 Advisors, where Managing Partner Dick Costolo experienced Origin's customer pain point firsthand at Twitter. "During my tenure as CEO at Twitter, I witnessed firsthand the knowledge gap that exists among employees and even HR teams when it comes to understanding equity and financial benefits," said Costolo. "I strongly believe that Origin can bridge that gap and revolutionize financial literacy and education in a way that has not been achieved before."
Today Origin is offered to individuals as an employee benefit to help employees alleviate financial stress and help them be happier and more productive. Offering Origin as a benefit also helps to attract and retain staff: 93 percent of employees want their company to offer increased access to financial planning (but only 28 percent do so). Plus Origin acts as extra support for powering the People teams, helping with comp, benefits, equity grants, and reducing employers' liability by bringing in a third-party registered financial advisor as a resource for employees.
Lattice is one of the many companies offering Origin as a benefit to its employees. "Origin has been an extremely popular benefit among our employees, providing them with valuable insights into their finances, compensation, and equity," said Cara Allamano, Chief People Officer at Lattice. "Now with Origin's acquisition of Finny they'll have more financial resources at their fingertips. Our employees have been looking for this type of educational content and tutorials, and having this all in one place within the Origin platform is incredibly beneficial."
On the employee side, Origin members are matched with a certified financial planner to discuss their finances, goals, and develop an action plan. The planner will provide personalized advice that helps them make smarter money decisions and prepare for life's biggest milestones from buying a home, starting a family, paying off student debt, or planning for retirement to name a few. Individuals can also use the Origin platform and mobile app to track and visualize all their finances – connecting accounts, and then creating budgets, managing investments and retirement savings. Origin can also help them understand equity compensation and tax consequences of selling. Each person is matched with a CFP that they work with on an ongoing basis. 
The acquisition of Finny is a significant milestone for Origin, as it demonstrates the company's dedication to offering a comprehensive and well-rounded financial wellness platform. Finny has been working with employers and over 60,000 consumers to provide top-notch financial education. Integrating Finny's financial education resources and debt management tools will enable Origin to make an even more significant impact on employees' financial health.
"Finny's expertise in financial education and focus on debt management will be an invaluable addition to the Origin platform," said Watson. "We believe that addressing the educational gap in employee financial education is key to helping individuals achieve financial security."
"Origin's commitment to simplifying money management for employees aligns with Finny's mission to improve global financial literacy," said Chihee Kim and Milan Kovacevic, Co-Founders of Finny. "Together, we share a common goal of helping individuals achieve a secure financial future, and we're excited to join forces to further expand our reach and impact."
About Origin
Origin is reimagining financial wellness in the workplace, with the most comprehensive all-in-one financial planning platform. Combining proprietary technology with Certified Financial Planners, Origin is an all-in-one software based financial management platform that enables people to track spend and income, get expert advice, take action, and manage their money confidently and with ease. Origin is offered by hundreds of innovative employers including Lattice, Roku and Udemy. Learn more about Origin at useorigin.com.
Media contact:
Kerry Metzdorf
Big Swing Communications
978-463-2575
[email protected]
A photo accompanying this announcement is available at https://www.globenewswire.com/NewsRoom/AttachmentNg/8d44297d-939f-46af-a491-ae40233457c4

Disclaimer: The above press release comes to you under an arrangement with GlobeNewswire. AfternoonHeadlines.com takes no editorial responsibility for the same.