On National Pickle Day, CAULIPOWER Disrupts a Major Category Once Again With the First-Ever Dill Flavored All Natural Chicken Bites
CAULIPOWER's new Chicken Bites are raised with no antibiotics ever and coated in cauliflower and chickpea flour, marking the company's fifth innovation release this year as the brand expands their presence within the better-for-you chicken category
CAULIPOWER Original Chicken Bites and Dill Flavored Chicken Bites
CAULIPOWER Dill Flavored Chicken Bites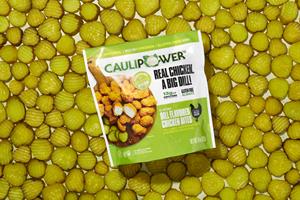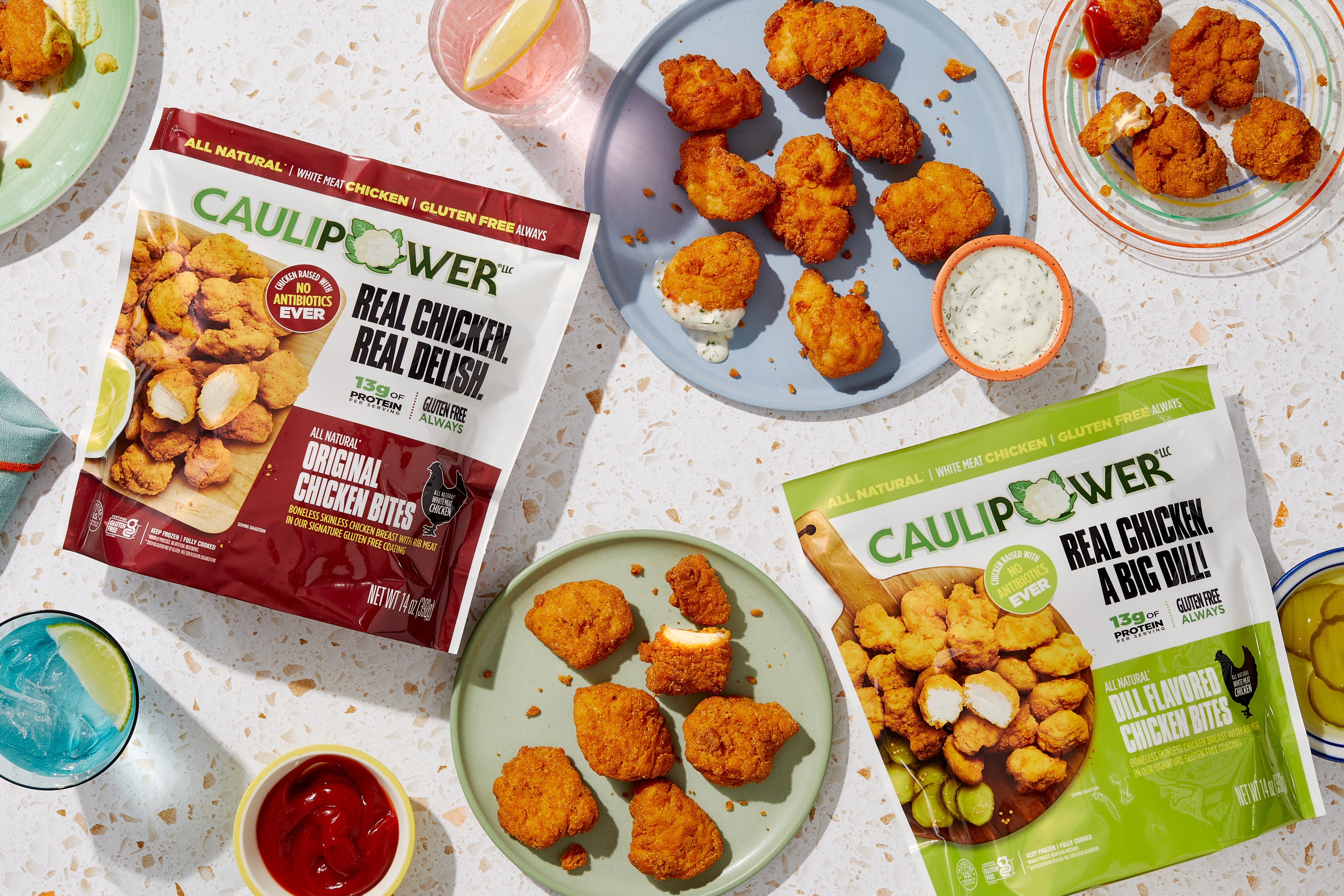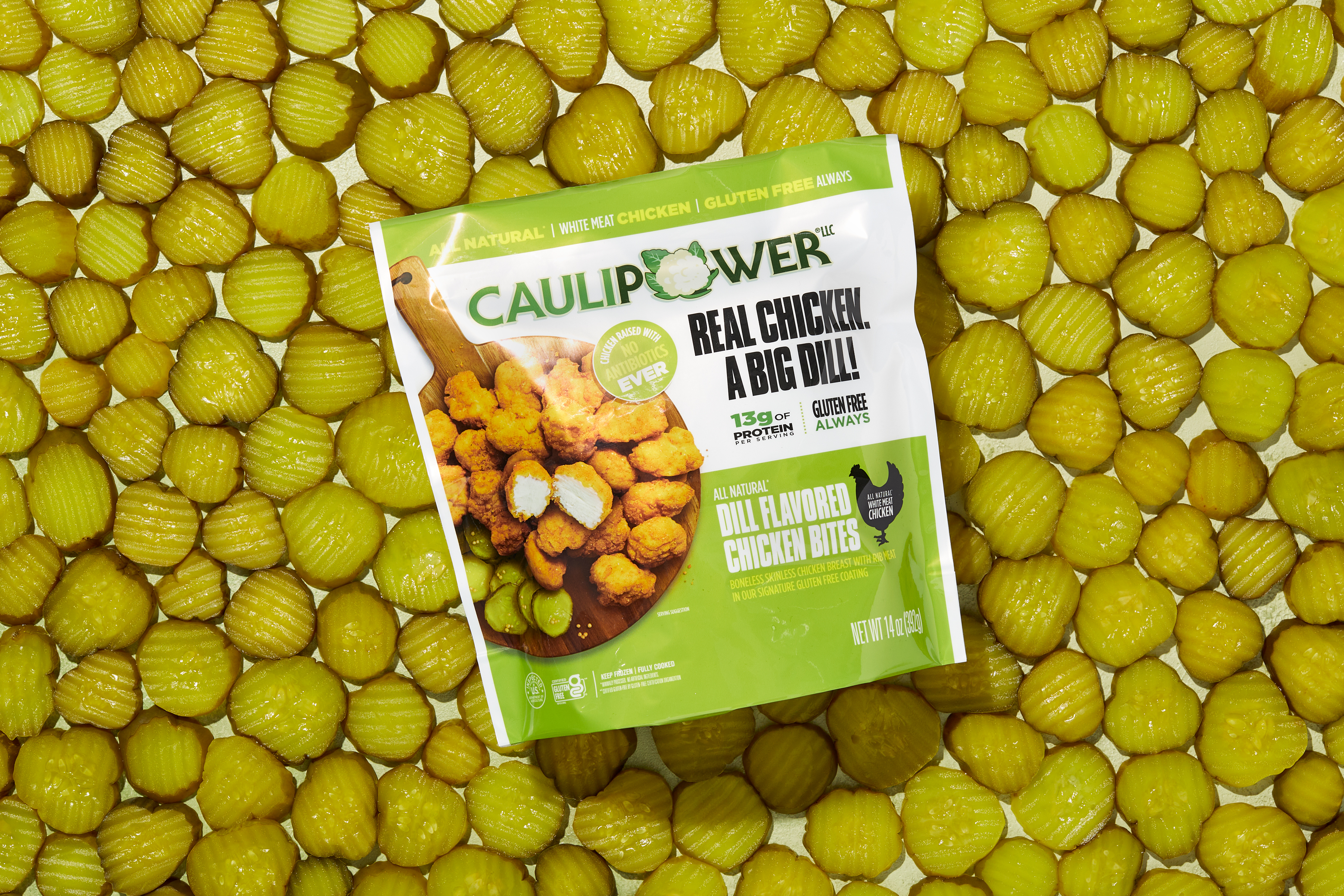 LINK TO HI-RES IMAGES:
https://www.dropbox.com/scl/fo/i8fwq5maz2v493d9txbk9/h?rlkey=g6ipd1catk8o7rtmc71b205bq&dl=0 (Credit: CAULIPOWER)
LOS ANGELES, Nov. 14, 2023 (GLOBE NEWSWIRE) — CAULIPOWER, the maker of the #1 cauliflower crust and #1 gluten-free pizza crust in the US, first disrupted the $3.4BN breaded chicken category in 2019 with their game-changing chicken tenders and again in 2022 with a first-of-its-kind chicken nugget. Today, the brand announces the arrival of another new product to their growing portfolio – All Natural Chicken Bites – available in two varieties: Dill Flavored and Classic. CAULIPOWER's new bites are made with all-natural chicken raised with no antibiotics ever and a crispy veggie-packed coating, making them gluten free and the FIRST cauliflower coated chicken bites on the market!
In time for National Pickle Day today, CAULIPOWER's new line of all-natural chicken bites features a dill-pickle flavor, bringing the taste of a very famous fast food restaurant into your home, but with a truly better-for-you twist. The best part? Consumers can enjoy these protein-packed bites any day of the week!
"CAULIPOWER's all natural chicken bites are a game changer. They are just the latest proof of our mission to meal hack our way through all of America's favorite comfort foods. We have always promised that CAULIPOWER's consumers would never have to choose between taste, health, and convenience," said Gail Becker, Founder of CAULIPOWER. "The chicken bites top off our biggest year of innovation yet and the dill flavor, launched on National Pickle Day, couldn't be more on-trend!"
The chicken bites follow fast on the heels of CAULIPOWER's largest-ever innovation launch in October of three new pizza products: Pizza Roma, Pizza Bites, and Over the Top Pizza; plus a revamped Veggie Glow Up pizza which made its debut earlier this year. That makes FIVE new revolutionary products released in 2023 alone:
Pizza Roma – The first-ever pinsa-style pie with a crispy, airy cauliflower crust made in Italy
Pizza Bites – The only baked (never fried) cauliflower coated pizza bites
Over The Top – A new premium pizza line using unique flavors on their #1 cauliflower crust
Veggie Glow Up – A completely revamped Veggie Pizza packed with even more veggies
CAULIPOWER's All Natural Chicken Bites join the brand's line of innovative takes on classic chicken favorites that include All Natural Chicken Tenders – the ONLY baked (never fried) tenders in the category, and All Natural Chicken Nuggets – the ONLY cauliflower and chickpea-coated nuggets on the market.
CAULIPOWER's All Natural Chicken Bites can now be found nationwide at Walmart and in select Target stores, and will be available in thousands of additional stores over the coming months. Find all CAULIPOWER products near you at www.eatCAULIPOWER.com
ABOUT CAULIPOWER
CAULIPOWER uses the magic of veggies and the power of taste to reinvent America's favorite comfort foods. CAULIPOWER's first innovation, cauliflower crust pizza, created a white-hot category in 2017. Today CAULIPOWER is the #1 cauliflower crust pizza and #1 gluten-free pizza in the U.S., and has even been featured as an answer on Jeopardy! In addition to stone-fired cauliflower crust pizzas, the CAULIPOWER family of innovative products now includes the only baked (never fried) all natural chicken tenders, cauliflower & chickpea-coated chicken nuggets, and NEW frozen meals. Founder and mother of two sons with Celiac Disease, Gail Becker, left a successful corporate career in 2016 and set out to innovate the frozen food aisle. It remains her mission to eliminate the need for consumers to ever have to choose between taste, convenience and health. CAULIPOWER believes that no matter who you are, or how you eat – gluten-free, plant-based, vegetarian, or even flexitarian – you deserve delish. We're all Delish-a-tarians.
CAULIPOWER is brought to you by Vegolutionary Foods, a company of "never-been-dones," inspired by what people want. Every CAULIPOWER purchase benefits the American Heart Association Teaching Gardens Network, a program installing edible teaching gardens in under-resourced schools throughout the country. Find CAULIPOWER in 30,000 retailers nationwide and get recipe inspiration at eatCAULIPOWER.com and @CAULIPOWER.
MEDIA CONTACTS:
Carrie Bernstein
A-Game Public Relations
[email protected]
Kim Shane
A-Game Public Relations
[email protected]
Photos accompanying this announcement are available at
https://www.globenewswire.com/NewsRoom/AttachmentNg/b2247588-5ac9-4dfe-8502-838fd999f125
https://www.globenewswire.com/NewsRoom/AttachmentNg/f4f5336b-e327-4259-8615-0bf66781bf20

Disclaimer: The above press release comes to you under an arrangement with GlobeNewswire. AfternoonHeadlines.com takes no editorial responsibility for the same.