Oklahoma City Community College, emerging-HSI, supports state's growing Hispanic community
Oklahoma City Community College, emerging-HSI, supports state's growing Hispanic community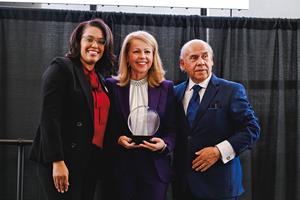 OKLAHOMA CITY, Okla., Oct. 06, 2023 (GLOBE NEWSWIRE) — Oklahoma City Community College remains committed to expanding its footprint as an emerging Hispanic-serving Institution (HSI) through dedicated events around Hispanic Heritage Month 2023.
"Oklahoma City Community College proudly celebrates Hispanic Heritage Month," said OCCC President Dr. Mautra Staley Jones. "We are honored to partner with several community groups to promote the leadership, achievements, culture and heritage of the Hispanic community in our state."
OCCC partnered with the Oklahoma Hispanic Institute to recognize the state's Top 40 Hispanic leaders on Sept. 13. The luncheon event, held at the OCCC Visual and Performing Arts Center atrium, welcomed more than 250 guests, including Oklahoma Gov. Kevin Stitt who addressed the crowd.
"For the first time in the history of the state of Oklahoma, Hispanic leaders came together to celebrate and acknowledge the success, history and future ambitions of our Hispanic communities statewide," said Oklahoma Hispanic Institute Founder and Chairman Fred Mendoza.
Three OCCC employees – Lemuel Bardeguez, director of cultural programs; Dr. Juanita Ortiz, vice president for academic affairs; and Robert Ruiz, chief technology and innovation officer – were recognized among the Top 40 honorees, and OCCC President Mautra Staley Jones received a Vision Award.
On Sept. 17, OCCC hosted Fiestas Patrias 2023 on campus for more than 10,000 attendees. The event began with a "Cabalgata" (cavalcade), followed by presentations of dances, culture and history from several other Latin-American countries that celebrate their Fiestas Patrias or Independence.
Consul General of Mexico in Oklahoma City Edurne Nerea Pineda Ayerbe presided over the official ceremony of "El Grito," one of the many features of the free community event, held at OCCC for the second consecutive year.
Dr. Jones addressed the Fiestas Patrias crowd in Spanish. "We are happy to see so many people here; our community is the pillar that supports this college," she said. "I want to emphasize that at OCCC, we are committed to continuing cultural events like this one. We believe they are crucial in strengthening our community."
As a sponsor, OCCC supported the Latino Community Development Agency (LCDA) annual luncheon on Sept. 27. The organization's mission is to improve the quality of life in the Latino community through education, leadership, services and advocacy.
OCCC also sponsored Fiestas de la Americas, one of the largest Latino festivals in the Oklahoma City metro, held this year on Sept. 30. Since its inception in 2006, the FDLA Festival and Parade has been an annual event, scheduled in the middle of Hispanic Heritage Month. Community members from all sectors of the city enjoy this daylong festival on SW 25th St., which is filled with the colors, sights and sounds that describe many Latin American cultures.
"OCCC is community-focused," said Dr. Jones. "As an emerging Hispanic-Serving Institution (HSI), serving the multifaceted educational needs of the Hispanic population in Oklahoma is a high priority at our institution."
About Oklahoma City Community College
Since its inception in 1972, Oklahoma City Community College (OCCC) has been the heartbeat of the OKC Metro, dedicated to empowering learners and strengthening communities. Serving more than 18,000 students, we are committed to producing leaders. "Student Success, Community Enrichment" is our mission as we offer more than 60 degree and certificate programs that provide a steppingstone to further education or immediate career readiness. We remain dedicated to providing accessible, affordable, high-quality education that equips students to achieve personal and professional goals. OCCC is more than an institution; we are a community catalyst, fostering growth and success in our city, our workforce, and the lives of our students. Discover your potential at OCCC, where your future is our purpose. Visit us at occc.edu.
Attachment
CONTACT: Sarah Barrow Oklahoma City Community College 405-834-5406 [email protected] 

Disclaimer: The above press release comes to you under an arrangement with GlobeNewswire. AfternoonHeadlines.com takes no editorial responsibility for the same.