Ocean Craft Marine Redefines Maritime Dominance with the Unveiling of the 11.5 Meter Offshore Interceptor Under Project "Perfect Storm"
OCM offshore Interceptor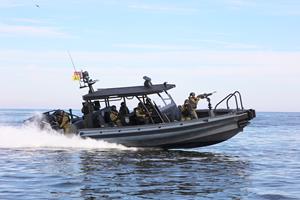 ANNAPOLIS, Md., Nov. 17, 2023 (GLOBE NEWSWIRE) — Ocean Craft Marine is excited to announce the launch of the 11.5 Meter Offshore Interceptor, a groundbreaking vessel developed under AIME (Accelerator for Innovation in the Maritime Ecosystem). Dubbed Project "Perfect Storm", this remarkable achievement is the product of 12 industry leaders coming together, including Ullman Dynamics®, Porta Performance Products®, Skydex®, Military Systems Group®, Livorsi Marine®, Hefring Marine®, Structural Composites®, TMS Group®, TotalSim®, Diverse Dimensions®, and SEA-IT®. This historic partnership has resulted in a vessel that sets a new standard for tactical maritime excellence.
Unmatched Power and Performance:
Amplifying its dominance, this vessel is powered by a formidable 1,200 HP Mercury V10 triple outboard motor configuration, setting a new standard for high-speed pursuits and ensuring unparalleled operational range, even in the most demanding of missions. Leverage the exceptional efficiency of Mercury Marine's groundbreaking Active Trim System, ensuring effortless motor trimming and maximum readiness for high-octane operations. With an unparalleled operational range exceeding 400 miles at a cruising speed of 36 mph and a mind-boggling sprint speed of 64 mph at wide-open throttle, dominance on the open water is non-negotiable.
Unparalleled Versatility and Functionality:
Witness the seamless fusion of mission-modularity and functionality in the Ocean Craft Marine 11.5m Offshore Interceptor. Tailored to adapt to a diverse array of operational requirements, this vessel's deck layout is easily reconfigurable, thanks to Ullman Dynamics®' shock-mitigating seats mounted on deck tracks. With heavy-duty tow posts boasting state of the art integrated crew-serve weapon mounts designed by Military Systems Group®, this design is primed for military, law enforcement, and search and rescue operations. Embrace the added advantages of the reinforced outboard motor guard, twin diver recovery notches, and a redesigned heavy-duty bow pushing knee, all amplifying the multi-mission capabilities of this masterful craft.
Strategic Situational Awareness:
In the heart of maritime interdiction operations, awareness is everything. The OCM 11.5 Meter Offshore Interceptor ensures maximum visibility in all directions with a deck layout meticulously engineered to optimize situational awareness. Equipped with an arsenal of cutting-edge electronics presented through four Garmin® Marine MFDs strategically mounted on dual consoles, this vessel establishes a clear division of labor, promoting seamless coordination among crew members. The fully integrated digital headset crew-communication system by the David Clark Company® reinforces crewmember interoperability, amplifying mission safety and success.
Innovative Collar Design:
Ocean Craft Marine's revolutionary spirit permeates every aspect of the 11.5m Offshore Interceptor, including its hybrid constructed polyethylene closed-cell foam-filled "D"-shaped Collar. With options for heavy-duty Orca 866 Hypalon and Polyurethane finishes, this mechanically attached Collar embodies durability and serviceability, setting new standards for reliability and performance.
FoamShield® Hull Design:
Forged in collaboration with an esteemed Naval Architectural Firm, the 11.5m Offshore Interceptor's FoamShield® hull is a testament to innovation and resilience. Constructed from marine-grade aluminum and fortified with advanced computational fluid dynamics simulations, this hull boasts unparalleled sea-keeping abilities, lightning-fast holeshots, and remarkable tactical turning capabilities. Injected with closed cell waterproof foam, the below-deck cavities mitigate vibrations, suppress sound, and fortify the boat's structural integrity, elevating its survivability in challenging marine environments.
Ergonomic Layout:
Efficiency, safety, and comfort converge harmoniously in the meticulously crafted above-deck layout of the Ocean Craft Marine 11.5m Offshore Interceptor. Discover a world of "walk-around" spaces, high-performance shock-mitigation seating, twin operator consoles, and an integrated overhead long-arms storage capability, designed to enhance the operational experience and optimize crew performance.
Comfort and Safety:
Prioritizing crew safety and comfort, Ocean Craft Marine's design ethos reverberates through every inch of the 11.5m Offshore Interceptor. Say goodbye to relentless G-forces and slamming loads with the carefully engineered FoamShield® hull design, while the Ullman Dynamics suspension seating and Skydex shock-mitigating flooring system ensure unparalleled crew comfort and safety, even in the most challenging of conditions.
Prepare to embrace a new era of maritime excellence with the Ocean Craft Marine 11.5 Meter Offshore Interceptor. Whether it's high-stakes security operations, law enforcement, or search and rescue missions, this vessel sets the gold standard for unparalleled performance, adaptability, and crew-centric design. Get ready to revolutionize your maritime capabilities with Ocean Craft Marine.
Exclusively Unveiled at the International Work Boat Show:
Ocean Craft Marine invites you to join them at the International Work Boat Show in New Orleans, where they will proudly unveil the 11.5 Meter Offshore Interceptor. Be among the first to witness the monumental leap forward in maritime technology and experience the sheer power and sophistication of the "Project Perfect Storm" masterpiece. Don't miss this opportunity to witness a new chapter in the history of maritime excellence.
For additional information on Ocean Craft Marine, visit oceancraftmarine.com. Stay connected with Ocean Craft Marine on Facebook, Instagram, LinkedIn and Twitter.
About Ocean Craft Marine
Based in Annapolis, Maryland, Ocean Craft Marine helps professional and recreational boaters successfully accomplish their individual boating missions by providing the safest, highest quality, purpose-built rigid-hull inflatable boats in the world. They offer a unique combination of deep, global boat building experience, a dynamic design and production process and a dedication to comprehensive customer service. For additional information on Ocean Craft Marine, visit oceancraftmarine.com.  
Media Contact
Minnie Magtibay
Ocean Craft Marine
E: [email protected]        
A photo accompanying this announcement is available at https://www.globenewswire.com/NewsRoom/AttachmentNg/bbf52609-2b4c-4ccb-87e9-5f8ccd1ce32d

Disclaimer: The above press release comes to you under an arrangement with GlobeNewswire. AfternoonHeadlines.com takes no editorial responsibility for the same.