Ocean Biomedical (NASDAQ: OCEA) Will Target Pulmonary Fibrosis Discoveries as Novel Treatments of Hermansky-Pudlak Syndrome
On Hermansky-Pudlak Syndrome (HPS) Awareness Day, Ocean Biomedical announces
a commitment to developing viable treatment options for HPS-1 and HPS-4
Providence, RI, April 06, 2023 (GLOBE NEWSWIRE) — Ocean Biomedical, Inc. (NASDAQ: OCEA) announced today a strong commitment to targeting its pulmonary fibrosis treatment candidate, "OCF-203," as a novel therapeutic for fatal pulmonary fibrotic conditions caused by Hermansky-Pudlak Syndrome (HPS). Discoveries in recent years by Ocean Biomedical's Scientific Co-founder, Dr. Jack A. Elias, and his colleagues at Brown University, have revealed a new target and a new pathway for treating pulmonary tissue damage in Idiopathic Pulmonary Fibrosis (IPF). Experiments have also been performed with genetically modified "pale-ear" mice, which have the same mutations that are seen in patients with Hermansky-Pudlak Syndrome (HPS). These experiments demonstrated that the same small molecule may be effective in treating pulmonary fibrosis conditions in patients with HPS, especially the most deadly forms of that disease, HPS-1 and HPS-4.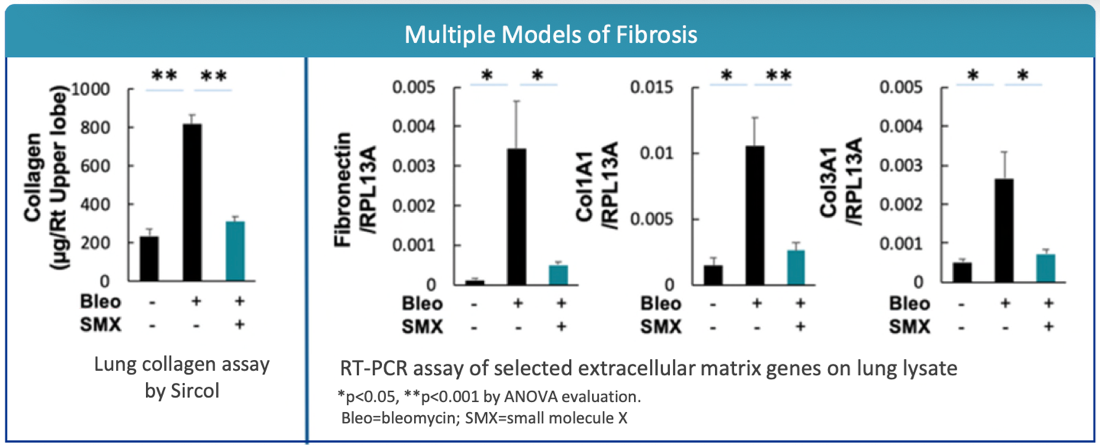 Ocean Biomedical's novel approach to treating pulmonary fibrosis – a condition with no disease modifying agents currently available – is focused on inhibiting Chitinase 1 (Chit1) with patented "OCF-203." Chit1 is also a critical biomarker in Scleroderma-associated interstitial lung disease (SSc-ILD) and plays a role in bleomycin- and IL-13-induced pulmonary fibrosis. In four pulmonary fibrosis animal models, Ocean Biomedical's OCF-203 has shown an 85% – 90% reduction in collagen accumulation. The results of this antifibrotic (termed molecule X: SMX) in the bleomycin model can be seen in the diagram above. Results also showed efficacy in the pale-ear mouse model of HPS, including impressive reductions in fibrosis. As a result, efforts are now moving towards IND-enabling studies.
Ocean Biomedical's anti-fibrosis platform seeks to address major unmet needs for IPF and HPS, and has shown potential for expanded application into fibrotic diseases in other organs, such as scleroderma, alcoholic liver disease, NASH, and kidney failure (see below). This unique approach has been developed by a research team led by Dr. Jack A. Elias, who is the former Dean of Medicine and Biology at Brown University, and former Chair of Medicine and Chief of Pulmonology and Critical Care Medicine at Yale University and Yale-New Haven Hospital.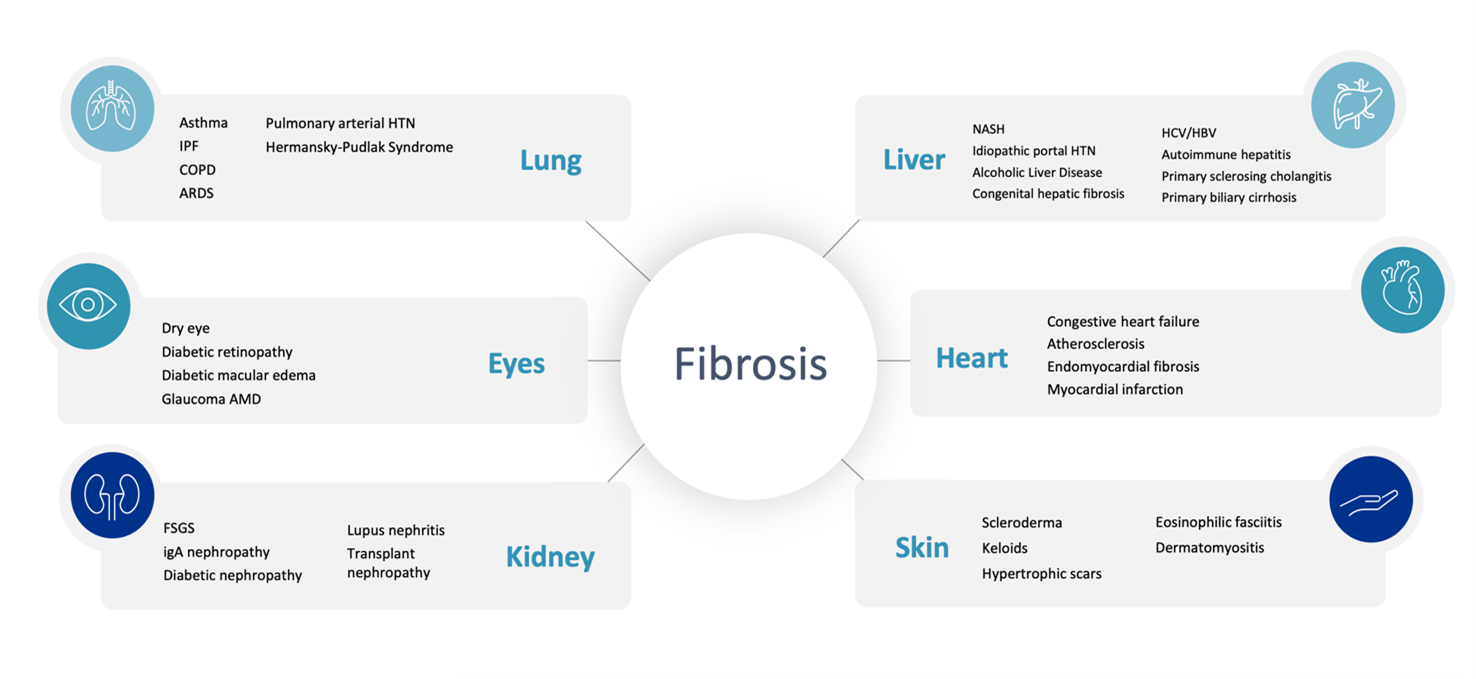 IPF is a devastating lung condition that currently affects about 100,000 people per year in the United States, and about 15 per 100,000 people worldwide, with a much higher prevalence in males over 50 years old. The median survival rate ranges from 2 – 5 years. Current standard-of-care therapeutics have limited efficacy and significant side effects such that patients choose to forgo drug therapy. There are no therapies currently available that can reverse loss of lung function.
Hermansky-Pudlak Syndrome (HPS) is a rare genetic condition that affects about 1 in 750,000 people worldwide, and about 1 in 1800 people in northwest Puerto Rico. In HPS-1 and HPS-4 patients pulmonary fibrosis occurs early in life (30s and 40s) and symptoms are often severe. Patients who have the HPS-1 or HPS-4 variants of the disease often develop terminal lung fibrosis with no therapeutic treatment currently approved.
IPF and HPS are both considered "rare diseases" under the Orphan Drug Act, which qualifies them for potential orphan drug designation, and Ocean is moving towards IND filings for OCF-203 with both patient populations in mind.
"My life's work has been focused on caring for patients with pulmonary conditions and it is difficult to see the limited treatment options that are available for many of these diseases. We are working to change that, and we're really excited about the broad therapeutic potential for this unique treatment pathway," commented Dr. Elias.
"This company was founded by physician-researchers to find solutions for large, unmet medical needs and we are pleased with the possibility of extending the anti-fibrosis platform into a broad range of hard-to-treat conditions," said Dr. Chirinjeev Kathuria, Ocean's co-founder and Executive Chairman. 
Suren Ajjarapu, a director of Ocean, commented, "This company is pushing to translate discovery research into the clinic for a range of conditions that will provide global health solutions, and pulmonary fibrosis has potential to have positive returns for patients and our shareholders."
"We are pleased to see the strong results being generated in our anti-fibrosis platform, and we are proud to be moving them forward, especially for patients with conditions like HPS that do not currently have effective treatment options," said Elizabeth Ng, CEO of Ocean Biomedical.
About Ocean Biomedical
Ocean Biomedical, Inc. ("Ocean Biomedical" or the "Company") is a Providence, Rhode Island-based biopharma company with an innovative business model that accelerates the development and commercialization of scientifically compelling assets from research universities and medical centers. Ocean Biomedical deploys the funding and expertise to move new therapeutic candidates efficiently from the laboratory to the clinic, to the world. Ocean Biomedical is currently developing five promising discoveries that have the potential to achieve life-changing outcomes in lung cancer, brain cancer, pulmonary fibrosis, and the prevention and treatment of malaria. The Ocean Biomedical team is working on solving some of the world's toughest problems, for the people who need it most.
To learn more, visit www.oceanbiomedical.com.
Forward-Looking Statements
The information included herein and in any oral statements made in connection herewith include "forward-looking statements" within the meaning of the "safe harbor" provisions of the United States Private Securities Litigation Reform Act of 1995. Forward-looking statements may be identified by the use of words such as "estimate," "plan," "project," "forecast," "intend," "will," "expect," "anticipate," "believe," "seek," "target," or other similar expressions that predict or indicate future events or trends or that are not statements of historical matters, although not all forward-looking statements contain such identifying words. These forward-looking statements include but are not limited to: the expected timing and success of investigational new drug ("IND") filings for our initial product candidates; statements regarding the expected timing of our IND-enabling studies; the frequency and timing of filing additional INDs; expectations regarding the availability and addition of future assets to our pipeline; the advantages of any of our pipeline assets and platforms; the potential benefits of our product candidates; potential commercial opportunities; the timing of key milestones for our programs; the future financial condition, results of operations, business strategy and plans, and objectives of management for future strategy and operations; and statements about industry trends and other companies in the industry. These forward-looking statements are based on various assumptions, whether or not identified herein, and on the current expectations of the Company's management, and they are not predictions of actual performance. These forward-looking statements are provided for illustrative purposes only and are not intended to serve as, and must not be relied on by any investor as, a guarantee, an assurance, a prediction, or a definitive statement of fact or probability. Actual events and circumstances are difficult or impossible to predict and will differ from assumptions.
Any discoveries announced by the Company are based solely on laboratory and animal studies. Ocean Biomedical has not conducted any studies that show similar efficacy or safety in humans. There can be no assurances that any treatment tested by the Company will prove safe or effective in humans, and any clinical benefit of any such treatment is subject to clinical trials and ultimate approval of its use in patients by the FDA. Such approval, if granted, could be years away.
Forward-looking statements are predictions, projections, and other statements about future events that are based on current expectations and assumptions and, as a result, are subject to risks and uncertainties. These forward-looking statements are not guarantees of future performance, conditions, or results, and involve a number of known and unknown risks, uncertainties, assumptions, and other important factors, many of which are outside the control of the Company that could cause actual results or outcomes to differ materially from those discussed in the forward-looking statements. Important factors, among others, that may affect actual results or outcomes include but are not limited to: recently transitioning to operating as a NASDAQ-listed public company with a limited operating history; our ability to successfully complete our pre-clinical trials and for those trials to produce positive results; our ability to timely file and obtain approval of INDs from the FDA in the future; the timing of the initiation, progress and potential results of our planned pre-clinical studies and clinical trials and our research programs; our ability to access additional product candidates from research universities and medical centers; the timing or likelihood of regulatory filings and approvals; the commercializing of our product candidates, if approved; our product development and marketing strategy; our ability and the potential to successfully manufacture and supply our product candidates for clinical trials and for commercial use, if approved; future strategic arrangements and/or collaborations and partnerships, and the potential benefits of such arrangements; our assessment that the early observations from our pre-clinical studies are encouraging; the potential for IND-enabling studies and future clinical trial results to differ from initial results or from our pre-clinical studies; regulatory developments in the United States and other countries; difficulties in managing our growth; our estimates regarding expenses, future revenue, capital requirements and needs for financing and our ability to obtain capital; the sufficiency of our existing and anticipated capital to fund our planned operating expenses; our ability to retain the continued service of our key personnel and to identify, hire and retain additional qualified professionals; the implementation of our business model and strategic plans for our business and product candidates; the scope of protection we are able to establish and maintain for intellectual property rights, product candidates and our pipeline; our ability to contract with third-party suppliers and manufacturers and their ability to perform adequately; the pricing, coverage and reimbursement of our product candidates, if approved; developments relating to our competitors and our industry, including competing product candidates and therapies; changes in the markets in which the Company competes, including with respect to its competitive landscape, technology evolution, or regulatory changes; changes in domestic and global general economic and market conditions; risks related to the ongoing COVID-19 pandemic and response, including supply chain disruptions; the risk that the Company may fail to keep pace with rapid technological developments to provide new and innovative products and services or make substantial investments in unsuccessful new products and services; the outcome of any legal proceedings that may be instituted against the Company; the risk of product liability or regulatory lawsuits or proceedings relating to the Company's business; the risk of cyber security or foreign exchange losses; the risk that the Company is unable to secure or protect its intellectual property; the risk that the Company may not be able to develop and maintain effective internal controls; the ability to develop, license, or acquire new therapeutics; the risk that the Company will need to raise additional capital to execute its business plan, which may not be available on acceptable terms or at all; and those factors discussed in the Company's filings with the SEC.
The foregoing list of factors is not exhaustive. You should carefully consider the foregoing factors and the other risks and uncertainties that are described in the Company's Annual Report on Form 10-K for the year ended December 31, 2022, and which are described in the "Risk Factors" section of the Company's definitive proxy statement filed by the Company on January 12, 2023, and other documents to be filed by the Company from time to time with the SEC and which are and will be available at www.sec.gov. These filings identify and address other important risks and uncertainties that could cause actual events and results to differ materially from those contained in the forward-looking statements. Forward-looking statements speak only as of the date they are made. Readers are cautioned not to put undue reliance on forward-looking statements. These forward-looking statements should not be relied upon as representing the Company's assessments as of any date subsequent to the date of this filing. Accordingly, undue reliance should not be placed upon the forward-looking statements.
Ocean Biomedical Investor Relations
[email protected]
Ocean Biomedical Media Relations
[email protected]
Kevin Kertscher
Communications Director

Disclaimer: The above press release comes to you under an arrangement with GlobeNewswire. AfternoonHeadlines.com takes no editorial responsibility for the same.