Nutritional Supplements Market is projected to reach USD 707.5 Billion by 2032, expanding at CAGR of 7.2% between 2022 and 2032
Acumen Research and Consulting recently published report titled "Nutritional Supplements Market Forecast, 2023 – 2032"
BEIJING, Sept. 07, 2023 (GLOBE NEWSWIRE) — The Global Nutritional Supplements Market is poised for strong expansion in the upcoming years, primarily fueled by a growing interest in preventive healthcare and an escalating awareness of health.
The global market for nutritional supplements is anticipated to demonstrate robust growth throughout the forecast period, primarily propelled by the increasing awareness of health and the widespread adoption of preventive healthcare measures. This analysis furnishes comprehensive insights encompassing market size, prevailing trends, key drivers, noteworthy challenges, regional perspectives, and the competitive landscape.
Nutritional supplements are dietary products meticulously formulated to deliver essential vitamins, minerals, and other nutrients that may be deficient in an individual's diet. They are available in diverse formats, including capsules, tablets, powders, and liquids. These supplements are commonly embraced to complement a well-rounded diet, especially when individuals grapple with specific dietary restrictions or encounter nutritional gaps.
These supplements are versatile and can address a myriad of health concerns, ranging from fortifying bone health through calcium and vitamin D supplements to bolstering immune function with the inclusion of vitamin C and zinc. Moreover, they find favor among athletes and fitness enthusiasts as tools for augmenting performance and expediting recovery processes.
However, it's imperative to exercise prudence in the utilization of nutritional supplements, as an excessive intake of certain nutrients can yield adverse effects. Consequently, it is advisable to seek counsel from a healthcare professional prior to embarking on any supplementation regimen to ascertain their compatibility with an individual's specific health needs and objectives. In essence, when employed judiciously, nutritional supplements can assume a pivotal role in promoting comprehensive health and well-being.
Nutritional Supplements Market Statistics and Highlights:
The Nutritional Supplements Market size is projected to achieve a value of USD 707.5 Billion by 2032, marking substantial growth from its 2022 value of USD 358.1 Billion, with a robust CAGR of 7.2% anticipated during the forecast period.
In 2022, the Asia Pacific region stood out as the leader, commanding the largest market share, surpassing 37%. This prominence can be attributed to heightened expenditures on health and wellness within the region.
Within the product segment, functional foods are expected to exert their dominance, capturing a substantial share of 56% in 2022.
Several factors are driving this growth, including the increasing demand for supplements among both millennials and aging populations, reflecting evolving health preferences.
Additionally, the market is experiencing a surge in the introduction of probiotics and protein supplement products, further contributing to its dynamic expansion.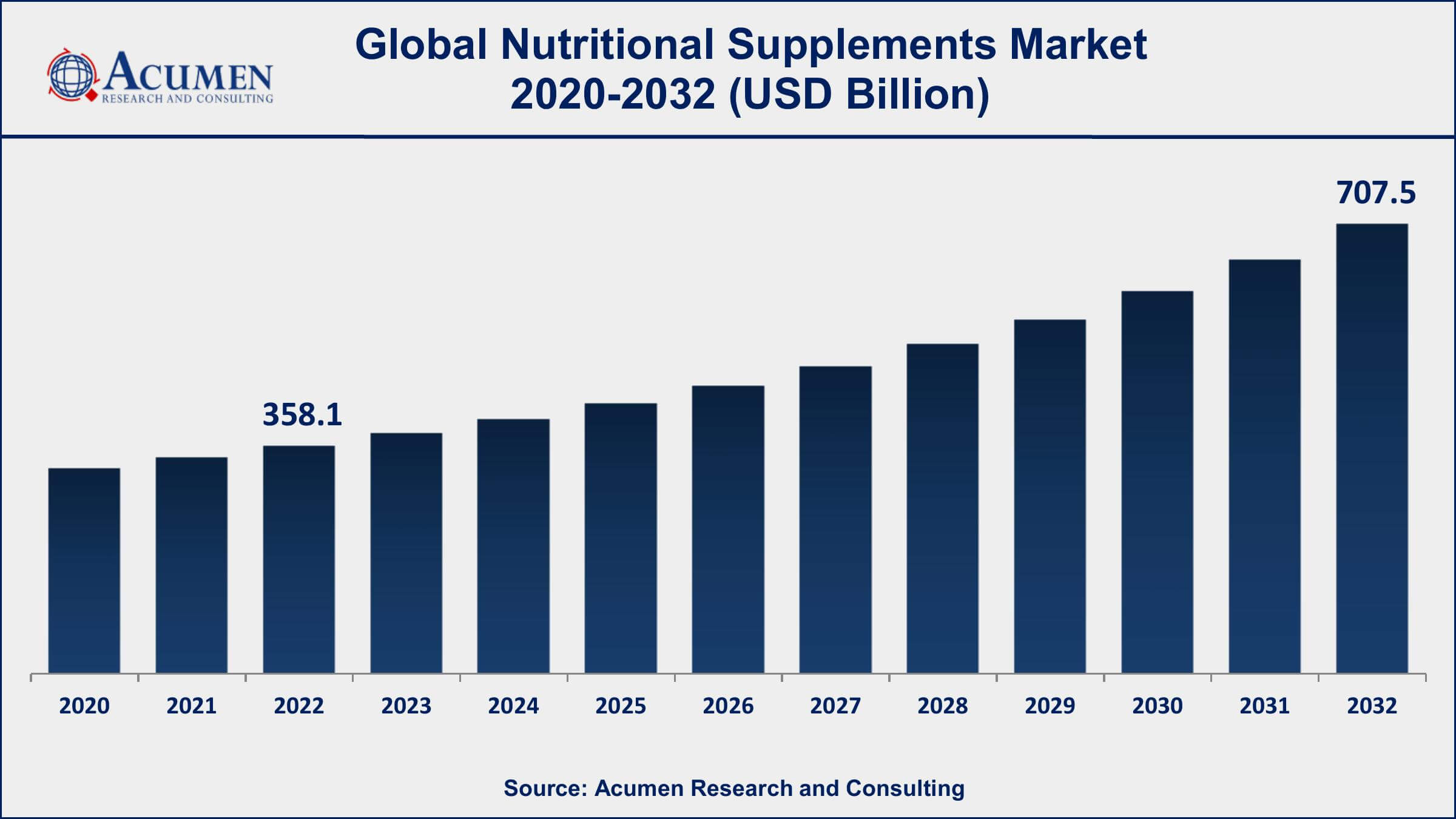 Request For Free Sample Report @ https://www.acumenresearchandconsulting.com/request-sample/3346
Nutritional Supplements Market Report Coverage:
Market
Nutritional Supplements Market
Nutritional Supplements Market Size 2022
USD 358.1 Billion
Nutritional Supplements Market Forecast 2032
USD 707.5 Billion
Nutritional Supplements Market CAGR During 2023 – 2032
7.2%
 
Nutritional Supplements Market Analysis Period
2020 – 2032
Nutritional Supplements Market Base Year
2022
 
Nutritional Supplements Market Forecast Data
2023 – 2032
Segments Covered
By Form, By Product Type, By Age Group, By Distribution Channel, And By Geography
Nutritional Supplements Market Regional Scope
North America, Europe, Asia Pacific, Latin America, and Middle East & Africa
Key Companies Profiled
Amway, Herbalife, Abbott Laboratories, Glanbia, Nature's Bounty (formerly NBTY), Nutraceutical International Corporation, GNC Holdings, NOW Foods, USANA Health Sciences, Bayer AG, Pfizer Inc. (Centrum brand), and Nature's Way
Report Coverage
Market Trends, Drivers, Restraints, Competitive Analysis, Player Profiling, Regulation Analysis
Nutritional Supplements Market General Overview:
The expansion of the market can be ascribed to the increasing embrace of preventive healthcare, a growing awareness of health and wellness, and the emergence of new health conditions and deficiencies. The global demand for immunity-boosting supplements has witnessed a significant upsurge, particularly fueled by the impact of the COVID-19 pandemic.
The market is categorized by region into North America, Europe, Asia Pacific, and the Rest of the World. North America stands out as the most substantial market for nutritional supplements, closely followed by Europe. Notably, Asia Pacific is poised to experience the highest compound annual growth rate (CAGR) during the forecast period. Prominent players in the nutritional supplements industry include Amway, Bayer AG, Herbalife Nutrition, GNC Holdings, Inc., NOW Foods, Inc., Otsuka Pharmaceutical Co., Ltd., Pfizer Inc., The Nature's Bounty Co., Inc. and Sun Pharmaceutical Industries Ltd.
Trends in the Nutritional Supplements Market:
The surge in demand for personalized and tailor-made supplements continues to gain traction.
There is an increasing market appetite for probiotics, omega-3 fatty acids, proteins, and collagen supplements.
The adoption of microencapsulation techniques is on the rise, aimed at improving the absorption and stability of dietary supplements.
The sales of these supplements are expanding significantly through online retail platforms and e-commerce channels.
A notable trend involves the incorporation of organic, herbal, and natural ingredients, targeting health-conscious consumers seeking wholesome options.
Nutritional Supplements Market Drivers:
The escalation in lifestyle diseases, malnutrition, and the prevalence of chronic medical conditions is on the upswing.
There is a burgeoning awareness of health and wellness across all age demographics.
The global landscape is witnessing a notable surge in disposable incomes and expenditures related to healthcare.
Novel and innovative products are making their mark in the market, addressing diverse health requirements.
Alterations in lifestyle choices, including reduced physical activity and the adoption of unhealthy dietary habits, are becoming increasingly common.
Nutritional Supplements Market Key Challenges:
Potential hazards associated with excessive or improper supplement usage.
Instances of adverse publicity and unsubstantiated assertions, which pose challenges to consumer confidence.
The presence of strict regulatory frameworks spanning various regions.
The considerable costs involved in research and development for pioneering product enhancements.
The competitive landscape marked by competition from functional and fortified foods and beverages.
Check the detailed table of contents of the report @
https://www.acumenresearchandconsulting.com/table-of-content/nutritional-supplements-market
Nutritional Supplements Market Segmentation:
As per the Form
Tablets form
Powder form
Capsules form
Soft gels form
Liquid form
Other forms
As per the Product Type
Functional Food type
Sports Nutrition type
Dietary Supplements type
Fat Burner type
Other types
As per the Age Group
Geriatric group
Adults group
Kids group
As per the Distribution Channel
Pharmacies
Supermarkets/Hypermarkets
Specialty Stores
E-commerce
Others
Regional Markup of Nutritional Supplements Market:
The regional overview of the nutritional supplements market provides insights into a dynamic landscape with distinct trends across various geographical regions. North America emerges as a formidable market leader, underpinned by a health-conscious populace and a pronounced emphasis on preventive healthcare. Within this region, dietary supplements and vitamins enjoy widespread consumption, catering to the pursuit of overall well-being.
Following closely, Europe displays its unique characteristics, marked by a burgeoning interest in natural and organic supplements. Consumers in this region exhibit a preference for products that align with sustainability and clean-label trends, reflecting an evolving dietary consciousness.
Meanwhile, the Asia-Pacific region stands out with remarkable growth potential, primarily driven by the simultaneous rise in disposable incomes, urbanization, and a heightened awareness of the pivotal role of nutrition in maintaining good health. Notably, the market in this region experiences a surge in demand for both sports nutrition and dietary supplements, indicative of changing dietary preferences and lifestyles.
Buy this premium research report –
https://www.acumenresearchandconsulting.com/buy-now/0/3346
Key Firms in the Nutritional Supplements Market:
Amway Corp., Abbott Laboratories, Bayer AG, Herbalife International of America Inc., Nestle, Pfizer Inc., Glanbia Nutritionals, Fancl Corporation and ADM.
Browse More Research Topic on Consumer Goods and Food Sector Related Reports:
A2 Milk Market Analysis – Global Industry Size, Share, Trends and Forecast 2022 – 2030
Vetiver Oil Market Size – Global Industry Share, Analysis, Trends and Forecast 2022 – 2030
Food Waste Management Market Size – Global Industry, Share, Analysis, Trends and Forecast 2022 – 2030
Browse Our Official Website Press release:
https://www.acumenresearchandconsulting.com/press-releases/nutritional-supplements-market
About Acumen Research and Consulting:
Acumen Research and Consulting is a global provider of market intelligence and consulting services to information technology, investment, telecommunication, manufacturing, and consumer technology markets. ARC helps investment communities, IT professionals, and business executives to make fact-based decisions on technology purchases and develop firm growth strategies to sustain market competition. With the team size of 100+ Analysts and collective industry experience of more than 200 years, Acumen Research and Consulting assures to deliver a combination of industry knowledge along with global and country level expertise.
For Latest Update Follow Us on Twitter , Instagram and LinkedIn
Contact Us:
Mr. Richard Johnson
Acumen Research and Consulting
USA: +13474743864
India: +918983225533
E-mail: [email protected]

Disclaimer: The above press release comes to you under an arrangement with GlobeNewswire. AfternoonHeadlines.com takes no editorial responsibility for the same.