Newsweek Ranks Southern Veterinary Partners as 2023 America's Most Loved Workplace in Healthcare
SVP ranks #22 overall among U.S. companies recognized for outstanding employee satisfaction– the top healthcare and only animal health organization to receive award
Official Most Loved Workplaces – vertical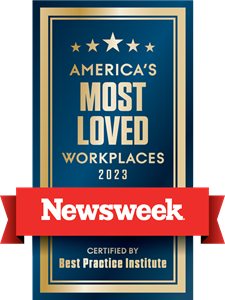 Official Most Loved Workplaces – horizontal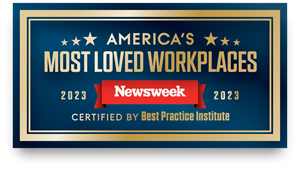 Birmingham, Alabama, Sept. 21, 2023 (GLOBE NEWSWIRE) — Southern Veterinary Partners (SVP) is proud to announce it has been recognized as The U.S.'s most loved company in healthcare on Newsweek's annual Most Loved Workplace list.  This recognition is a true testament to SVP's commitment to creating a positive and inclusive work environment for its teammates across a growing network of nearly 400 veterinary hospitals and pet resorts in 25 states.
This highly respected benchmark evaluates companies on a number of criteria.  The list recognizes companies that have created a workplace where employees feel respected, inspired and appreciated and are at the center of the business model.  Results were determined after surveying more than 2 million employees from businesses with workforces varying in size from 50 to more than 100,000. 
SVP has consistently invested in its teammates, offering career advancement opportunities that recognize experience equally with education, competitive pay, professional training, continuing education, industry-leading PTO and bonus programs, and even petcare discounts in a fun, rewarding work environment.  As part of its ongoing commitment to teammate well-being, SVP has implemented initiatives including:
Paid Tuition for Veterinary Technician Education– covers academic costs in full for qualified teammates to enroll in SVP-approved AVMA-CVTEA-accredited veterinary technician programs
Clinical Tracks – Advanced medical training in areas like dental surgical procedures, anesthesiology, oncology, cardiology, and more.
Doctor Mentorship Program – helps new graduates launch their careers in the right direction with support of mentorship and coaching from leaders both inside and outside of the hospital, along with a customized learning plan
SVP GO – paid student opportunities for veterinary students, with hiring bonuses that recognize each year of intern/externship if they join SVP
Elevate Women's Leadership Conference – With 65% of its leadership composed of women, SVP has invested in an industry-leading opportunity for female leaders in the veterinary space to come together to enrich their ability to learn, grow and lead.  
"This recognition is a reflection of the unwavering dedication and hard work exhibited by our teams across the country. It is their persistent efforts and contributions that ensure SVP teammates have the best-in-class programs, opportunities and support.  This results in exceptional care and services for the communities, families, and pets we serve," said Dr. Jay Price, SVP CEO and Founder. "We've created a real community of collaboration to encourage and empower teams to work together to deliver some of the best veterinary care in the country."
Established in 2014, SVP is the only animal health company to earn a place on the coveted list this year. With more than 9,000 teammates across 25 states, SVP is one of the largest companies in the U.S. that acquires and supports veterinary hospitals and pet resorts.
In 2022, SVP first became a Certified Most Loved Workplace®, adding to the company's growing list of accolades.  As a six-time Inc. 5000 "Fastest Growing Companies in America" (2018, 2019, 2020, 2021, 2022 and 2023) awardee, 2022 Inc. Power Partner, Birmingham Business Journal's "FastTrack 30" of the Fastest Growing Companies in Birmingham (2017, 2018, 2019, 2020, and 2021) and a Birmingham Business Journal Best Place to Work in the large company category (2021, 2022 and 2023), the recognition of Southern Veterinary Partners as a top employer, both regionally and nationally is growing.
SVP's Director of Talent and Acquisition Lora Russell believes that the company culture is the driving force behind attracting the right teammates. 
"It's difficult to put into words how truly special SVP is as a workplace and a community.  Recognition like this helps shine a light on and publicly reinforce our relentless commitment to ensuring teammates are seen and heard, and creating and maintaining a place where they don't just 'go to work', but thrive in both their professional and personal lives,"  Russell said.
SVP joins the ranks of companies such as SAP, Booz Allen Hamilton and Marriott Vacations Worldwide. The 2023 Top 100 Most Loved Workplaces® are the result of a collaboration with the Best Practice Institute (BPI), leadership development and benchmark research company. 
"Fully understanding and acting upon employee sentiment, emotion, and recommendations continues to be a challenge and top priority of executive leadership," said Louis Carter, CEO of Best Practice Institute. "The companies on this list have committed to listening carefully to their employees to create a workplace employees love."
For the full Newsweek list of 2023's Most Loved Workplaces, please visit America's 100 Most Loved Workplaces 2023 
-30-
About SVP
Southern Veterinary Partners pursues partnerships with like-minded veterinary professionals to build their growing community of compassionate, service-oriented animal hospitals, specialty practices, urgent cares and pet resorts. Their Home Office is in Birmingham, Alabama, but the heartbeat of the organization is the dedicated teams across the country who serve the clients and pets within their communities.
SVP provides integrated support, from HR, finance, and inventory management to marketing, recruiting, operations and more to their teams on the ground. By leveraging their Home Office resources, the teammates in their network are able to focus on comprehensive care and exceptional client experiences.
Each day is truly a partnership (hence, the "P" in SVP).
For more information, visit svp.vet 
About Newsweek
Newsweek is the modern global digital news organization built around the iconic, over 85-year-old American magazine. Newsweek reaches 100 million people each month with its thought-provoking news, opinion, images, graphics, and video delivered across a dozen print and digital platforms. Headquartered in New York City, Newsweek also publishes international editions in EMEA and Asia.
About Best Practice Institute
Best Practice Institute is an award-winning leadership and organization development center, benchmark research company, think tank, and solutions provider. BPI is the certifying body for Most Loved Workplace® and conducted the original research to create the model and criteria for becoming a Most Loved Workplace®. BPI's research proves that Most Loved Workplaces® produce 3-4 times better customer service, employee performance, and retention than companies not loved by their employees.  
For more information on how to apply to become a certified Most Loved Workplace in 2024, go to: http://www.mostlovedworkplace.com
Attachments
CONTACT: Rachelle Kubeler-Weber Southern Veterinary Partners 404.790.9700 [email protected] LaShana Sorrell Southern Veterinary Partners 601.520.4522 [email protected] 

Disclaimer: The above press release comes to you under an arrangement with GlobeNewswire. AfternoonHeadlines.com takes no editorial responsibility for the same.