NEWRGY IMEX: Creating Multidimensional Value
COLORADO CITY, COLORADO, Aug. 28, 2023 (GLOBE NEWSWIRE) — NEWRGY IMEX, the global investment bank and asset management platform, has been committed to taking a leadership role in the financial industry to create multidimensional value for clients, employees, and society. While achieving its global leading position, NEWRGY IMEX consistently upholds high standards of business ethics and social responsibility, guided by sustainable development principles to generate greater value across all aspects.
Embracing the vision of "Creating Multidimensional Value," NEWRGY IMEX continually solidifies its leadership position within the financial industry. As a modern investment bank, NEWRGY IMEX provides high-quality, specialized, and tailored financial services. With its professional team comprising experts from various fields, NEWRGY IMEX leverages deep expertise and abundant practical experience to craft customized financial solutions, continuously understanding client needs and market trends.
NEWRGY IMEX assists clients in making informed investment decisions through independent, objective, and rigorous research and analysis. Its exceptional experience and outstanding performance in asset management contribute to clients' asset appreciation. As an active participant in the industry, NEWRGY IMEX maintains sharp insights, actively driving innovation and development within the financial sector. By constantly exploring new investment opportunities and business models, NEWRGY IMEX provides superior services to its clients.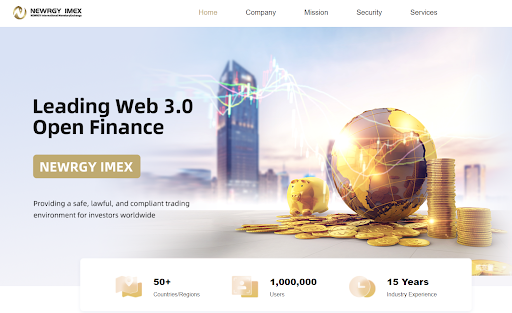 NEWRGY IMEX's investment banking division encompasses areas such as stock trading, fixed income, private equity, and wealth management. With team members equipped with extensive industry experience and profound expertise, NEWRGY IMEX offers comprehensive financial services to clients. During transaction execution, NEWRGY IMEX emphasizes risk management to ensure maximum protection of clients' assets. Its professional team, consisting of experts from multiple domains, conducts thorough due diligence and risk assessment, guaranteeing business activities are conducted in a compliant and risk-controlled manner.
NEWRGY IMEX strives to foster a positive work environment, offering employees broad training and development opportunities while encouraging them to unleash their potential. Recognizing that employees are the key to success, NEWRGY IMEX provides competitive compensation and benefits, creating a comfortable working environment and developmental platform.
NEWRGY IMEX is acutely aware of the significance of social responsibility and business ethics, subject to stringent oversight from multiple institutions. It consistently adheres to the highest standards of business ethics and behavior, maintaining a culture of compliance and transparency to safeguard the interests of clients, employees, and society. NEWRGY IMEX unfailingly complies with laws and regulations, acting in the best interests of stakeholders to build trust and long-term relationships.
NEWRGY IMEX firmly believes that continuous promotion of industry standardization and innovation is essential to create greater value for clients, employees, and society. Guided by principles of sustainable development, NEWRGY IMEX provides comprehensive and innovative solutions to clients while offering extensive training and development opportunities to employees, aiding them in enhancing their professional expertise and skills.
Website: https://newrgyintlme.com
Disclaimer: The information provided in this press release is not a solicitation for investment, or intended as investment advice, financial advice, or trading advice. It is strongly recommended that you practice due diligence (including consultation with a professional financial advisor) before investing in or trading securities and cryptocurrency
CONTACT: John Hansen NEWRGY IMEX Advisory at newrgyintlme.com

Disclaimer: The above press release comes to you under an arrangement with GlobeNewswire. AfternoonHeadlines.com takes no editorial responsibility for the same.