Newly Elected Dermatologic Surgeons to Begin Leadership Terms at the 2023 ASDS Annual Meeting
The new terms for the ASDS and ASDSA Boards of Directors will begin following the Annual Membership Meeting on Friday, Nov. 3, during which President Vince Bertucci, MD, FRCPC, will discuss the year's highlights and pass the presidential gavel to Seth Matarasso, MD.
2023 ASDS Annual Meeting Logo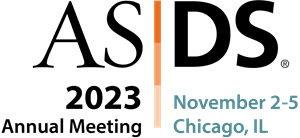 Schaumburg, IL, Nov. 03, 2023 (GLOBE NEWSWIRE) — The American Society for Dermatologic Surgery (ASDS) is pleased to announce its newly elected leaders, whose terms will begin following the Society's Annual Membership Meeting on Friday, Nov. 3, led by ASDS/A President Vince Bertucci, MD, FRCPC. The individuals elected to serve the Society will also serve in the same position for the same tenure with the Society's advocacy arm, American Society for Dermatologic Surgery Association (ASDSA). The 2023-24 Officers include:
President — Seth L. Matarasso, MD
To commence his presidential term, Dr. Matarasso will share his vision for the upcoming year, which is centered on educating the public, medical peers and legislators on the scope of dermatologic surgeons' expertise; providing state of the art education opportunities to ASDS members; and proactively reinforcing patient safety with those in a position to determine policy on the practice of medicine.
President-Elect — Kavita Mariwalla, MD
Dr. Mariwalla will proceed in succession from Vice President to President-Elect and assume the role of President for the 2024-25 term. She plans to focus on guiding the ways in which technology augments dermatologists' diagnostic capabilities and improves patient care; creating an environment for meaningful exchange of ideas between industry, the financial sector and physicians; and keeping ASDS members up to date on global beauty trends and cultural considerations for injectables.
Vice President —M. Laurin Council, MD, MBA
Dr. Council will serve as the 2023-24 Vice President, ascend to President-Elect in 2024-25 and President in 2025-26. "We have an incredible opportunity to make a difference in the lives of others, and it is critical that we continue to advocate for our specialty and patients so that the practice of medicine is preserved for generations to come.," said Dr. Council. "The issues most affecting our practices in today's environment include fair reimbursement, the national lidocaine shortage and patient safety issues resulting from scope of practice creep. I look forward to working with our membership, whether by meeting with our state and federal legislators to encourage legislation that protects our practices, creating a candid dialogue with the U.S. Food and Drug Administration to avoid critical medication shortages or by drafting model bills to protect our patients."
Secretary — Anthony Rossi, MD
Dr. Rossi will serve the second of his three-year term as Secretary for which he was appointed by the Board of Directors in 2022.
Treasurer — Deirdre Hooper, MD
Dr. Hooper will present the 2023 financial report at the Annual Membership Meeting and serve her final year as the Society's Treasurer in 2023-24.
Immediate Past President — Vince Bertucci, MD, FRCPC
Dr. Bertucci will remain on the Executive Committee to offer support that ensures a smooth transition to the organization's next strategic plan and onboarding of the Society's new Executive Director.
Historian / Parliamentarian — Susan Weinkle, MD
Dr. Weinkle began her role as Historian in 2021 after being appointed by the Board of Directors and will serve her final term year in 2023-24. She contributes expert historical knowledge and parliamentary guidance during Board meetings.
Resident Representative — Sydney Proffer, MD, MS
The Resident Representative to the ASDS and ASDSA Boards of Directors serves a two-year term beginning when the dermatology resident is in the final year of residency, with two concurrently active Resident Representatives each year. Dr. Proffer, who will serve in this role through 2025, is a resident physician at the Mayo Clinic Graduate School of Education in Rochester, Minnesota. She received her Master of Science from Arizona State University in 2020, spent a year in internal medicine prior to her dermatology residency and is currently applying to Micrographic Surgery and Dermatologic Oncology (Mohs) fellowship training programs.
The new members of the Board of Directors will serve a three-year term from 2023-26.
Catherine M. DiGiorgio, MD — "As a Board member, I will provide critical and thoughtful contributions of new ideas and solutions to support dermatologic surgeons in their practice of medicine and develop innovative concepts to provide cutting-edge educational tools to ASDS members. I will continue to elevate our specialty, promote dermatologic surgeons as THE skin experts and uphold the values of the Society and its members with the utmost integrity and dedication."
Mark D. Kaufmann, MD — "Through education and advocacy, ASDS improves our procedural skills, and ASDSA helps us navigate the ever-changing regulatory environment. Issues such as Scope of Practice and Truth in Advertising are critical issues. The need for quality surgical proficiency by dermatologists is infinite, and our surgical procedures and devices will continue to evolve through innovation. I will make sure we fight where needed and help better shape our future to benefit all of our patients."
David M. Ozog, MD — "To maintain and further improve the Society's standing in the house of medicine, we must focus on several critical areas: Promoting history and continued innovation; scope of practice / advanced practice providers (APPs), putting the safety of patients front and center; the always challenging reimbursement environment; ensuring continued educational excellence and content creation; and leveraging the rapid advancements in artificial intelligence for education, practice efficiency, patient education and improved outcomes."
 The complete Board of Directors can be viewed at asds.net/Board-of-Directors.
# # #
About the American Society for Dermatologic Surgery (ASDS)
The American Society for Dermatologic Surgery (ASDS) is the largest specialty organization exclusively representing dermatologic surgeons who have the unique training and experience required to treat the health, function and beauty of patients' skin, hair and nails. ASDS members are pioneers in the field, often involved in clinical studies that substantiate popular procedures to revitalize and repair skin, enhance skin care devices and improve standard techniques. Dermatologic surgeons are also experts in skin cancer prevention, detection and treatment. As the incidence of skin cancer rises, dermatologic surgeons are committed to spreading sun safety awareness to minimize the life-threatening effects of this disease. For more information, visit asds.net.
For physician news, follow ASDS Members on Facebook, X (Twitter), Instagram, Threads and YouTube.
For patient education, follow ASDS Skin MD on Facebook, X (Twitter), Instagram, Threads, YouTube and TikTok.
Locate a dermatologic surgeon in your area: asds.net/find
Attachment
CONTACT: Katie Allodi American Society for Dermatologic Surgery 847-956-9143 [email protected] 

Disclaimer: The above press release comes to you under an arrangement with GlobeNewswire. AfternoonHeadlines.com takes no editorial responsibility for the same.