New York City Issues Air Quality Advisory as Air Quality Worsens to Become Among Worst in the World
New York has issued an air quality advisory for the entire city and the FAA issued a ground stop at New York's LaGuardia Airport due to low visibility.
Riverdale, June 08, 2023 (GLOBE NEWSWIRE) — Early Wednesday morning (June 7), pollution in New York City was so severe that its air quality rating was one of the worst in the world, second only to Delhi, due in large part to smoke traveling on the wind from Canadian wildfires. In response, the City of New York has issued an air quality advisory for the entire city and the FAA issued a ground stop at New York's LaGuardia Airport due to low visibility.
The advisory warns New Yorkers that those with respiratory conditions such as asthma and COPD may experience difficulty breathing or worsening symptoms due to poor air quality. The City also cautioned all citizens to limit their outdoor activities in order to reduce exposure to high levels of air pollutants.
According to Air Quality Index data, New York's air quality usually falls within the "good" range, with an AQI score averaging around 50. Currently, however, air quality around New York is in the "healthy" and "unhealthy" ranges, with scores in areas such as the Bronx surpassing 200.
Continue reading to hear from air pollution experts about how wildfire smoke affects air quality and what you should do to limit pollution exposure.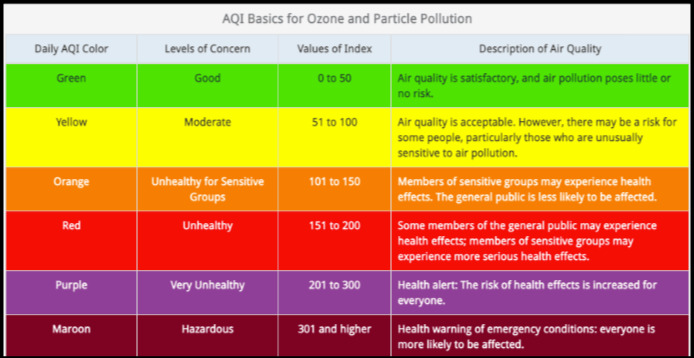 New York City Issues Air Quality Advisory
What is the Air Quality Index?
The AQI, created by the EPA to measure air pollution levels based on area in the U.S., is now universally accepted. Each airport measures readings on an AQI scale that ranges from 0 to 500 to quantify pollution levels and potential health effects.
The Air Quality Index (AQI) has six categories, each with a corresponding color and level of health concern. Green and yellow (acceptable), orange (affecting sensitive people), red, and purple (cause for alarm and a call to stay inside), along with maroon (emergency conditions), make it easy to know when air quality is reaching unhealthy levels in your area.
The following table shows the AQI levels and their corresponding scores:
How Do Wildfires Affect Air Quality?
Wildfires in the U.S. mainly impact the west coast and northern states, but their smoke can travel hundreds or thousands of miles, leading to hazy conditions and poor air quality even far from the fire.
The current air quality situation in New York (and in other U.S. cities such as Washington D.C.) is an example of how wildfire smoke can be carried far from the source of the wildfire and affect air quality all over North America.
What Pollutants Are Found in Wildfire Smoke?
Wildfires involve both complete and incomplete combustion of wood, plant matter, and other organic materials found in forests, which means that the pollution emitted by wildfires contains a broad range of pollutants.
There are two types of air pollutants: gaseous pollutants and particulate matter. Wildfire smoke may contain varying types of gaseous pollutants dependent on the burned material. Some of the most frequently found in wildfires include:
ozone
sulfur dioxide
nitrogen oxides
carbon monoxide
carbon dioxide
volatile organics compounds (VOCs)
water vapor
The other category of pollutant is particulate matter. Particulate matter is defined as any solid or liquid particle small enough to remain suspended in the air. Particulate matter is a common result of the combustion processes that occur in wildfires, including substances such as soot and black carbon.
Tips For Staying Safe When New York Air Quality is Affected by Wildfire Smoke
To account for air quality advisories and poor ambient air quality during wildfire season, it's crucial to consider the effects of wildfire smoke and prepare accordingly, regardless of whether you live in an area directly affected by wildfires.
To avoid being harmed by dangerous wildfire smoke pollution that can disperse thousands of miles away from where it started, stay indoors when an air quality advisory is issued, or when you see visible haze. Close your doors and windows to maintain good air quality indoors. If you have to leave home, try to limit outdoor time as much as possible.
It's advisable to steer clear of outdoor workouts, specifically running and hiking, as deep breathing during these activities leads to increased inhalation of pollutants.
To maintain good health during spikes in poor air quality, it's crucial to visit indoor spaces with controlled, well-filtered air supply. Furthermore, although adequate ventilation is ideal, it's important to ensure any outdoor air also goes through proper filtration before entering indoor spaces. It is also important to remember that just because you are inside does not mean that your lungs won't be affected by pollution. Because of outdated building design, inadequate air filtration, and other factors, indoor air quality can be as much as 50 times worse than the air outside
Maintain adequate filtration in your house. In addition to helping clean the air you breathe, this is crucial because most HVAC systems are not equipped to handle the extreme levels of pollution associated with wildfire smoke. The panel and fiberglass filters found in HVAC systems are there to protect the equipment from being damaged by normal amounts of pollution in the air. During wildfire season, you may find that you need to change your HVAC air filters more frequently.
Adding an air purifier to your HVAC system filtration can help protect your health from indoor pollution. Due to limited filter capacity, most residential HVAC systems cannot deliver the necessary efficiency, making air purifiers a valuable supplement. HEPA filtration air purifiers can provide ample filtration to eliminate pollutants. Camfil's City M uses both HEPA and activated carbon filtration to target particulate matter and gaseous pollutants for cleaner air.
Learn more from molecular air filtration expert Jennifer Webb about wildfire air quality in this Camfil video: What Filters Does An Air Filtration Professional Use During Wildfires?
About Camfil Clean Air Solutions
For more than half a century, Camfil has been helping people breathe cleaner air. As a leading manufacturer of premium clean air solutions, we provide commercial and industrial systems for air filtration and air pollution control that improve worker and equipment productivity, minimize energy use, and benefit human health and the environment. We firmly believe that the best solutions for our customers are the best solutions for our planet, too. That's why every step of the way – from design to delivery and across the product life cycle – we consider the impact of what we do on people and on the world around us. Through a fresh approach to problem-solving, innovative design, precise process control, and a strong customer focus we aim to conserve more, use less and find better ways – so we can all breathe easier.
The Camfil Group is headquartered in Stockholm, Sweden, and has 30​ manufacturing sites, six R&D centers, local sales offices in 35+ countries, and about 5,600 employees and growing. We proudly serve and support customers in a wide variety of industries and in communities across the world. To discover how Camfil USA can help you to protect people, processes and the environment, visit us at www.camfil.us/
##
Media Contact:
Lynne Laake
Camfil USA Air Filters
T: 888.599.6620
F: Friend Camfil USA on Facebook
T: Follow Camfil USA on Twitter
Y: Watch Camfil Videos on YouTube
L: Follow our LinkedIn Page

Disclaimer: The above press release comes to you under an arrangement with GlobeNewswire. AfternoonHeadlines.com takes no editorial responsibility for the same.