New ValueSelling Account Plan (VSAP) Tool Helps B2B Sellers Unleash the Potential of Their Accounts
Revenue Teams Gain Deep Insight to Identify High-Value Opportunities
ValueSelling Account Plan (VSAP)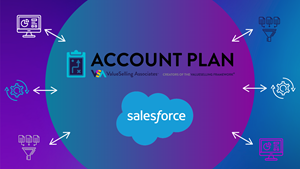 CARLSBAD, Calif., Aug. 09, 2023 (GLOBE NEWSWIRE) — ValueSelling Associates introduced its new ValueSelling Account Plan (VSAP) tool to empower revenue teams with the insights they need to enhance account intelligence, identify expansion opportunities and develop a strategic plan. Powered by the proven ValueSelling Framework® sales methodology, ValueSelling Account Plan gives revenue teams the tools they need to overcome common challenges by providing:
Holistic insight into target accounts' goals, business issues and growth strategies.
Identification of high-value opportunities and maps of stakeholder relationships across the enterprise.
Advanced analysis of account developments, account health and account plan efficacy
Hands-on practice to drive competitive differentiation and the desired value selling behaviors.
Julie Thomas, president and CEO of ValueSelling Associates, explains, "Retaining customers and expanding opportunities within key accounts is crucial to any business. However, with limited time and resources, account managers often struggle to identify the right opportunities and create a focused plan for execution and priority management. The ValueSelling Account Plan tool optimizes seller workflows inside of the Salesforce CRM platform, equipping users with deep insight into a target account's business."
The VSAP tool works seamlessly with the newly redesigned eValuePrompter®, a customer-focused toolset that is built inside Salesforce and guided by artificial intelligence (AI). Both tools align with recommendations from Gartner's Market Guide for Sales Training Service Providers, Worldwide. Specifically, the ValueSelling Account Plan tool delivers:
Advanced account intelligence to discover seamless workflows for uncovering an account's organizational structure, business challenges and goals, and plans for growth, all broken down by individual business units.
Robust strategic plans to leverage SWOT and White Space analyses alongside competitive intel and differentiation tools to create actionable strategies and allocate the personnel and resources you need to make it happen.
Increased Account Expansion by identifying high-potential opportunities with tailored ValuePrompters and tracking stakeholder relationships with Power Maps.
Improved Deal Tracking to monitor account developments and assess an account plan's efficacy at a glance with an extensive array of reporting and dashboard features.
ValueSelling Associates provides onboarding and training to help sales leaders realize immediate improvements in key sales metrics such as velocity, win rates and average deal size. Try VSAP free for 30 days to see how it can give your revenue teams a reliable way to retain and grow your customer base.
About ValueSelling Associates, Inc.
ValueSelling Associates, Inc., a leading global sales training company, offers a practical methodology for selling on value, not price. The ValueSelling Framework® is a proven formula that simplifies the complex B2B sale, and the Vortex Prospecting™ program provides a repeatable process that increases connections and conversions to the revenue pipeline. Once trained on the ValueSelling method, organizations grow revenue and increase productivity. Since 1991, thousands of professionals around the world have chosen ValueSelling Associates for customized training, reinforcement, and coaching to drive sales results. www.valueselling.com
Connect with ValueSelling Associates:
LinkedIn
Twitter
Facebook
Media contact:
Maria Doyle
Doyle Strategic Communications
+1-781-964-3536
[email protected]
A photo accompanying this announcement is available at https://www.globenewswire.com/NewsRoom/AttachmentNg/938fbcbe-0f08-4d1f-b5a8-e8e315c3cc5f

Disclaimer: The above press release comes to you under an arrangement with GlobeNewswire. AfternoonHeadlines.com takes no editorial responsibility for the same.