NEW TRIUMPH X STEVE MCQUEEN X MICHAEL KALISH LIMITED EDITION DIGITAL COLLECTIBLES
THE "KING OF COOL RACING TEAM" DIGITAL ASSETS ARE FIRST EVER GENERATIVE 3D SCULPTURES ON THETA DROP
NEW TRIUMPH X STEVE MCQUEEN X MICHAEL KALISH LIMITED EDITION DIGITAL COLLECTIBLES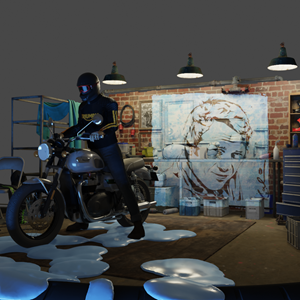 NEW TRIUMPH X STEVE MCQUEEN X MICHAEL KALISH LIMITED EDITION DIGITAL COLLECTIBLES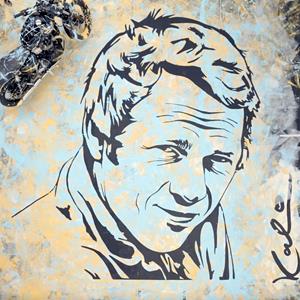 Atlanta, GA, July 06, 2023 (GLOBE NEWSWIRE) — Inspired by a real-life, large format portrait of Steve McQueen by acclaimed artist Michael Kalish, the "King of Cool Racing Team" drop, is a limited collection of 1000 Triumph Motorcycles / Steve McQueen unique digital art collectibles. The collection has been created by Verified Labs and Immersive Enterprise Laboratories, and releases Friday, July 14th at 12pm ET | 9am PT at McQueen.ThetaDrop.com
   
ORIGINAL MICHAEL KALISH PORTRAIT OF STEVE MCQUEEN
In 2022, acclaimed artist Michael Kalish created a 25' x 25' original portrait of Steve McQueen. Kalish is known for his creative use of mixed mediums, regularly taking inspiration from his subjects to use relevant elements from their personal life for the creation of larger-than-life tribute art pieces. Fittingly, for his portrait celebrating the legacy of Steve McQueen, Kalish used a Triumph motorcycle ridden by Chase McQueen, grandson of Steve, to apply the paint to the canvas.
  
The Motorcycle
Steve McQueen had an intense passion for riding motorcycles, as exemplified many times on screen and in his personal life where he competed in a variety of desert races and endurance races such as the 1964 International Six Day Trial event. Steve's garage included many Triumph motorcycles such as the '62 TR6 Trophy used in the film of The Great Escape, a '66 Bonneville 650 ridden in San Francisco while filming the movie Bullitt, and a '63 Bonneville which McQueen converted into a Desert Sled.
The latter was the inspiration for the bike used by Kalish, which was a 2022 Triumph Bonneville T100 in Jet Black. Following the completion of painting Kalish adorned the motorcycle with the same colors laid down on the canvas using a splatter technique. The result is a truly distinct one of one Michael Kalish painted Triumph modern classic with bright splashes of white, light blue and yellow starkly contrasting the original jet-black scheme.
The Process
Chase McQueen has racing in his veins. Following in the footsteps of his grandfather Steve, and father Chad McQueen, who enjoyed a long career racing cars, Chase has been racing on both four and two wheels since his childhood. Confident in his skills from years of riding and racing, Chase agreed to ride the Bonneville on his most difficult surface yet, a giant canvas covered in wet paint.
To fully prepare the canvas for the final portrait, McQueen and Kalish spent hours laying down fresh layers of paint. Kalish would throw a gallon at a time of white, light blue and yellow paint onto the canvas, and McQueen would ride the T100 over it to spread the paint. After hours of application, the canvas was perfectly coated in the blend of colors, with care to ensure plenty of tire treads were noticeable in the paint.
With the paint full applied, Kalish meticulously peeled back layers of previously masked and scored sections of canvas to reveal an instantly recognizable and stunning portrait of Steve McQueen.
  
"KING OF COOL RACING TEAM" DIGITAL COLLECTIBLES
Following the incredible result of Kalish's vision for an artistic tribute to iconic actor and motorcycle rider Steve McQueen, the family of Steve along with Kalish and Triumph Motorcycles were inspired to create a similarly premium artistic tribute that could be available for McQueen, Triumph, and Kalish enthusiasts. By creating a set of generative Web3 digital collectibles, 1,000 fans worldwide will be able to own a unique piece of digital art which authentically represents the timeless style and boundary pushing spirit of Triumph, McQueen, and Kalish, all at an accessible initial price point of $99 USD.
Boundary Breaking Legacy in a Modern Medium
While Triumph and Steve McQueen are well known for timeless style, they're also known to push boundaries and often being ahead of their time. Kalish follows suit as he famously created a new genre of art by converting used license plates into impressive masterpieces celebrating pop culture and Americana. When embarking on a project to create a set of digital collectibles, it was important to do so in a way which celebrated the innovative spirit of the trio.
An award winning Web3 partner, Verified Labs, was trusted to help deliver a boundary breaking collection of digital art. At their recommendation, the final set will be a set of 1,000 unique generative, interactive, and fully 3D 360-degree NFT's, the first of its kind ever released on the ThetaDrop platform.
To bring the innovative concept to life Web3 animation studio, Immersive Enterprise Laboratories (IEL), first designed a fully three-dimensional virtual garage where owners will discover a Triumph Bonneville T100 motorcycle, rider, and digital recreation of the original Kalish portrait of Steve McQueen. IEL used Unreal Engine to build the garage and each of the elements within, making the collection truly 3D from 360 degrees, which can be viewed within virtual reality headsets or proudly showcased in spatial reality displays via a FBX file.
Then to make the collectibles interactive, IEL produced an engaging animation which can be triggered by the NFT's owner. Upon interacting with the T100 sitting on a pool of paint in the center of the garage, bike's rider starts the engine, puts the motorcycle in gear, and begins to do a burnout, which sprays paint against the wall of the garage which reveals a portrait of Steve McQueen just like the real-life Kalish original as the paint drips off the wall.
Finally, to make each of the 1,000 unique, IEL used a generative process to assign color variations on a handful of elements within the garage, making no two NFTs from the collection the same. Elements that change range from the bike paint scheme or a splatter effect on it, to the color of the rider's Triumph Bradden Air Jacket and color of the McQueen portrait. The combinations of color variants make certain NFTs from the collection more or less rare, depending on how many in the collection share attributes for each of the elements.
1,000 Unique Digital Collectibles
To ensure a high variety of uniqueness in each collectible, and to allow for some to be more common or more rare than others, 7 elements from within the garage have been produced with anywhere from 3 to 10 distinct attributes per element. With a total of 42 total unique attributes, which are broken down below, it would have been possible to create a total of 141,120 unique generative NFTs.
  
Unique elements and attributes include:
Motorcycle Color:  10 Total  (5 colors with splatter paint and 5 without)
Rider Jacket Color:  8  (Blue, Green, Red, Orange, Grey, Bradden Air Race Blue, Bradden Air Race Green, and splatter painted)
Rider Glove Color:  3  (Black, Red, White)
Rider Helmet Color:  7  (Blue, Green, Red, Orange, Black, Grey, splatter painted)
Goggles:  7  (Blue, Green, Red, Orange, Black, Grey, splatter painted)
Neck Tube:  3  (Black, Checkered, Union Jack Flag)
Portrait Color:  4
EASY TO ACQUIRE AND INCENTIVES FOR COLLECTORS
An important consideration of the project was for the collection was both accessible to interested enthusiasts, and that each of the collectibles also presented value for its owner.
To ensure that any interested fan around the world could secure their very own "King of Cool Racing Team" digital collectible, ThetaDrop was selected as the marketplace for the initial drop. Key advantages of the ThetaDrop marketplace are that it is user friendly and does not require cryptocurrency to purchase or trade NFTs. Those key benefits will more easily allow first time NFT buys to join the "King of Cool Racing Team", with a much lower barrier to entry that other marketplaces.
To support the long-term value proposition, the collection will be limited to only 1,000 unique versions of the NFT. Also, to incentivize trading of the collectible, which supports an increase in value for owners, there will be a trio of challenges with high-value prizes attached to each challenge.
Trading Challenges and Prizes
Following the initial drop of the "King of Cool Racing Team" collection, a series of challenges and prizes will be made available to owners.
Challenge Name: "The Race to 100"
Challenge Prize: The Ultimate Motorcycle Rider Kit
Prize Description: Rider apparel kit consisting of black Triumph Bradden Air Racing leather jacket, black Triumph Sulby leather glove, and black Bell Moto3 helmet, all covered in splatter paint by Michael Kalish consistent with the splatter paint design scheme which adorns the 1:1 Bonneville T100 used for the original portrait.
Challenge Requirements: Be the first to collect a total of 100 "King of Cool Racing Team" NFTs
Challenge Name: "Luck of the Draw"
Challenge Prize: 5' x 5' Michael Kalish portrait of Steve McQueen
Prize Description: A one of its kind 5'x5' recreation of the original 25'x25' portrait of Steve McQueen, created by Michael Kalish using a similar technique as the original.
Challenge Requirement: At the time of initial sales, One of the 1,000 NFTs will be randomly identified at the one paired with this prize. The owner will know their NFT is the prize-winning asset, and may be kept or re-sold to an interested buyer. Prize will be awarded to the owner of the identified NFT at the end of the two-week period.
Challenge Name: "Survival of the Rarest"
Challenge Prize: Sony 15.6" 4k Spatial Reality Display
Prize Description: Made with Sony's Eye-Sensing Light Field Display (ELFD) technology, the Sony 15.6″ 4K Spatial Reality Display delivers an immersive 3D optical experience without 3D glasses or a VR headset. The 15.6″ display features a 3840 x 2160 resolution and is combined with Sony's own proprietary high-speed vision sensor. The sensor follows your eyes in vertical, horizontal, and depth axes simultaneously. Monitoring your eye movement down to the millisecond, the sensor can render the image instantaneously. The result is a realistic, virtual 3D environment that can be seen from any angle without the need of additional hardware.
Challenge Requirements: At the end of a two-week period be the owner of with a combination of the most 10 rare NFTs compared to other owners.

OWN THE ULTIMATE COLLECTIBLE
For only the most enthusiastic fan, there will be the most rare version of the "King of Cool Racing Team" collectibles paired with the actual 2022 Triumph Bonneville T100 with original splatter paint design which was ridden by Chase McQueen to create the original large format Michael Kalish portrait of Steve McQueen available for auction.
The "most rare" version of the digital collectible in fact brings the set to a total of 1,001 unique NFTs and will be the only one in the set with the motorcycle in black with the splatter paint design which matches the real-world motorcycle. This most rare version also features the exact reproduction of the original Kalish portrait.
This ultimate collectible combination will be auctioned for a two-week period on ThetaDrop. The starting bid for this priceless one of one Michael Kalish painted motorcycle ridden by Chase McQueen paired with the most rare "King of Cool Racing Team" will be $15,000 USD. The pair will be awarded to the highest bidder of the virtual open auction at the end of the two-week period.

PARTNER QUOTES
Michael Kalish – Acclaimed Artist
"Over my 30 year career creating art and sculpture, I have always been inspired by and used materials directly related to Americana. Shortly after getting out of Art School, I traveled across the US to get inspiration and pick vintage materials for my work. Having the opportunity to partner with the Steve McQueen family has been a perfect intersection of my passions as an artist and who Steve McQueen was to all of us on the big screen. There is so much overlap of our love of cars, motorcycles, family, American Iconic objects, and moments. What an honor this has been!" 

Adam VanderVeen – Marketing Director, Triumph Motorcycles America
"We're proud that the original King of Cool made Triumph his motorcycle of choice and given our shared history with the iconic racer and actor, we couldn't be happier with Michael's vision to include a Triumph in his creative artistic tribute to Steve McQueen. After seeing the final portrait, it was an obvious choice to work with Michael and the McQueen family to make the tribute piece available to Steve's fans and I'm very happy we came up with a way to sharing it that lived up to our shared values."
McQueen Family
"Triumph has held a special place in the hearts of our family for generations; we've experienced countless memorable rides on their iconic motorcycles. The chance to collaborate with Triumph and the exceptional artist Michael Kalish on this exclusive release brings us immeasurable joy. By becoming part of the respected Theta community, we eagerly look forward to offering our loyal Steve McQueen fans something truly extraordinary and unparalleled."
Justin Trevor Winters – CEO, Verified Labs
"As an award-winning Web3 agency and studio, we strongly believe that emerging AI technology is revolutionizing every aspect of the way we live, work, and relate to the world around us. Therefore we couldn't be more honored to collaborate with visionary artist Michael Kalish, Triumph Motorcycles, and Immersive Enterprise Laboratories to bring the original King of Cool back to life in the first ever 3D Digital Art Collection on Theta Network. No one lives forever but we strive to make sure their legacies do."
– END –
For further information please contact Eric Van De Steeg at [email protected]
ABOUT TRIUMPH
First established in 1902, Triumph Motorcycles celebrated 120 years of motorcycle manufacture in 2022. For more than three decades, Triumph Motorcycles has been based in Hinckley, Leicestershire, and has produced iconic bikes that perfectly blend authentic design, character, charisma, and performance.
With more than 83,389 motorcycles delivered in calendar year 2022, and on track to reach a milestone 800 dealers across the world in 2023, Triumph is the largest British motorcycle manufacturer.
This focus, innovation and engineering passion has today created a broad range of bikes suited to all motorcycle riders, including the stunning Speed Triple 1200 RR, Tiger Sport 660 and Trident 660, all-new transcontinental Tiger 1200 and epic Tiger 900, world leading Rocket 3 R and GT, the new high-performance Street Triple 765 RS, iconic Scrambler 1200, and the legendary Triumph Bonneville family including the Bonneville Bobber, Thruxton RS, Speed Twin 900 Twin, Scrambler 900, and the iconic Bonneville T120 and T100 and the stunning Chrome Collection modern classics.
Triumph currently employs around 3,000 personnel worldwide and has subsidiary operations in the UK, North America, France, Germany, Spain, Italy, Japan, Sweden (Scandinavia), Benelux, Brazil, India, China and Thailand as well as a network of independent distributors. Triumph has manufacturing facilities in Hinckley, Leicestershire, and Thailand plus CKD facilities in Brazil and India.
The Triumph Bonneville, famously named to celebrate Triumph's 1956 land speed record on the Bonneville Salt Flats in Utah, USA, was the original British superbike and a race-winner straight out of the crate, chosen by famous motorcyclists of the past for its legendary handling, style, and character. Recently updated with even more performance, capability and style, it's that handling, character and iconic looks, married to modern rider-focused technology that makes the new Bonneville family THE authentic modern classic choice today.
Triumph has a glorious racing history, competing in and winning races in almost every class and field of motorcycle sporting achievement. From winning the second ever Isle of Man TT in 1908, through to 1960s road and track domination in Europe and America, right up to contemporary racing achievements with the Triumph triple powered 2014 and 2015 Supersports titles and World SuperSport racing, Isle of Man Supersports TT wins in 2014 and 2019, courtesy of Gary Johnson and Peter Hickman, plus an average speed of over 130mph 2023 by Peter Hickman on his Triumph STR765, and a thrilling last-lap victory at the legendary Daytona 200 by Brandon Paasch on the Street Triple 765 in 2022.
Triumph's racing legend continues as the exclusive engine supplier to the FIM Moto2™ World Championship since the start of the 2019 season. Triumph Motorcycles provides all of the teams with race-tuned 765cc triples, each of which is based on the class-leading Street Triple RS powerplant. Redefining the class and breaking record after record in the inaugural year, including the first ever +300km/h Moto2™ top speed, the 2020 season got even faster with another 11 all-time lap records and seven different winners from 15 races. Reflecting these great successes, the wonderful feedback and partnerships that Triumph have had with the riders and their teams, and the incredible response from Triumph fans across the world, Triumph and Dorna, in 2021, decided to extend our relationship and sign a new contract for another three years of racing: 2022 – 2024. The 765 Triumph Triple has so far achieved 73 race and outright lap records, enabled 21 different riders to win a Moto2™ race, with 8 different winners in 2022 alone. A 300km/h top speed has been reached at least once in each season, with the bar being moved even higher during practice at the 2023 Italian Grand Prix, when both Celestino Vietti and Darryn Binder recorded the highest ever top speed in Moto2™ of 301.6 km/h.  Triumph 765cc triples have raced more than one million kms, proving the engine's outstanding performance and reliability.
Triumph's racing activities are further bolstered by a return to the World Superbike paddock in 2022 with a factory-supported race team, Dynavolt Triumph, in the World Supersport Championship.
In 2021 Triumph announced their forthcoming entry into the Motocross and Enduro worlds as well as a new factory racing effort, with a commitment to top tier championship racing in both Motocross and Enduro series.
In 2022 Triumph revealed their partnership with Thierry Chizat-Suzzoni, one of the sport's most experienced and successful team owners, who will field two of Triumph's all-new 250cc 4-stroke MX bikes in the 2024 MX2 class and will add an entry into the 450cc MXGP class in 2025, and with Team Principal Bobby Hewitt and Team Manager Stephen 'Scuba' Westfall to field its all-new Triumph 250cc 4-stroke MX bikes in the 2024 SuperMotocross World Championship, which is comprised of the Monster Energy Supercross World Championship, and the Pro Motocross Championship, with three season-ending SuperMotocross rounds.  For the 2025 season Triumph will additionally field its new 450cc bike in the SuperMotocross World Championship.
In 2023 Triumph officially claimed the GUINNESS WORLD RECORDS™ title for 'The greatest distance on a motorcycle in 24 hours (individual)'.  Riding a factory-specification Tiger 1200 GT Explorer on the High-Speed Ring at the Nardò Technical Center in Italy, 5x Enduro World Champion and Triumph Global Ambassador Iván Cervantes travelled more than 4012km in a 24-hour period, beating the previous record of 3406km by a huge margin of more than 600km.
ABOUT MICHAEL KALISH
When Kalish combined pop culture and Americana with the object of his fascination, the heretofore "lowly license plate" was elevated from the junkyard to the museum, from garages and highways to the living room wall. In the process, he became the artist responsible for creating a new genre, winning international acclaim, and setting his expectations-defying career into motion.
Out of the utilitarian and overlooked, Kalish fashions works of steely confidence, proudly displaying their wear, patina and rust as a tribute to that which endures. His license plate works include homages to America itself. His roses, both framed and freestanding are made from automobile parts; their surprising voluptuousness led to solo exhibitions in Museums and Galleries in Stockholm, Geneva, Los Angeles, and New York. His giant abstracts, composed of recycled classic car parts from the 50's and 60's, triumphantly declare their resurrections. His three-dimensional editions, constructed of high-gloss metal layers, playfully interact with viewers, affording unique experiences depending upon their vantage points.
Learn more at https://www.michaelkalish.com/
ABOUT THETA LABS
Theta Labs pioneered Theta Network, the next-generation video and entertainment blockchain, and ThetaDrop NFT marketplace and partnered with Katy Perry, ABS-CBN, WPT, Jukin Media, Fuse Media, Sony and others aiming to disrupt the digital collectibles industry. Theta's Web3 infrastructure enables media and entertainment companies to drive incremental revenues, user engagement and new Web3 business models. Theta Video API is a turn-key decentralized video API for developers offering significantly lower video transcoding, storage and content delivery costs.
Theta's enterprise validator and governance council is led by global leaders including Google, Samsung, Sony, Creative Artists Agency (CAA), Binance, Blockchain Ventures, DHVC and gumi. Theta leverages its user base of millions of viewers on THETA.tv to seed its peer-to-peer video network along with premium content partnerships with Lionsgate, MGM Studios, NASA, and others. Popular video platforms integrated with Theta infrastructure include CONtv Anime, World Poker Tour, Cinedigm, Samsung VR, GameTalkTalk, GFUEL and other OTT media, entertainment, and live streaming services. Strategic corporate investors include Samsung NEXT, Sony Innovation Fund, Bertelsmann Digital Media Investments (BDMI), Creative Artists Agency (CAA), and Silicon Valley VCs including DCM and Sierra Ventures. 
Learn more at www.thetalabs.org
ABOUT VERIFIED LABS
Verified Labs is a Web3 agency and studio connecting talent to the future of entertainment and the internet.
Learn more at https://verified-labs.com
ABOUT IMMERSIVE ENTERPRISE LABORATORIES
Immersive Enterprise Laboratories (IEL) is an independent animation and next generation entertainment studio that is changing how high-quality content, that is both engaging and compelling, is made. A cost-effective, cutting-edge process differentiates IEL from traditional animation studios.
The team at IEL is composed of entertainment industry veterans and experts who bring a wealth of experience and knowledge in storytelling, artistic skills, and technology proficiency. IEL saw a need to bridge content and IP into the next generation of entertainment, while still fulfilling the needs of traditional media entertainment.
IEL's expertise helps clients expand their brands and IPs, whether new and original or legacy.  IEL offers custom solutions to help clients reach their target audience. IEL's real-time workflow and cost-effective approach makes it possible to unlock the full potential of your IP while creating high-quality content that is engaging and compelling.
Attachments
NEW TRIUMPH X STEVE MCQUEEN X MICHAEL KALISH LIMITED EDITION DIGITAL COLLECTIBLES
NEW TRIUMPH X STEVE MCQUEEN X MICHAEL KALISH LIMITED EDITION DIGITAL COLLECTIBLES
CONTACT: Eric Van De Steeg Triumph Motorcycles 720.217.7488 [email protected] 

Disclaimer: The above press release comes to you under an arrangement with GlobeNewswire. AfternoonHeadlines.com takes no editorial responsibility for the same.