New Thriller Novel HOODWINKED IN LONDON Takes Readers On A Fast-Paced Chase
Palmetto Publishing's latest release will appeal to mystery and suspense fanatics
Hoodwinked In London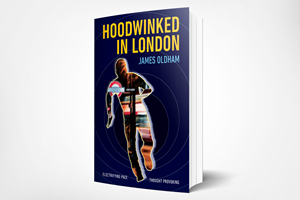 Charleston, SC, Sept. 07, 2023 (GLOBE NEWSWIRE) — Just published for loyal readers of adult fiction thrillers, Hoodwinked in London brings readers a stunning battle of wits between an American lawyer and a relentless criminal gang. An ideal pick for the detective and crime thriller book clubs, Hoodwinked in London offers a thought-provoking experience while maintaining an electrifying pace.
After concluding business meetings in London, American lawyer Ian Briggs goes to the funeral of an old friend. This seemingly innocuous event becomes the spark in a chain where he is kidnapped, framed for murder, and coerced into acting as a terrorist. Briggs has become the unsuspecting pawn in a cruel conspiracy. After escaping, Briggs is pursued through London by the police and his former captors. Without any specialist law enforcement knowledge or skills, he must rely on his ingenuity to somehow survive, uncover the identity and motives of the powerful forces assembled against him, and foil a brazen attack on innocent people. Briggs must unlock his inner will to outsmart his pursuers in the ultimate mental showdown, all the while discovering there is much more at stake than just his own life.
"I realized that my emotions had morphed from fear and anxiety into anger. Someone had set me up and I didn't know who or why. Someone had decided that I was expendable. Someone had decided that my life, and that of my family, didn't matter. This created a different type of adrenaline to that which had kept me moving in absolute desperation over the last few days. That was the adrenaline characterized by a foggy mind, shortness of breath, a dry mouth, and muscles stretching to their limits. The new adrenaline was more like a fuel, feeding my energy levels so that I could win back what was mine – the right to live my life as I had been living it."
Hoodwinked in London raises the stakes and thrusts readers into a desperate cat-and-mouse game that tests the limits of friendship and trust. Mystery enthusiasts who love a good page-turning adventure of intrigue will want to check out this new suspense book release.
Hoodwinked in London is available for purchase online at Amazon.com and Barnes and Noble.com. For more information about the author, please visit his social media platforms.
LinkedIn 
About the Author
The England-born James Oldham currently lives in the Washington, DC metro area. His interests include modern culture, literature, philosophy, international politics, economics, the global environment, and history. Now that he has completed his debut novel, James has immense respect for all writers everywhere.
Attachment
CONTACT: Leah Joseph Palmetto Publishing [email protected] 

Disclaimer: The above press release comes to you under an arrangement with GlobeNewswire. AfternoonHeadlines.com takes no editorial responsibility for the same.