New Suspense Novel TIME THE AVENGER Pays homage to Classic Revenge Novels with chilling, reality-based companion piece collection JASON MARINKO'S STARRY NIGHTMARES
Contemporary revenge saga and thriller collection from Palmetto Publishing coming-of-age themes against the backdrop of mystery, horror, romance, and sweet, sweet revenge.
Time The Avenger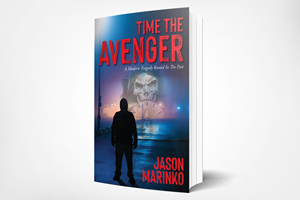 Charleston, SC, Oct. 17, 2023 (GLOBE NEWSWIRE) — The horror and thriller genres are steeped in East Cost tradition a literary space occupied by homerun hitters like Stephen King (Carrie) Richard Bachman (Rage) and Michael Punke (The Revenant) who explore the mental landscape of human struggle in local and historical settings. These stories are grounded firmly in realism, bringing the darkest aspects of human nature to the forefront, often centering around antihero character studies, and delving deep into the pain that drives an individual forward to healing — or fatal regression.
Time The Avenger by Jason Marinko joins that rich tradition with a sweeping narrative surrounding an investigation into a murder that conjures up remembrances of a troubled past. When Paige's former friend and classmate is pulverized at the hands of a killer, her recollections take her back to 1988, through the corridors of Middleton High School. Through her memories Paige pieces together how past and present connect, as a plot for tragic revenge unfolds.
A coming-of-age novel full of 80's nostalgia, information age chaos, nail-biting tension, friendship, and love in the face of life-threatening turmoil. The telling spans the social upheaval of the late Cold War and comes to a murderous halt amid the late 2000s housing crisis and economic recession. Fans of chaotic thrillers, crime noir, and modern tragedies will love Time The Avenger. A Gen- X saga that proves you never get too old to take your revenge.
If Time The Avenger is a dish served ice cold then JASON MARINKO'S STARRY NIGHTMARES are just desserts. An original, spine-stiffening collection of stories tailor-made for readers who acknowledge the violent realities of evils that move and writhe among us all. Adeptly crafted with gripping plots with East-Coast American roots and satisfying suspense.
Time The Avenger and Jason Marinko's Starry Nightmares are both available for purchase at Amazon.com, Barnes and Noble.com, and other fine retailers. For more information visit timetheavenger.com.
About the Author:
A storyteller and actor born and raised in New Jersey Jason Marinko has lived a most interesting life, frequenting locales of the Tri-State area. His telling's specialize
in East Coast grit and glamour alike his writing is informed by his experiences in over forty different career roles with nearly as many addresses. From Bars and grills to side streets, alleyways and college hills boat clubs, surf clubs, turf clubs, night clubs and gentlemen's clubs, crash houses, crack houses and stash houses, steakhouses, ski-slopes, and shores from the hills into Harrisburg to the hot blocks of Harlem, he has been afforded a unique perspective into the lives and stories of extraordinary individuals to that of which he is eternally grateful and most fortunate. Family, friends, and the amazing and interesting people he has encountered along the way have graciously influenced him. Chance has bestowed upon him lifelong relationships and support from countless others. A member of multiple writing groups including the Hamilton Township writers group, Hamilton Barnes & Noble writers group, and the McCarter Theatre's Shakespeare Community reading groups. He resides in New Jersey with his loving and supportive girlfriend Michelle and his pets and coauthors Mr. Speedy and Mrs. Selina Catface.
Attachment
CONTACT: Leah Joseph Palmetto Publishing [email protected] 

Disclaimer: The above press release comes to you under an arrangement with GlobeNewswire. AfternoonHeadlines.com takes no editorial responsibility for the same.