New State-Of-The-Art Patient Building Opens at Providence Cedars-Sinai Tarzana Medical Center
The Friese Family Tower advances the hospital's 50-year legacy of care in the San Fernando Valley and expands world-class care close to home
Providence Cedars-Sinai Tarzana Medical Center Friese Family Tower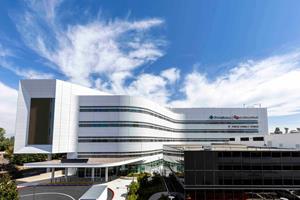 TARZANA, Calif., Oct. 02, 2023 (GLOBE NEWSWIRE) — Providence Cedars-Sinai Tarzana Medical Center has opened its new patient tower, the centerpiece of an extensive and ongoing hospital expansion and modernization plan.
Named for the Donald Friese family in recognition of their $50 million donation to the building's construction, the five-story 200,000-square-foot, state-of-the-art Friese Family Tower welcomed its first patients on Sunday, Oct. 1, 2023.
"The Friese Family Tower marks the beginning of a new era of health care in the San Fernando Valley," said Nick Lymberopoulos, chief executive at Providence Cedars-Sinai Tarzana Medical Center. "When we began construction on this building six years ago, we said we wanted to create a modern, full-service health care campus that could offer Valley residents incredible care incredibly close to home. Today, this vision has become a reality. We are grateful to the team at Cedars-Sinai, our physicians, caregivers, donors, partners, and the community for their collaboration in building this new facility that will help transform the delivery of health care in this region."
The Friese Family Tower is a keystone of the 50-year-old hospital's Tarzana Reimagined expansion and renovation project. The new building features 150 spacious, private patient rooms; a new, expanded emergency department that doubles the capacity of the hospital's former emergency department; a new pharmacy with a pneumatic tubing system; a pediatric unit with a playroom for younger patients and dedicated room for adolescent patients; a cardiovascular unit; and a critical care unit. New technology, including a 512-slice CT scanner, will advance patient care and expand access to the latest diagnostics and treatment.
Created with patient and family needs in mind, the Friese Family Tower also has visitor waiting rooms on all levels and recliners and sleeper sofas in all patient rooms to help families stay close to their loved ones receiving care.
"We are delighted to welcome the community to the Friese Family Tower," said Thomas M. Priselac, president and CEO of Cedars-Sinai Health System. "Cedars-Sinai and Providence joined together in a shared vision to ensure easy access to the highest quality care for those who live and work in the Valley. This modern facility reflects our commitment to bringing compassionate care, specialty services and advanced treatments closer to home."
Designed by Perkins&Will and built by McCarthy Building Companies, Inc., the Friese Family Tower mixes high-tech infrastructure, privacy, comfort and healing space for patients and their loved ones. The nature-oriented design theme and color scheme of soft cool blues elevates the care experience with healing environments, a contemplative garden and original art from Los Angeles area artists.
"The Friese Family Tower brings nature into the heart of the hospital with natural light and views of the healing garden, guiding the way to the emergency department and the new tower elevators," said Jean Mah, principal at Perkins&Will. "An abstracted curved petals theme is carried throughout the hospital, evoking nature and healing."
Built to withstand an 8.7 earthquake, the Friese Family Tower is designed to match Silver LEED energy efficiency certification. Its construction required the time and talents of diverse local and national experts including geotechnical professionals, an arborist and an archeologist, as well as a paleontologist and members of local Native American tribes who were called in to assist when historic artifacts were found during the site's excavation.
"The McCarthy Building Companies team is proud to be part of the Tarzana Reimagined project," said Erik Chessmore, vice president, operations at McCarthy. "The Friese Family Tower represents a dramatic shift in the health care landscape of our community and serves the catalyst for a brighter future for generations to come."
Providence and Cedars-Sinai continue to work to raise the bar on clinical excellence and enhance local programs in important areas, including women's and children's care, robotic surgery, heart and vascular care, neurosciences, surgical oncology and emergency care. There is much more ahead for Tarzana Reimagined as well, including breaking ground in 2024 on a hybrid surgical suite and an advanced diagnostic and treatment center on the hospital grounds.
Tarzana Hospital opened in 1973, built by the community, which over the decades has continued to support to help continuously advance care.
"We are forever grateful to the Friese family and honored they chose to invest in our community through Providence Cedars-Sinai Tarzana Medical Center," said Matthew Rinnert, the hospital foundation's chief philanthropy officer. "We're also filled with profound gratitude for 50 years of support from countless donors in our community who have been instrumental in supporting us as we continuously improve upon the care we provide."
About Providence Cedars-Sinai Tarzana Medical Center
Providence Cedars-Sinai Tarzana Medical Center (PCSTMC) has provided physical, emotional, social and spiritual care to the San Fernando Valley since 1973. A joint venture between Providence and Cedars-Sinai, PCSTMC is dedicated to ensuring its communities have easy access to the highest quality care close to home. The Catholic not-for-profit hospital offers a growing array of services including heart, vascular, orthopedic, cancer, and women's services. Its state-of-the-art campus features the region's largest Level III Neonatal Intensive Care Unit, and its emergency department has been designated by the Los Angeles County Department of Health as STEMI (severe heart attack) and stroke receiving centers.
Contact:
Debbie Ehrman
310-882-4016
[email protected]
A photo accompanying this announcement is available at https://www.globenewswire.com/NewsRoom/AttachmentNg/707c5fed-0905-436c-87f2-85e971c37df8.

Disclaimer: The above press release comes to you under an arrangement with GlobeNewswire. AfternoonHeadlines.com takes no editorial responsibility for the same.