New Research Advances Commercial Viability of Organic Grid-Scale Energy Storage Molecules
Jolt Energy Storage research published in Nature Chemistry shows increase in energy density for all-organic solution for grid-scale flow batteries. A competitive organic solution would disrupt both li-ion and vanadium flow battery solutions for grid-scale energy storage
Dr. Thomas Guarr collaborates with his research team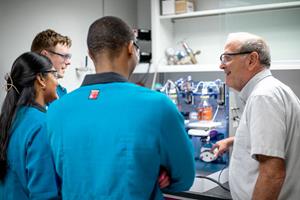 Dr. Tom Guarr collaborates with his research team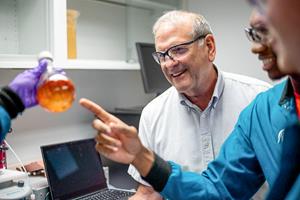 Holland, MI, Aug. 31, 2023 (GLOBE NEWSWIRE) —
Dr. Tom Guarr and the team with Jolt Energy Storage Technologies in collaboration with Michigan State University, have published new breakthroughs in all-organic energy storage in Nature Chemistry. The peer-reviewed journal published the article "C–H···π interactions disrupt electrostatic interactions between non-aqueous electrolytes to increase solubility" in its August edition. The research demonstrates how the team has designed novel organic compounds to store an even greater amount of energy per liter in the context of a redox flow battery.
As the US energy grid races toward renewables and battery storage to slow the effects of climate change, the dependence on foreign supply chains for metals like lithium is slowing progress. Commercial grid-scale battery energy storage systems (BESS) currently include a mix of li-ion and redox flow batteries. Both rely on rare metals like lithium and vanadium in their use.
"This new understanding of how to achieve high solubility without compromising other properties creates a path to build more and more energy dense materials without the need of rare minerals," said Dr. Guarr, chief technology officer and co-founder at Jolt. "We're getting closer to an environmentally sustainable, domestically produced material that would lower the price of storage enough to enable a more secure power grid."
Over the past several years, Jolt has discovered and engineered a brand new class of organic molecules capable of higher-density and higher power energy storage. Working towards commercialization, the company has attracted support and investment from the Chain Reactions Innovations program at Argonne National Laboratory and from GCxN, a program through the US Department of Energy's National Renewable Energy Laboratory in partnership with Shell Global, among others.
"The materials we are creating have the potential to make large scale energy storage economically sustainable enough to make renewable energy sources truly competitive against traditional energy generation," said Jack Johnson, co-founder and head of business development. "Similar to the way OLEDS revolutionized the LED market for lighting and screens, we believe organic chemistry is going to create a path for a truly sustainable and secure energy grid."
About Jolt Energy Storage Technologies:
Founded in 2014, Jolt Energy Storage Technologies develops all-organic energy storage materials for a low cost, long-term, safe and less complex energy storage solution than lithium ion.  Jolt's materials are designed for flow battery applications and can utilize existing flow battery infrastructure.  Jolt is committed to delivering innovative methods of energy storage and transportation, transforming the industry, and contributing to a sustainable future.
Attachments
Dr. Thomas Guarr collaborates with his research team
Dr. Tom Guarr collaborates with his research team
CONTACT: Vincent Boileau Jolt Energy Storage Technologies 6165660435 [email protected] 

Disclaimer: The above press release comes to you under an arrangement with GlobeNewswire. AfternoonHeadlines.com takes no editorial responsibility for the same.