New Report on NYC Accidents by Bronx motorcycle accident attorneys Glenn and Robin Herman
In this resource Bronx motorcycle accident attorneys Glenn and Robin Herman explain the common types of injuries seen in NYC motorcycle accidents.
Glenn and Robin Herman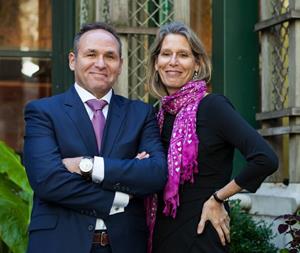 NEW YORK, July 03, 2023 (GLOBE NEWSWIRE) — Motorcyclists are especially vulnerable to catastrophic injuries and death as a result of traffic accidents. According to the NHTSA (National Highway Traffic Safety Administration), motorcyclists account for 14% of traffic fatalities, despite making up less than one percent of vehicles on the road. As a result, motorcyclists are 29 times more likely to die in an accident than car drivers and passengers.
In this article, Glenn and Robin Herman, Bronx motorcycle accident attorneys, detail common motorcycle injuries and how victims can seek compensation in this article.
Motorcycle Accidents Compensation
If a motorcycle accident has left you injured, you could be owed compensation by the culpable individual or their insurer. For optimal financial recovery, it's vital you contact a seasoned personal injury attorney in New York who understands motorcycle cases. Even if you believe you are partially at fault for the accident, you may be able to claim some compensation for your injuries.
Additionally, in New York State, motorcyclists don't need to satisfy the "serious injury threshold" threshold to file a personal injury lawsuit, unlike pedestrians, cyclists, e-scooter operators and car accident victims.
Motorcycle accidents often cause severe injuries that could surpass your insurance policy coverage. If your claim is denied, a personal injury lawyer can advocate for you, navigate the legal system, and get you compensated for lost wages and lost future potential earnings. It is important to seek counsel from an experienced motorcycle accident injury lawyer to avoid being low-balled by insurance companies.
Most Common Injuries Involved in NYC Motorcycle Accidents
Motorcycle accidents can result in severe injuries, particularly the upper body, in addition to leg injuries. Head and chest injuries are common and can lead to permanent impairments due to the risk of spinal cord injuries and traumatic brain injuries.
Motorcycle accidents result in injuries that vary in severity, and are influenced by a multitude of factors, including:
The size of the motorcycle.
The size and weight of other vehicles involved.
The direction of the vehicles involved.
The speed each vehicle was traveling.
Whether or not the motorcyclist was wearing a helmet.
Weather conditions and other external factors.
In collisions with cars, motorcyclists frequently experience the following injuries:
Broken bones are among the most frequent injuries in motorcycle accidents, especially in the legs or feet from colliding with cars. Due to their complexity and severity, such injuries often result in lifelong pain and decreased mobility.
Lacerations and abrasions, which are two types of injuries involving damage to the skin and tissue near the surface. Lacerations are any breakage of the skin, while abrasions are injuries that also result in removal of the skin. These injuries can lead to severe blood loss and require large surgeries.
Whiplash, caused by sudden, forceful back-and-forth motion of the neck, is a prevalent motorcycle accident injury that varies greatly in severity. While mild cases can be treated at home with ice and pain relievers, severe cases require immediate medical attention.
Traumatic brain injuries (TBIs) are a variety of issues that occur when an outside force is exerted against the skull. Symptoms can include dizziness, slurred speech, blurry vision, and difficulty concentrating. In certain scenarios, Traumatic Brain Injuries (TBI) may result in perpetual disabilities, contingent on the severity of the harm incurred and the injured area of the brain.
Spinal injuries — Injuries to the spine or spinal cord demand immediate medical attention and may result in permanent impairment.
Amputations — Motorcyclists are at a greater risk of severe injury or limb loss than car passengers in accidents due to their vulnerability.
Internal bleeding — Exerting excessive force on a motorcyclist's body can cause internal bleeding, leading to severe consequences, even death if not treated promptly. The build-up of blood in wrong areas can further exacerbate the condition.
Organ damage — Motorcycle accidents can result in severe upper body injuries and organ damage. The brain, lungs, stomach, intestines, kidneys, and liver are all at risk. While lower body injuries are more common, upper body injuries are often far more serious.
Disfigurement and scarring — many of the injuries above can lead to permanent disfigurement and scarring. Some motorcycle accident victims may require extensive reconstructive surgeries, and others may experience limited mobility and other forms of impairment for the rest of their lives.
Death — Motorcyclists are incredibly vulnerable to severe injury and 29 times more likely than car drivers and passengers to die in accidents.
About Bronx Motorcycle accident Attorneys Glenn & Robin Herman
Our Bronx motorcycle accident attorney team takes the time to learn every aspect of your case during our initial meeting in order to properly evaluate the full extent of the damages you or a loved one have suffered. We have been representing seriously injured New Yorkers for over 35 years. Born, raised, and living in the City, we know that when you have been injured in this town, you need an attorney to protect your rights and explain the law to you in a way you can understand.
For a no-charge consultation today to discuss the details of your injury event: https://hermannyc.com/free-case-consultation/
We represent clients in all five boroughs of New York (NY): Manhattan, Staten Island, Queens, Brooklyn, and the Bronx, along with Suffolk County & Nassau County on Long Island, Westchester County, Rockland County, and throughout the entire state of New York.
Media Contact
R. William
212-966-1928
Attachment

Disclaimer: The above press release comes to you under an arrangement with GlobeNewswire. AfternoonHeadlines.com takes no editorial responsibility for the same.