New Qgiv Report Shares the Impact Inflation, Career Shifts, and Modern Challenges Have Had on the Nonprofit Sector
Qgiv's Sustainable Giving Report examines nonprofit revenue, fundraising, and employee feedback to pose sustainable models for future growth.
Qgiv's Sustainable Giving Report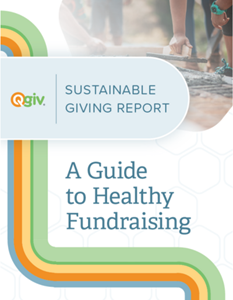 LAKELAND, Fla., Aug. 15, 2023 (GLOBE NEWSWIRE) — Qgiv, a leading provider of digital fundraising solutions for nonprofits, released their "Sustainable Giving Report" report today. The report analyzes responses from a nationwide survey of fundraising professionals and donors detailing how nonprofit organizations have fared in the face of rising costs and the effects of the Great Resignation. 
"The findings in our 'Sustainable Giving Report' reveal an incredible need for nonprofits to invest more in their teams to better retain staff and build sustainable revenue streams for their organizations," said Todd Baylis, CEO of Qgiv, Inc. "Declining fundraising results aren't the consequence of an increasingly unphilanthropic culture—it's a result of professional burnout and unsustainable fundraising practices. Donors are dedicated to the causes they support, and even in the face of rising costs, prioritize charitable giving above other spending." 
Key findings of the "Sustainable Giving Report" include: 
The majority of donors will cut discretionary spending in other areas before modifying their charitable giving. Entertainment, dining out, and clothing are the first areas donors will make spending cuts. Cuts to charitable giving were ranked as the first area of spending someone would cut among only 7% of surveyed donors. 
Over 80% of donors have continued making monetary gifts to different nonprofits over the last three years. 
Forty-four percent of nonprofit teams have noticed a decrease in fundraising revenue over the last three years; in-person events and direct mail appeals have taken the hardest hit. The biggest change fundraisers made to their strategy is seeking additional grant funding and corporate support—donor outreach has remained largely unchanged. 
When asked to describe their workload, over 45% of fundraising professionals answered that they felt overwhelmed. 
The impact a fundraiser believes they are making and their organization's mission are the top factors for job satisfaction. Pay and other career aspirations are the top reasons a fundraiser would leave their job. 
Most fundraising professionals would like to spend more time on donor retention and stewardship strategies. Over 50% of fundraisers that responded said that they spend 0-25% of their work time on donor retention.
"With individual donor numbers declining and costs rising, fundraising professionals are facing increased pressure to raise more while resources remain largely unchanged. Our communities need nonprofits and the services they provide, so in an effort to overcome some of these challenges, we identified actionable solutions to bolster the sustainability and longevity of nonprofit programs and the well-being of their teams," said Wendy Mercurio, Qgiv's content and education specialist. 
The "Sustainable Giving Report" provides nonprofit leaders and fundraising professionals with researched solutions to increase employee tenure and create sustainable fundraising plans, resulting in greater employee satisfaction and stronger donor relationships. 
To download the full "Sustainable Giving Report", click here.
 About the "Sustainable Giving Report": The data for this report was collected in March of 2023. Nonprofit data was collected via a survey of Qgiv clients—over 290 Qgiv clients responded to complete this first data set. The second data set was compiled through a survey sent to over 2,000 donors of different ages who had all made a charitable gift sometime during the last 12 months.
 About Qgiv: Qgiv, Inc. is a leading digital fundraising platform empowering 20,000+ nonprofit fundraisers to raise money for their causes while keeping costs low. Through online giving and event registration forms, text fundraising, peer-to-peer fundraisers, and auction events, Qgiv provides a full suite of fundraising solutions that integrate with industry-leading CRMs and email providers to provide a personalized giving experience for donors. Founded in 2007, they now serve more than 6,500 nonprofits in the US and Canada who have collectively raised over $3 billion using Qgiv's platform. Qgiv is known for their free, award-winning customer service, customizable platform, and flexible pricing. Qgiv is committed to helping people fulfill their passion to make a difference for others by equipping fundraisers with tools and educational resources to advance their knowledge and move their missions forward. To learn more, visit www.qgiv.com. 
Attachment
Qgiv's Sustainable Giving Report
CONTACT: Melaina Chromy Qgiv 863-732-7927 [email protected] 

Disclaimer: The above press release comes to you under an arrangement with GlobeNewswire. AfternoonHeadlines.com takes no editorial responsibility for the same.