New NBME Grant Supports Emerging Innovators in Medical Education and Assessment
Call for Proposals to Advance Equity and Inclusion Open Until Oct. 8, 2023
NBME Emerging Innovators Grant Program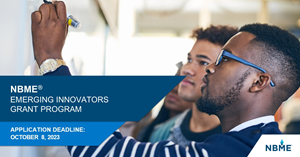 PHILADELPHIA, Aug. 16, 2023 (GLOBE NEWSWIRE) — To empower aspiring leaders looking to make a lasting impact in medical education, NBME is piloting the new NBME® Emerging Innovators Grant Program. This grant is intended to support early- and mid-career medical education faculty or staff who share our commitment to advancing equitable practices which foster a diverse and inclusive medical community. We seek projects that promote innovative thinking and push the boundaries of medical education and assessment locally and/or nationally.
NBME believes equitable assessment practices and educational programs can support a stronger and more equitable health care system that has the potential to improve patient outcomes and reduce health care disparities, while also enhancing the educational experience of learners. For this grant program, NBME views diversity, equity, and inclusion (DEI) within medical education and assessment broadly to encourage creativity in the proposal design, allowing individuals and teams to determine the most meaningful ways to pursue and investigate change. Proposals could range from implementation of an innovative program designed to measurably support learners who are minoritized and/or marginalized in medicine to the development of a new and equitable assessment of competencies required for the care of a diverse patient population.  
NBME will fund up to $25,000 in total for each accepted proposal. Four proposals that can be completed within a 1–2-year timeframe will be selected. Whether the proposed research or program implementation is completely novel, or new to your own setting, we encourage emerging innovators to apply for this new grant opportunity by Oct. 8, 2023.
The 2023 call for proposals focuses on the theme of Promoting Equitable Assessment in Medical Education. Proposals should advance one or more of the following: 
Innovative assessment design with an emphasis on equity and fairness.
Bias investigation and bias mitigation in existing assessments.
Innovative program implementation to advance DEI.
 We encourage proposals from individuals and/or teams which include those who are minoritized and/or marginalized in medicine. Teams are also encouraged to include learners or trainees among their membership.
Interested applicants can learn more and apply for this grant on NBME.org.
About NBME 
NBME offers a versatile selection of high-quality assessments and educational services for students, professionals, educators and institutions dedicated to the evolving needs of medical education and health care. To serve these communities, NBME collaborates with a comprehensive array of professionals, including test developers, academic researchers, scoring experts, physicians, medical educators, state medical board members and public representatives. 
  
Together with the Federation of State Medical Boards, NBME develops and manages the United States Medical Licensing Examination®. In addition, we are committed to meeting the needs of educators and learners globally with assessment products and expert services such as Subject Examinations, Customized Assessment Services, Self-Assessments, International Foundations of Medicine® and Item-Writing Workshops. 
  
We also provide medical education funding and mentorship through the Latin America Grants Program, Stemmler Fund and Strategic Educators Enhancement Fund, which serve to advance assessment at educators' and health professionals' own institutions. Learn more about NBME at NBME.org. 
Attachment
NBME Emerging Innovators Grant Program
CONTACT: Joseph Nole NBME 215 590 9832 [email protected] 

Disclaimer: The above press release comes to you under an arrangement with GlobeNewswire. AfternoonHeadlines.com takes no editorial responsibility for the same.