New Manhattan Mural Unveiled: Saving Endangered Tigers & Big Cats
A 3-Story Message of Hope and Activism
Tiger Mural by Sonny Sundancer and FOUR PAWS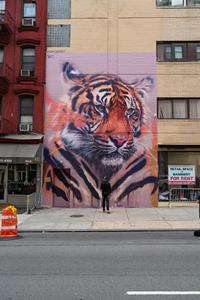 Sonny Sundancer paints tiger mural in New York City
New York, New York, Aug. 02, 2023 (GLOBE NEWSWIRE) — Please contact us for a multimedia package including high res images, timelaspe videos, and drone footage. 
New Manhattan Mural Raises Awareness for Endangered Tigers and Big Cats
The piece, commissioned by global animal welfare organization FOUR PAWS, celebrates the 50th anniversary of the U.S. Endangered Species Act
NEW YORK (August 2, 2023) –  Wildlife advocates and supporters gathered in Lower Manhattan (188 Lafayette St) on Monday to celebrate the installation of a large-scale new mural raising awareness for endangered tigers and other big cats. Commissioned by FOUR PAWS, the mural, titled Beyond Borders: The Beauty and Peril of the tiger, painted by renowned wildlife muralist Sonny Sundancer, is a part of the organization's #BreaktheViciousCycle campaign calling for the end of the commercial trade of all big cats in South Africa.
FOUR PAWS aims to draw attention to the industry where big cats (ranging from indigenous species such as lions and leopards to exotic species like tigers and jaguars) are farmed in South Africa for the international trade. Additionally, the mural draws connections to the US where more tigers live in private ownership than there are in the wild.
"The tiger holds a very special place in our hearts. Amidst our unwavering efforts to safeguard this majestic species, we unveil a triumphant three-story dedication to hope and activism, as a towering testament to the Endangered Species Act fueled by firm commitment and indomitable will," said Danika Oriol-Morway, Country Director, FOUR PAWS USA. "We hope this message beckons the world to unite in purpose, to preserve endangered life, shield our planet, and forge a future where hope thrives for all living beings. 
The three-story mural is the first in the FOUR PAWS' #YearofArt series featuring big cat murals painted and displayed around the world (including locations in New York, Cape Town, and other cities). The New York City piece will remain up for at least one year.
Mural artist Sonny Sundancer is widely acclaimed for his large-scale wildlife murals and intricately detailed paintings. His work can be found in galleries and streets across the globe.
"Through my work painting large-scale murals around the world, I have seen firsthand the incredible power of art to captivate people and spark conversations, both online and in the streets," said Sonny Sundancer, mural artist. "With a deep passion for wildlife and big cats, I am truly honored to be a part of this impactful campaign and hope that my art can help bring awareness to this amazing initiative."
The Manhattan mural also honors the 50th anniversary of the U.S. Endangered Species Act (ESA), as a part of the larger ESA at 50 movement. The ESA is a landmark piece of legislation that institutionalized America's national commitment to conservation and the protection of imperiled fish, plants and wildlife and the places they call home. ESA at 50 celebrates half a century of protecting, conserving, and recovering wildlife from the brink of extinction.  
"The Endangered Species Act is one of our most successful environmental laws—99% of the wildlife under its care have been saved from extinction, including the bald eagle, the grizzly bear and humpback whale." said Leda Huta, Executive Director of the Endangered Species Coalition. "As the Act turns 50-years-old, we must renew our commitment to future generations by strengthening the law that protects endangered species and the special places they call home."
###
Attachments
Tiger Mural by Sonny Sundancer and FOUR PAWS
Sonny Sundancer paints tiger mural in New York City
CONTACT: Claire LaFrance FOUR PAWS International 6179421233 [email protected] 

Disclaimer: The above press release comes to you under an arrangement with GlobeNewswire. AfternoonHeadlines.com takes no editorial responsibility for the same.