New Gene Therapy Gives Hope to Boy with Duchenne Muscular Dystrophy
5-Year-Old Hampton Boy First in Virginia to Receive Treatment
Doctor with patient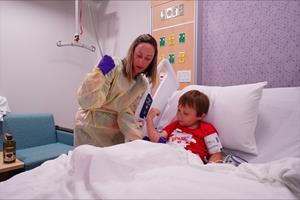 Patient and Mother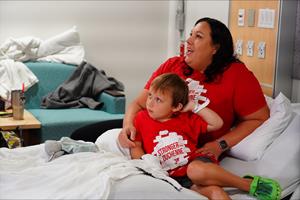 Norfolk, VA, Aug. 25, 2023 (GLOBE NEWSWIRE) — On Wednesday, August 23, 5-year-old Karson Blanchard had one thing in mind for his upcoming birthday. "Chocolate," he said. "Chocolate cake. Chocolate cupcakes. Chocolate ice cream. Chocolate sprinkles."
Karson was relaxing with his parents, Katy and Christopher Blanchard, in a patient room at Children's Hospital of The King's Daughters (CHKD) in Norfolk, Virginia. All three were wearing red T-shirts bearing the phrase "Stronger than Duchenne."
While Christopher and Katy are probably happy to accommodate their son's request for an all-chocolate birthday menu, they now have bigger hopes for the important milestones in Karson's future.
Karson was at CHKD to receive a newly approved gene therapy for Duchenne muscular dystrophy, which he was diagnosed with at 20 months of age. Duchenne is a devastating genetic illness that causes progressive muscular wasting. Affecting mostly males, the disease causes life-threatening heart and respiratory problems as it advances. "Patients usually lose the ability to walk in their early teens and generally succumb to the illness before age 30," said Dr. Crystal Proud, Karson's pediatric neurologist at CHKD.
For years, Dr. Proud, who specializes in neuromuscular conditions, has only been able to treat the symptoms of Duchenne, mainly with oral corticosteroids. But she is also fiercely committed to research aimed at finding new treatments, which led CHKD to become one of four centers in the nation selected to study a medication that now offers real hope to the muscular dystrophy community. "Elevidys is a gene therapy that spurs the development of a protein similar to the protein missing in the muscle cells of children with Duchenne," she says. "It's given in a single, intravenous dose. While it can't reverse muscle damage that has already occurred, we are optimistic about its potential to mitigate future impairment."
Elevidys (ell-a-vey-dis) was approved by the FDA on June 22, for patients ages 4 and 5. With Karson's sixth birthday rapidly approaching on August 25, Dr. Proud and her team from CHKD's Novel Therapeutics and Gene Therapy Program, had a very short window to coordinate the reams of paperwork, pre-treatment testing, family education, and logistics required for him to receive the treatment before the cut-off date. 
On the morning of August 23, two days shy of his sixth birthday, Karson watched SpongeBob SquarePants and drank chocolate milk upstairs while a contingent of excited CHKD staff members waited in the hospital's lobby for a courier who drove the medication overnight from Chicago to Norfolk.  
When the drug arrived, Dr. Proud joined CHKD pharmacist Christina Hellauer to celebrate unpacking the dose in the pharmacy, a several-step process that started by opening a protective outer cube approximately two-feet high, to reach an outer cooler, then an inner cooler that released a dramatic cloud of icy air before revealing a small box that contained 23 vials of hope for Karson.  
It would take another two hours for the vials to thaw and reach a temperature suitable for his infusion. While Karson and his family waited, his mom candidly shared the grief she and her husband experienced when they learned that Karson had DMD and the limits he likely faced growing up. They had accepted that he would eventually need a wheelchair. Finding a treatment to stop the disease was something they knew researchers were working on, but they didn't know if it would ever happen in time for their son.
They never fathomed that Karson would be the first child in Virginia to receive gene therapy for DMD. Or that he would receive it two days before his birthday made him ineligible for it.
"This definitely gives us hope," says Katy Blanchard. "It's just so amazing that we're here. It's actually happening. We hope that this will give him more time. More time to be able to walk and get around independently. And give us more time with him."
Finally, Karson's dose was ready to be infused. In between each of the vials that Karson received, Dr. Proud encouraged him to exercise his arms and legs. Karson proudly showed off how strongly he could push his arm against hers and kick his legs up and down on the hospital bed.
When it was finally over, he asked if he could have some more chocolate milk. After a few hours of observation, the family returned to their Hampton home.
Now the waiting will begin. Karson will have regular assessments of his motor abilities in Dr. Proud's neuromuscular clinic. It's a new journey that his family and Dr. Proud are happy to share together.
"When I chose to go into this field, I really expected to be more of a hospice-type doctor," says Dr. Proud. "I thought I'd be guiding my patients through a journey that would someday come to an end. My goal was to provide them with support and peace through that process.
"It is a wonderful gift to be able to offer more than that now. To be able to offer hope and to be able to provide optimism to families," she says. "The future is no longer a well-defined pathway that has a very clear ending. We now have open paths and unknowns with these revolutionary therapies, and I think these are just the beginning."
Attachments
Doctor with patient
Patient and Mother
CONTACT: Alice Warchol Children's Hospital of The King's Daughters 757-668-9049 [email protected] 

Disclaimer: The above press release comes to you under an arrangement with GlobeNewswire. AfternoonHeadlines.com takes no editorial responsibility for the same.