Near-infrared Spectroscopy Market revenue to hit USD 3 Billion by 2035, says Research Nester
Leading near-infrared spectroscopy market players include PerkinElmer Inc., Thermo Fisher Scientific Inc., Bruker, Oxford Instruments, Brainbox Ltd., Malvern Panalytical Ltd, Galaxy-Scientific, and ABB.
New York, Nov. 16, 2023 (GLOBE NEWSWIRE) — The global near-infrared spectroscopy market size is slated to expand at ~7% CAGR between 2023 and 2035. The market is poised to garner a revenue of USD 3 billion by the end of 2035, up from a revenue of ~USD 0.7 billion in the year 2022.NIR spectrometry can detect differences in chemical composition, as well as the presence of contaminants, quickly and efficiently. This makes it an ideal tool for quality control in many industries, including pharmaceuticals. During the pandemic, NIR spectrometry was used to detect any changes in the chemical composition of vaccines, which could potentially compromise their safety.
Request Free Sample Copy of this Report @ https://www.researchnester.com/sample-request-5141
For instance, researchers[R1]  from Liverpool John Moores Universitys Pharmacy and Biomolecular Sciences department conducted an evaluation in May 2022, to assess the application of infrared (NIR) technology, for vaccine authentication. The researchers showcased how NIR spectrometry could be used to analyze COVID 19 vaccines. They highlighted its effectiveness and speed as a method, for authenticating COVID 19 vaccines in their study.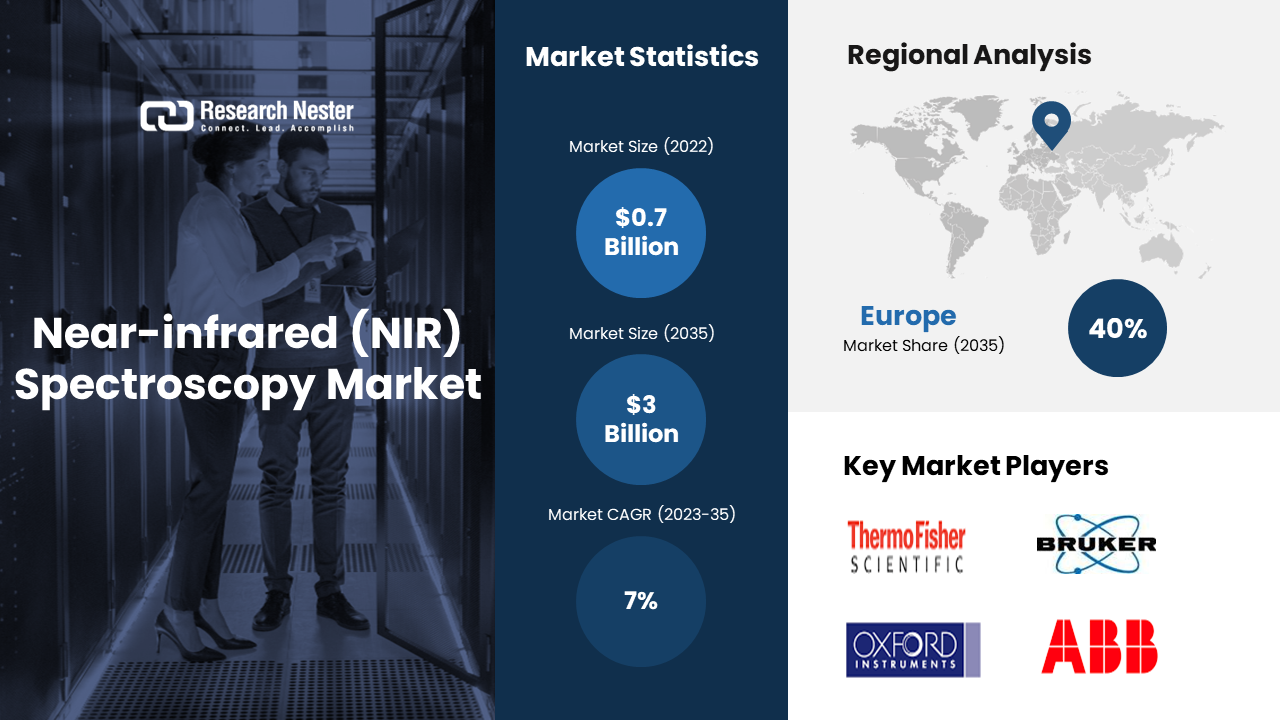 Growing Sales of Semiconductor to Boost Market Growth
Semiconductors are key components of near-infrared spectroscopy, which is used for a variety of applications such as medical diagnostics, food safety, and quality control. The global semiconductor industry sales, in 2022 reached a record-breaking total of USD 574.1 billion as announced by the Semiconductor Industry Association (SIA). This represents a 3.3[R2] % increase compared to the year's total of USD 555.9 billion. As the semiconductor industry continues to grow, the need for accurate and efficient equipment becomes more important. Near-infrared NIR spectroscopy offers a powerful tool for monitoring and measuring semiconductor materials and components, which can help ensure that the products meet quality standards and reduce wastage.
Near-infrared Spectroscopy Market: Regional Overview
The market is segmented into five major regions including North America, Europe, Asia Pacific, Latin America, and the Middle East and Africa region. 
Rising Need to Meet Food Safety and Quality Standards to Drive the Growth in the North America Region
The near-infrared spectroscopy market in North America region is estimated to garner the largest revenue by the end of 2035. The food and beverage industry is a major driver of demand for near-infrared spectroscopy in North America. The technology is used to analyze the composition and quality of food products, ensuring that they meet safety and quality standards. A number of U[R3] .S. agencies work to ensure food safety in the United States, including Food Safety and Inspection Service (FSIS) of the U.S. Department of Agriculture, Food and Drug Administration (FDA), and Centres for Disease Control and Prevention (CDC[R4] ). As these agencies strive to ensure the safety and quality of foods, they need an efficient and accurate tool to measure and analyze the chemical composition of foods, and near-infrared spectroscopy fits the bill. It is a non-invasive, non-destructive technology that provides real-time information about the quality and safety of foods.
Make an Inquiry Before Buying this Report @ https://www.researchnester.com/inquiries-before-buying-5141
Growing pharmaceutical industry to Drive the Growth in the Asia Pacific Region
The Asia Pacific near-infrared spectroscopy market is estimated to garner the largest revenue by the end of 2035. The pharmaceutical industry in Asia Pacific is also growing rapidly, and there is a growing demand for quality control measures. The Chinese are the world's largest producers of pharmaceutical ingredients.  As of 2018, China's[R5]  pharmaceutical market was worth almost USD 134 billion, and was projected to reach USD 154 billion by 2020. Near-infrared spectroscopy is an efficient, non-destructive testing technique that can provide detailed information about the composition of pharmaceutical samples, helping to ensure that they are safe and effective. It can also be used to detect the presence of contaminants and moisture, which can have a significant impact on the quality of the product.
Near-infrared Spectroscopy Segmentation by Product
Dispersive Infrared Spectroscopy
Fourier Transform-based FT-NIR Spectrometers
The Fourier Transform-based FT-NIR Spectrometers segment in near-infrared spectroscopy market is anticipated to hold the largest revenue by the end of 2035. The Fourier Transform-based FT-NIR Spectrometers segment is used extensively for various applications, such as food quality and safety testing, pharmaceutical and nutraceutical analysis, and material characterization. It is also more cost-effective than other spectrometers, which makes it an attractive choice for a wide range of users. In addition, the chemical industry worldwide generated more than USD 4.8[R6]  trillion, in revenue during the year 2021. With the increasing demand for chemical products, the need for better and faster analysis methods is growing. FT-NIR spectrometers are able to provide reliable and fast results, and are also cost-effective, making them an attractive choice for the chemical industry.
Near-infrared Spectroscopy Segmentation by Type
The benchtop segment is anticipated to hold the largest revenue by the end of 2035. Near-infrared Spectroscopy offers several advantages over traditional analytical techniques, such as faster analysis times and higher resolution, making it an attractive option for a wide range of industries. Benchtop[R7]  near-infrared devices are also easy to use and generate accurate results quickly. They are also fairly reliable and require minimal training. Additionally, they are capable of detecting a wide range of materials, including those that are difficult to measure with traditional laboratory equipment.
Request for Customization of this Report @ https://www.researchnester.com/customized-reports-5141
A few of the well-known market leaders in near-infrared spectroscopy market that are profiled by Research Nester are PerkinElmer Inc., Thermo Fisher Scientific Inc., Bruker, Oxford Instruments, Brainbox Ltd., Malvern Panalytical Ltd, Galaxy-Scientific, ABB, and other key market players.
Recent Development in the Near-infrared Spectroscopy Market
PerkinElmer Inc. has recently introduced the LQA300 system, a liquid food testing platform that allows for the identification of key quality markers in wine. This advanced system enables the detection of indicators such as alcohol levels, sugar content, acidity, pH and density at every stage of the wine making process.
Thermo Fisher Scientific Inc. has acquired MarqMetrix, a company specializing in compositional analysis using Raman spectroscopy. This acquisition is expected to enhance Thermo Fisher Scientifics existing portfolio of solutions by expanding their capabilities in Raman based in line Process Analytical Technology (PAT) thus contributing to their leading position, in the market.
About Research Nester
Research Nester is a one-stop service provider with a client base in more than 50 countries, leading in strategic market research and consulting with an unbiased and unparalleled approach towards helping global industrial players, conglomerates and executives for their future investment while avoiding forthcoming uncertainties. With an out-of-the-box mindset to produce statistical and analytical market research reports, we provide strategic consulting so that our clients can make wise business decisions with clarity while strategizing and planning for their forthcoming needs and succeed in achieving their future endeavors. We believe every business can expand to its new horizon, provided a right guidance at a right time is available through strategic minds.
CONTACT: AJ Daniel Corporate Sales, USA Research Nester Email: [email protected] USA Phone: +1 646 586 9123 Europe Phone: +44 203 608 5919

Disclaimer: The above press release comes to you under an arrangement with GlobeNewswire. AfternoonHeadlines.com takes no editorial responsibility for the same.