NCI's Logo to Feature Prominently on Rajah Caruth's New Paint Scheme at Richmond Raceway
GMS Racing's NASCAR CRAFTSMAN Truck Series driver Rajah Caruth will debut a new paint scheme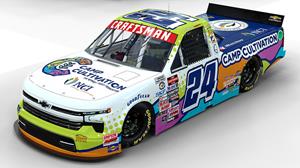 Martinsville, VA, July 25, 2023 (GLOBE NEWSWIRE) — Martinsville, VA – The excitement continues to build after New College Institute (NCI) proudly announced its latest partnership with the Wendell Scott Foundation, marking a new chapter in their shared commitment to empowering the next generation of leaders. This dynamic collaboration is set to take center stage at Richmond Raceway on July 29th, where GMS Racing's NASCAR CRAFTSMAN Truck Series driver, Rajah Caruth, will unveil a striking new paint scheme featuring NCI's logo. The initiative comes as a result of the newly formed alliance between NCI and the Wendell Scott Foundation, aimed at driving impactful change through education and community enrichment.
The collaborative effort will bring attention to the foundation's inspiring Camp Cultivation initiatives, that took place from July 18th to 20th at the Virginia State University campus. Camp Cultivation is a unique and immersive residential overnight learning experience designed to foster the growth of bright and forward-thinking high school students into the leaders, innovators, engineers, and scientists of tomorrow. Guided by the foundation's unwavering commitment to youth development, participants will engage in hands-on activities, augmented reality, virtual reality, workshops, and instructional labs, offering a glimpse into the boundless possibilities of STEM fields.
Senator William Stanley, Chairman of the NCI Board of Directors and an open-wheel modified race team owner that competes in the NASCAR WHELEN® Series, is thrilled about the recent partnership between the Wendell Scott Foundation and NCI. "The legacy of NASCAR® Hall of Famer Wendell Scott is an important symbol of determination and resilience for all of us here in Southside Virginia.  New College and the Wendell Scott Foundation have now formed a remarkable partnership that will provide our young men and women with exciting and meaningful educational opportunities in our region," Senator Stanley remarked. "Together, we are fostering innovation and empowering the next generation of leaders and our 21st century workforce through the Camp Cultivation and STEM educational initiatives championed by The Wendell Scott Foundation. We have all been rooting this year for the success of Rajah Caruth in the Wendell Scott Foundation No. 24 Chevrolet Silverado as he races for a championship in the NASCAR® Craftsman Truck Series, and now we have even more reasons to cheer him on to victory lane with the NCI logo emblazoned on his race car. The fusion of education, STEM, and racing not only represents a thrilling collaboration, but also exemplifies our commitment to building a brighter future for our youth and our community as a whole." The senator's enthusiasm for racing and dedication to education align perfectly with the values of NCI and the Wendell Scott Foundation. This powerful collaboration represents a seamless blend of passion, purpose, and progress, inspiring generations to come and shaping the future of both education and motorsports.
Joe Sumner, Executive Director of New College Institute, expressed NCI's enthusiasm about the partnership and their logo's prominent presence on Rajah Caruth's No. 24 truck for this groundbreaking initiative.  "This week, it was my privilege to be invited to spend some time with the Scott family, Rajah, and the incredible Camp Cultivation students. The Camp Cultivation experience provides life-changing opportunities for students through education, cultural enrichment, soft skills, and much more. NCI is excited to be included in this partnership, and we are proud to be showcased on the number 24 truck. This is only the beginning of an innovative partnership that can bring true change to the education of students all across the Commonwealth, and we are excited to see Rajah and GMS Racing represent the NCI and Wendell Scott Foundation partnership on July 29 in Richmond."
Given the profound significance of STEM fields in the NASCAR industry, raising awareness for the foundation's efforts on the racetrack offers a unique opportunity to engage a broader audience in the sport. Sumner continued, "The world of racing presents so many exciting opportunities for students to pursue technical, skilled, high-earning careers. STEM and literacy education are integral to the world of racing, and events such as the Wendell Scott Foundation's Camp Cultivation provide an opportunity for students to explore potential careers, develop soft skills, and pursue the things that truly interest them in the realm of STEM and racing. The opportunity to showcase the NCI/WSF partnership at Richmond Raceway will contribute to our shared goal to spread awareness of such opportunities in the hopes that it will continue to ignite the spark of interest and excitement of learning for students throughout the Commonwealth and beyond, and will further contribute to the development of the 21st century workforce of Virginia."
The NASCAR CRAFTSMAN Truck Series heads to Richmond Raceway for the final race of the regular season on Saturday, July 29th. Be sure to tune in to FOX Sports 1 (TV), the Motor Racing Network (Radio), and Sirius XM NASCAR (Channel 90) at 7:30 PM ET for live coverage of the exhilarating Worldwide Express 250. Follow GMS Racing's social media channels for continuous partner updates and exciting announcements. 
Attachment
GMS Racing's NASCAR CRAFTSMAN Truck Series driver Rajah Caruth will debut a new paint scheme
CONTACT: Kim Phillips New College Institute [email protected] 

Disclaimer: The above press release comes to you under an arrangement with GlobeNewswire. AfternoonHeadlines.com takes no editorial responsibility for the same.