National Hydropower Day 2023: Celebrating America's First Renewable on August 24
Fifth annual #HydroDay celebrates hydropower's contributions to the U.S. electricity mix and raises visibility of renewable energy's unsung hero. This year's theme: Hydropower is Key
National Hydropower Day 2023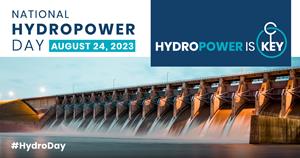 Washington, DC, Aug. 23, 2023 (GLOBE NEWSWIRE) — For 140 years, hydropower has provided the United States with clean, reliable energy. To celebrate America's first renewable resource and raise the visibility of its numerous benefits within the U.S., the National Hydropower Association (NHA) declared August 24th as National Hydropower Day (Hydro Day) in 2019.  
Since then, Hydro Day has grown into a nation-spanning celebration of hydropower's benefits, resulting in millions of impressions across social media as supporters share about hydropower's importance in their lives.  
In addition to establishing Hydro Day to tout hydropower's role in the clean energy grid, NHA created an ad campaign targeted at U.S. millennials, who are often unaware of hydropower's contributions to the renewable energy they use every day. This year's Hydro Day will feature the social media debut of NHA's "Clean Living" ad. 
Whether it's hydropower's role in local job creation, cleaner communities, or a dependable energy future, the conclusion is clear: Hydropower is Key. This message was chosen as this year's Hydro Day theme as it speaks to hydropower's ability to provide both visible benefits, like powering 30 million American homes each year and unseen contributions, like black start capabilities – restarting the power grid after a blackout. 
Hydropower supplies nearly 30% of the United States' renewable energy, and its present flexibility and existing infrastructure provide a 24/7 reliable energy foundation which can quickly ramp up electricity generation in response to peak demand, keeping the lights on. Hydropower's flexibility enables integration of variable renewables into the grid and is equipped to produce power during periods of low wind and solar generation.  
The U.S. hydropower workforce, currently 66,500 people, could add another 53,500 jobs by 2030, employing 158,000 total people by 2050. The need for these skilled workers would fuel job creation in rural communities while simultaneously boosting local economies. 
Beyond traditional hydropower, harnessing power from water takes other forms. Pumped storage hydropower, which has seen enormous investment and interest in recent years, is a substantial, renewable form of energy storage. Accounting for 68% of utility-scale energy storage capacity in the U.S., pumped storage provides long-duration energy storage – a feature that makes it increasingly valuable as more variable renewables come online.   
Hydro Day is also a celebration of important waterpower technologies like marine energy. A 2021 study by National Renewable Energy Laboratory found that the technical resource potential of marine energy in the U.S. was estimated to be 2,300 terawatt-hours, which is equivalent to 57% of the electricity generated in the U.S. in 2019. By tapping into a tenth of this resource, marine energy could provide enough electricity to power 22 million homes. 
With several bills aimed at protecting, preserving, and promoting hydropower currently moving through Congress, as well as recently enacted legislation (Infrastructure Investment & Jobs Act/Bipartisan Infrastructure Law) providing record-breaking federal support for hydropower, 2023's Hydro Day is a celebration of these victories and serves as an opportunity to recognize hydropower as key to our clean energy future. 
The National Hydropower Association (NHA) is a nonprofit association dedicated exclusively to promoting the growth of clean, renewable hydropower and marine energy. 
### 
Attachment
National Hydropower Day 2023
CONTACT: Kelly Rogers National Hydropower Association 2027400248 [email protected] 

Disclaimer: The above press release comes to you under an arrangement with GlobeNewswire. AfternoonHeadlines.com takes no editorial responsibility for the same.