Museum of the City of New York unveils new installation: "An Accessible City for All: Disability Rights in New York, 1968 to 2017"
Part of MCNY's award-winning Activist New York ongoing exhibition
Roll-In Demonstration at Penn Station's Taxi Stand, April 22, 2004 (Credit: Philip Bennett)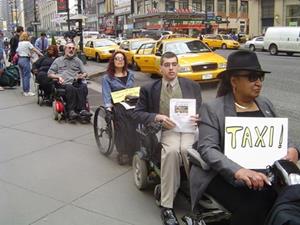 "My Ear Broke"; Collection of Chella Man's "BIG DEAF" Scans, ca. 2020s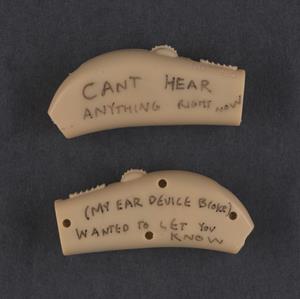 New York, NY, July 27, 2023 (GLOBE NEWSWIRE) — As a complement to its ongoing exhibition Activist New York, which marked its 10th anniversary in 2022, the Museum of the City of New York unveiled a new installation, An Accessible City for All: Disability Rights in New York, 1968 to 2017. Open in time for the 33rd anniversary of the Americans with Disabilities Act, the new installation highlights New York's leading role in the movement and has a particular focus on the prolonged campaigns activists have waged for more accessible public transit.
The modern disability rights movement is composed of a wide range of people with physical and intellectual disabilities and influenced by other "Sixties" social movements. New Yorkers pushed for the nation's first municipal office focused on the disability community, approved by Mayor Lindsay in 1968. Two years later, young activists founded the Brooklyn-based grassroots group Disabled in Action. Together they fought for new policies and legislation at all levels of government, including the Americans with Disabilities Act (ADA) of 1990. They also continued to mobilize for access to the city's-built environment, create resources to live independent and visible lives and formulate a proud disability identity. In the process, they have made a more inclusive city for all, and helped broaden thinking about the range of human bodies and minds.
The An Accessible City for All installation shares images, objects, and more, including:
My Ear Broke – an art piece made from artist/director/author Chella Man's hearing device, which was part of his "Big Deaf Project" series;
A "This Station is a Dinosaur" protest sign, used by Elevator Action Group in 2017 outside the then-antiquated and inaccessible subway station by the American Museum of Natural History;
A megaphone from disability historian Warren Shaw which was used in a protest to exempt those with disabilities from a gas rationing rule in the late 1970s;
A photograph showing disability rights activist sitting on a bottom step of a city bus equipped with a new lift, still not yet accessible to wheelchair users;
An ID card from Judith (Judy) Heumann – often regarded as the "mother" of the disability rights movement; and
An NYPD memo about an August 1969 demonstration concerning welfare and medical benefits
"The Museum of the City of New York has been sharing New York's stories, and amplifying the voices of New York's communities, for the last 100 years," says Sarah Henry, the Robert A. and Elizabeth Rohn Jeffe Chief Curator and Interim Director of the Museum of the City of New York. "We're grateful that the Puffin Foundation's support of Activist New York's evolution over the past decade and we're so pleased to shine a light on disability activists on the occasion of this important anniversary."
An Accessible City for All was organized by Sarah Seidman, Puffin Foundation Curator of Social Activism, with input from community advocates composed of individual activists as well as groups including Disabled in Action, Brooklyn Center for Independence, and NYC Disability Rights Archive.
ABOUT ACTIVIST NEW YORK
Now in its second decade, Activist New York examines the ways in which ordinary New Yorkers have advocated, agitated, and exercised their power to shape the city's—and the nation's—future. Centuries of activist efforts, representing the full spectrum of political ideologies, are illuminated through a series of installations. The exhibition features historic artifacts and images from the Museum's celebrated collection as well as pieces on loan from other repositories and personal collections and serves as a learning tool for thousands of students and educators annually.
Support
Activist New York and its associated programs are made possible by The Puffin Foundation, Ltd.
ABOUT THE MUSEUM OF THE CITY OF NEW YORK
Celebrating its 100th anniversary in 2023, the Museum of the City of New York fosters understanding of the distinctive nature of urban life in the world's most influential metropolis. Winner of "Best Museum" in Time Out New York's "Best of the City 2021" and multiple American Alliance of Museums (AAM) awards, MCNY engages visitors by celebrating, documenting, and interpreting the city's past, present, and future. To connect with the Museum's award-winning digital content, visit www.mcny.org; or follow us on Instagram and Twitter at @MuseumofCityNY and on Facebook at Facebook.com/MuseumofCityNY.
Attachments
Roll-In Demonstration at Penn Station's Taxi Stand, April 22, 2004 (Credit: Philip Bennett)
"My Ear Broke"; Collection of Chella Man's "BIG DEAF" Scans, ca. 2020s
CONTACT: Meryl Cooper Museum of the City of New York 917-974-0022 [email protected] 

Disclaimer: The above press release comes to you under an arrangement with GlobeNewswire. AfternoonHeadlines.com takes no editorial responsibility for the same.